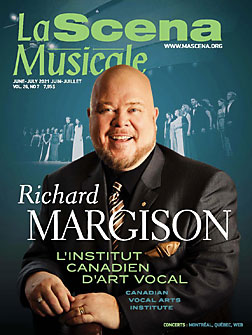 This page is also available in / Cette page est également disponible en:

Francais (French)
Name: Jeremy Scinocca

Voice type: tenor

From: Toronto

Teacher: Stefano Algieri

Education: McGill Schulich School of Music
Jeremy Scinocca is a young and promising Canadian tenor. His recent engagements include the role of Eduardo in Un girono di regno and Mr. Pinkleton in Cinderella with Opera McGill. He has also been chosen to participate in masterclasses with the conductor Yannick Nézet-Séguin and the tenor Michael Schade.
When did you first start making music?
The story I am told by my parents is that I would hum in the crib trying to sing. I would say that I've had an interest in music and singing my whole life.
Top singers of your voice type and why?
Lawrence Brownlee: Brownlee rings on every note he sings, in all parts of his register. His ability to access his upper register and be able to do crescendos and diminuendos is surreal.
Franco Corelli: Corelli had one of the most beautiful instruments I've ever heard. The way he fills out notes in his upper register is sublime, and his recording of "Un di all'azzurro spazio" from Andrea Chenier never fails to make me cry.
Jussi  Björling: Björling had such a unique voice, his use of head voice within the core of his sound created a large sound with ringing overtones like no other singer I've heard.  His live recordings of selections from Grieg's Six Poems Op.25, especially "Ein Traum," are spectacular.
Juan Diego Flórez: Flórez's agility and clarity of tone are quite unbelievable at times; his ornamentation and virtuosity are is second to none.
Mario Del Monaco: Del Monaco had the voice of a lion and was not afraid to let that lion out of the cage.
Fernando de Lucia: Caruso once was quoted saying that he could die happy if he sang one phrase as beautifully as de Lucia.  There are recordings of de Lucia from the early 1900. His ability to control his voice is unlike any other. He could sing some of the most difficult and beautiful phrases, all mezza voce with depth still in his tone and moving seamlessly to full voice.
John McCormack: McCormack's voice had a ping that could cut through just about anything. His voice had a unique sound that sounded best in anglophone repertoire.
What made you decide to pursue studies in opera?
Hearing the recordings of great tenors and feeling the emotion and richness of their voices has always inspired me. As a singer I have always enjoyed using the music as a vehicle to express a character's emotions.
How have you been keeping your voice in shape during the pandemic?
During the pandemic I was finishing my master's degree at McGill. I was lucky enough to have a recital and be a part of three productions with Opera McGill (Rosa, Cinderella and Un girono di regno). Last summer I also performed in a recital on the street in Toronto.
This page is also available in / Cette page est également disponible en:

Francais (French)