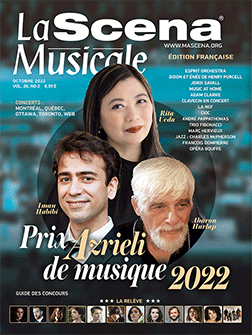 This page is also available in / Cette page est également disponible en:

Francais (French)
Young pianist Jaeden Izik-Dzurko is on a hot streak in 2022!
Only months after receiving First Prize at the Hilton Head (March) and Maria Canals (April) competitions, he took home the gold two more times at the Shean (May) and Santander ­(August) competitions.
To the award-winning pianist, competitions are exhausting, ­especially when hosted back-to-back. The lengthy practice and ­rehearsal processes are hard enough, but each time he gets on stage he has to make a conscious effort to calm himself down, since he finds competitions more nerve-racking than normal performances.
"I always treat each competition round like a performance," he said. "This helps me keep my mind focused on the music rather than the result or the jury reactions."
Ultimately, however, Izik-Dzurko finds these events exhilarating and rewarding: "Competitions are inspiring because I have the opportunity to hear so many other wonderful musicians and so much great music."
For the Santander competition, the pianist wanted a repertoire that covered a variety of styles and levels of renown, as that would best ­represent his musical personality. He paired works by big-name ­composers Beethoven, Chopin and Rachmaninoff with lesser-known works like Scriabin's final sonata and Canadian pianist Marc-André Hamelin's Étude No. 12: Prelude and Fugue.
Scriabin and Rachmaninoff are the musician's go-to composers in private practice as well as at music competitions because their beautiful melodies make imaginative and "idiomatic" use of the piano.
"Scriabin layers intricate textures to produce entirely unique effects, and Rachmaninoff's writing is full of technical innovations and rich, orchestral sonorities," he said.
Izik-Dzurko also enjoys the music of Sviatoslav Richter and Mikhail Pletnev. "Their playing possesses remarkable depth and sincerity," he said, "(and they) are incredible at layering different musical lines, ­prioritizing the most important voice while giving identity and ­expression to secondary voices."
Although he listens to a lot of piano recordings, he listens to just as many—if not more—orchestral symphony recordings because they ­inspire him to pursue variety in tone and timbre, as well as a clear ­balance with other instruments.
Both his parents play piano, so the instrument has always been ­important in Izik-Dzurko's life. He first learned to play when he was 5 thanks to lessons from his father, who is now a high school band teacher.
"Although I love practising and playing on my own, the greatest joy I experience through music comes from sharing it with an audience," Izik-Dzurko said.
www.jaedenizikdzurko.com
This page is also available in / Cette page est également disponible en:

Francais (French)