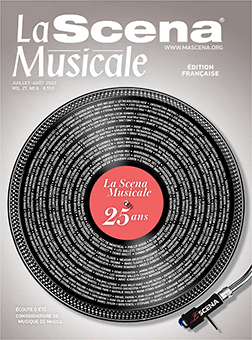 This page is also available in / Cette page est également disponible en:

Francais (French)
Chasing Light & Sound: The Tuba Music of Elizabeth Raum
Tom McCaslin, tuba; Akiko Tominaga, piano
Centrediscs, 2022
Originally commissioned by tuba maestro John Griffiths in the 1990s, the works composed by Elizabeth Raum and featured on the album Chasing Light & Sound have become staples of the solo tuba repertoire. Since Tom McCaslin was a student of John Griffiths, he is aiming quite high by recording this album.
When paired with Akiko Tominaga's strong piano-playing style, McCaslin's gentle tuba-playing style tends to get overpowered. He opts to give Tominaga room to express herself, so the busy piano melodies make it difficult to parse the subtlety of the tuba. It's a shame because he really outdoes himself when he gets the chance to play solo, as in Concerto del Garda: III. Allegretto con anima and Sweet Dances. The few times he harmonizes the tuba with itself in Sweet Dances: Hard Knight's Day, for example, are especially satisfying, but these kinds of details are lost in most of the pair's performances. The exception to this rule is when McCaslin plays at a higher volume in Legend of Heimdall, the emotional exploration of which goes a long way toward redeeming the album.
This page is also available in / Cette page est également disponible en:

Francais (French)