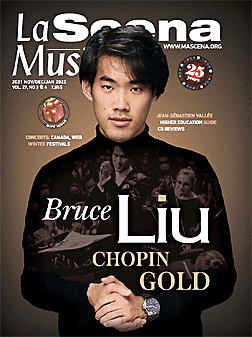 This page is also available in / Cette page est également disponible en:

Francais (French)
It has been over a month since the reopening of concert halls to full capacity. Arts organizations across Canada are slowly and cautiously resuming their programming. Our national calendar reflects the increasing offerings (see p. 62). And what's a holiday season without performances of Handel's Messiah? See p. 24 for our round-up in eastern Canada. The main question is whether audiences are ready to come back as before.
October saw the reopening of international music competitions and Canada showed that it is now a global power. Chinese-Canadian pianist Bruce Xiaoyu Liu surprised the world with his gold medal at the International Chopin Competition, which is held every four years (see the cover profile on p. 30). His rise is no surprise to La Scena readers as he's been profiled twice in our annual Rising Stars for victories at the OSM Competition (2012) and the Prix d'Europe (2014). Canadian organist Aaron Tan followed on Oct. 23 with first prize at the CIOC (see p. 36), and then cellist Bryan Cheng took second prize at the Geneva International Competition. Finally, last week, three Canadians won the Azrieli Music Prizes. See our report on p. 34.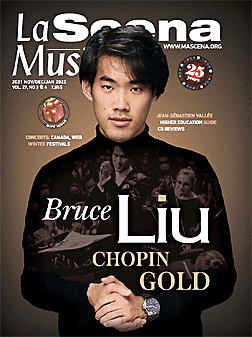 This November/December/January national issue comes to you thanks to advertising support for our annual Higher Arts Education special and guide, including news and an interview with violinist Lucie Robert.
As always we offer reviews of interesting recordings. Happily, this industry has persevered in the face of the pandemic. And we continue our Concert Reviews section (p. 58).
We are happy to report on Canadian success stories such as the Toronto Mendelssohn Choir celebrating its new artistic director Jean-Sébastien Vallée (French cover artist), only the eighth in their illustrious 127-year history. The Mississauga Symphony Orchestra is celebrating its 50th anniversary; the Festival Bach Montréal, its 15th; the SMCQ, its 55th; La Nef, its 30th.
This issue also includes an interview with François Dompierre, a reprint of a profile of pianist Emanuel Ax, and features on the Kronos Quartet, Giorgia Fumanti and the Trio Fibonacci.
With the coming holiday season, please see the two pages of Gift Ideas on p. 50 from our team. Another great gift idea is our 10-pack Musical Greeting Cards ($20 value, see ad on p. 70). Last issue, we profiled the late tenor Jean-Paul Jeannotte, but we forgot to mention that his recording of Schubert's Die schöne Müllerin was reissued 10 years ago as part of our Discovery CD collection. It's still available for purchase for $7, postage included, at myscena.org.
25 years
This November issue is the third of six (down from the usual seven before the pandemic) planned for the 2021-22 season (three in the fall, including October and November/December/January*, and three in the winter and summer including February/March*, April/May and June/July/August*). Three will be regional bilingual issues while three will be national issues (as noted above with *) with separate English and French editions. Our February/March 2022 issue is slated to be a special on the Restart of the Arts.
During the pandemic, we kept active with innovative projects such as the Corona Serenades, Corona Serenade Streaming Concerts, La Scena Tête-à-Tête, regular updates on COVID-19 and the arts and regular news updates on our website. As a small dedicated team, we take pride in our ability to curate news and articles for our readers (consumers, artists and organizations). And we will continue this formula going forward including advice for musicians and students.
In the past, we have celebrated our major anniversaries (5th, 10th and 20th) with fundraising galas. Our Fifth Anniversary event held on Sept. 12, 2001 was the first concert dedicated to the victims of 9/11. Our 10th Anniversary Gala theme was Best of Montreal, and our 20th was Rising Stars.
Alas, the pandemic made planning our 25th anniversary celebrations difficult, but with the reopening of concert halls, we are planning a Festival of Love (combining our Singing Valentines) in February 2022. Stay tuned.
Thanks to some donors, we are also planning an online auction with a notable auction house in March or April 2022 with proceeds towards our projects including an internship program. We are currently seeking arts- and music-related items such as paintings, sculptures, musical instruments and porcelines; and would show our gratitude with a tax receipt. Please contact [email protected]
Subscription and Donation Drive
The pandemic has its consequences for publishing. Although we were able to bring back most of our staff through the Canada Emergency Wage Subsidy, this resource ended on Oct. 23. Since our annual budget depends largely on advertising revenues (about 70% of which are related to concerts), we saw a decrease in advertising of 88% in spring and summer of 2020 and 50% in 2020-21. We hope you will consider supporting our magazine through a donation and/or join our fundraising committee by contacting us at [email protected]
Because of the pandemic, we changed from street distribution to home delivery. Many of you are holding a free sample issue for the first time. We hope we have sparked your interest with our passionate team of writers and editors. To make sure you continue to ­receive the magazine at home, please become a subscriber or give a subscription to someone special. It makes an ideal gift for parents or an artist.
As always, La Scena Musicale maintains a vigorous presence on Facebook, Twitter and Instagram. The website offers new resources almost daily. Pandemic or no pandemic, the arts will thrive. As will La Scena Musicale.           
Have a great musical and artistic holiday season!
---
Table of Contents

8 Editorial
10 Industry News
12 Industry Corner
14 Festival Bach Montréal
16 François Dompierre
17 Emanuel Ax: Simply Manny
18 Tara-Louise Montour and OCM
19 Kronos Quartet: Time and Time Again
20 La Nef / SMCQ
21 Giorgia Fumanti
23 Mississauga Symphony Orchestra
23 Club musical de Québec
24 The Season of Messiahs
25 Trio Fibonacci
26 Artificial Intelligence and Music
27 Atelier lyrique de Chambly
28 Jean-Sébastien Vallée
30 Bruce Liu: Chopin Gold
34 Competition Winners
38 Higher Education Guide
42 Education News
44 Lucie Robert
45 Did you know…?
46 Streaming platforms
47 Internet Radio
48 New Releases
50 Gift Ideas
52 Jazz: Record Roundup
54 CD Reviews
58 Concert Reviews
60 Winter Festivals
62 National Calendar
This page is also available in / Cette page est également disponible en:

Francais (French)