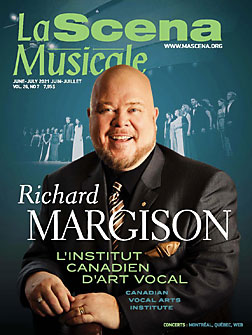 This page is also available in / Cette page est également disponible en:

Francais (French)
Welcome to the sixth issue of La Scena Musicale to be published in the midst of the pandemic. 
A cautious and optimistic summer
Late in May, thanks to increasing vaccination rates, Quebec began its reopening by removing its curfew and allowing limited performances and summer camps. Other Canadian regions have also announced reopening plans.
In Ontario, the government is taking a more cautious approach. Live public performances will begin on July 21 at the earliest.
Still, many summer festivals are cancelling or waiting to announce their programming. Given the uncertainties, at La Scena Musicale, our usual national summer festival issue will be replaced by two bilingual issues for the summer to help festivals and arts groups better reach the public: the present June/July issue, and the July/August issue, which will be out on July 16; as well as our Canadian calendar will cover events from July 16 to Sept. 6.
Our annual summer festival guide will now be published online with a special print section for advertisers (see p. 24). Our events calendar (see p. 42) will keep you informed of the virtual events not just in Quebec, but also across Canada. To stay up to date, please visit our online calendar at mySCENA.org.
Cover and Content
Our cover features international tenor turned educator Richard Margison, who has added the artistic direction of the Canadian Vocal Arts Institute to his positions at the Université de Montréal and his own Highlands Opera Studio. We also report on our highly successful Mother's Day Celebration plus many other features. 
Subscription and Donation Drive
Because of the pandemic, we have changed from street distribution to home delivery. Many of you are holding a free sample issue. We hope we have sparked your interest with our passionate team of writers and editors. To make sure you continue to receive the magazine at home, please take out a subscription for yourself, or give it to someone special. It is ideal for parents or an artist. 
The pandemic has affected all media. In March 2020 we wrote to our regular supporters asking them to donate earlier in the year than normal. This helped us weather the storm. As the outlook remains uncertain, we hope you will continue to donate early and help through a subscription.
As always, La Scena Musicale maintains a vigorous presence on Facebook, Twitter and Instagram. The website offers new resources daily. Pandemic or no pandemic, the arts will thrive. As will La Scena Musicale.
Have a great musical and artistic beginning of summer!
This page is also available in / Cette page est également disponible en:

Francais (French)