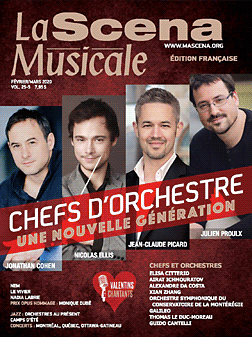 This page is also available in / Cette page est également disponible en:

Francais (French)
The Burlington Performing Arts Centre (BPAC) is a world-class venue, a presenter, an educator, a public space, the cultural hub of the community and the focal point for performing arts activity in downtown Burlington. Sponsorship helps the centre engage the community in meaningful arts experiences through curated programming choices and allows it to take a leadership role in cultural development by ensuring that they remain healthy, sustainable and dynamic.
The BPAC opened its doors in the autumn of 2011 and serves a population of 183,314, according to the latest census data of 2016. Regarding the diversity of the population, only about 15.73% of the population are visible minorities.
The BPAC is a not-for-profit, charitable organization, governed by a board of directors. Over 100,000 patrons visit BPAC annually. Their annual operating budget is $3.5 million.
"The BPAC's presenting season provides Burlington and surrounding areas direct access to the diversity and richness of Canadian and international work, in music, theatre, dance and family programming," explained executive director Tammy Fox. Throughout their season they present 75+ shows, in every genre.
In addition to their presentations they also have a very strong educational program. This includes matinee performances for students as well as workshops. Performances touch on very relevant topics faced by adolescents in our time such as cyberbullying, reconciliation with Canada's Indigenous people, and sexual orientation. Teachers are not left alone to tackle these difficult issues. The BPAC's community engagement coordinator plays an important role to ensure that study guides are available for teachers, which are paired with each performance. These guides also make it possible for audiences to provide feedback to BPAC.
The BPAC has three different venues within one centre: the Main Theatre, with 720 seats; the Community Studio Theatre, 165 seats; and the Family Lobby, which is used for civic and corporate events, exhibitions and receptions.
Challenges, Opportunities and Measures
Like all not-for-profit and charitable organizations, the BPAC faces the challenge of competing for sponsorship dollars. Though like other arts centres in the Greater Toronto Area, though somewhat on the periphery, there are also different types of opportunities that present themselves. "Our centre's location allows us to develop solid community engagement and partnerships within our territory," Fox says. "We also have a number of initiatives aimed at local artist development."
Being outside of the thick of things and on the outskirts of Toronto is a double-edged sword. "Unlike Toronto, we are unable to take the same kind of programming risks," Fox says, referring to one of those edges. The second edge deals mainly with the type of programming they are taking on in a judicious manner. "We continue to work towards building audiences for dance and theatre, as well as for programming that is more culturally diverse – although we remain firmly committed to all of the above," said Fox on the subject of how their location influences their programmes.
Every community is different and each is at a different stage of development for presenting a variety of musical genres. "Our community has quite a taste for jazz, and jazz draws quite a large audience," Fox says. "The audiences of other genres such as classical, folk and world music are still developing. So, for now, we present these genres in our Community Studio Theatre and in free outdoor summer festivals in our Plaza."
Some of the coming shows offered under the BPAC Presents rubric include, on Valentine's Day, Romeo and Juliet as performed by the National Ballet Theatre of Odessa, Ukraine in their main theatre; and Jazz Affair, a six-piece a cappella group presented in the Community Studio Theatre that same evening. Two days later the Burlington Symphony Orchestra presents a matinee, Love at the Opera, featuring soprano Jessica Lane, tenor Romulo Delgado and baritone Peter Bass. The following Friday, the Main and Community Theatre, respectively, will feature Les Ballets Jazz de Montréal in DANCE ME and the award-winning one-woman play Confessions of a Fairy's Daughter written and performed by Alison Wearing.
At the beginning of March, BPAC will present the Kaha:wi Dance Theatre's presentation of The Mush Hole – "a stunning and powerful production about a difficult truth we are all still grappling with." (Kevin Loring, director of Indigenous theatre, National Arts Centre). From a quick perusal of the BPAC website it is clear that programming attempts to accommodate many different tastes and genres. Even more, it does not shy away from difficult subject matter such as sexual orientation or the issue of reconciliation between settlers and Canada's Indigenous community. It may be a national leader in this area.
Every organization uses some type of metric, though the most important common denominator among them all is the quality of the work they present. When La Scena Musicale asked Fox about how the BPAC measures success she replied: "Attendance and the quality of the work that we present on stage, which is consistently high, regardless of attendance."
A number of things allow one performing arts centre to differentiate itself from another. "The BPAC was the first performing-arts centre in Canada to install a Legacy Space, and to partner with the the Gord Downie & Chanie Wenjack Fund. We are very proud of this," expressed Fox. The Legacy Space is part of the Legacy Spaces program as set by the aforementioned foundation. According to the BPAC website, these are "safe, welcoming places dedicated to providing education and spreading awareness about Indigenous history and our journey of reconciliation."
This page is also available in / Cette page est également disponible en:

Francais (French)