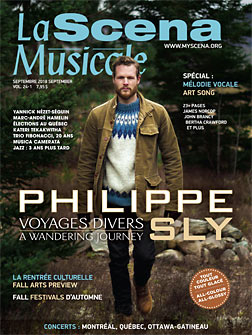 This page is also available in / Cette page est également disponible en:

Francais (French)
Composed in 1827 by Franz Schubert, Winterreise is a landmark in the annals of classical music. So much so that that this 24-song cycle for voice and piano based on poems by Wilhelm Müller has been recorded an estimated 200 times. The words convey the wanderings of a man befallen by an unrequited love. The cycle, however, deals less with the man's states of mind than the images of loneliness conjured by the winter scenery, or the people that cross his path, like the hurdy-gurdy player, a fellow wanderer whose company he solicits. Winterreise is truly one of the great masterpieces of musical romanticism, for it achieves a fine balance between sophistication and simplicity derived from popular songs. What follows are but a handful of noteworthy recordings of this great work, interpreted almost exclusively by male singers.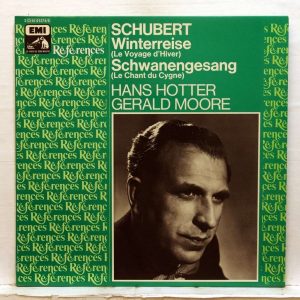 One of the most compelling recorded performances ever was committed to disc in 1954 by the great bass-baritone Hans Hotter, accompanied by pianist Gerald Moore. Hotter excelled in tragic roles. Yet he was not one who accentuated words too much, nor did he offer a wide range of expression. Instead, he creates a sense of grandeur and solemnity, evoking an array of moods through his extraordinary low range, stretching it into the middle and higher registers, both of which were still under his command at the time. By reining in his great operatic voice, he manages to evoke a feeling of intimacy. His interpretation builds in such a way as to reach its pinnacle in the last two Lieder where he lets his voice shatter into silence. The rapport with Moore is nothing less than total.
Dietrich Fischer-Dieskau, surely the most famous interpreter of Schubert Lieder, returned to the Winterreise on several occasions throughout his career. My own preferences are for the recordings he made in 1962 and 1971, with Moore at the piano on both occasions. Fischer-Dieskau was a baritone whose voice was on the lighter side, almost fruity in tone, and most flexible in the treble range. Unlike Hotter, his approach was dramatic in nature. As much as he highlights the lyrical line and the references to popular songs that inform the music, he also gives added emphasis to the lyrics and varies expression to greater dramatic effect. At a later stage of his career, he was often taken to task for his speech-like style, potentially threatening the melodic flow through his vocal interjections. In 1971 both his voice and approach to the material were still very melodic, the dramatic style also in keeping with the work. Moore's accompaniment, once again, is masterful because he adapts perfectly to Fischer-Dieskau's approach of taking the music at a faster pace than Hotter, with more thrust and a lighter feel.
Winterreise, it must be noted, was written for a tenor voice. Peter Schreier and Ian Bostridge are two such singers who have produced remarkable recordings. Schreier's live 1985 performance with Sviatoslav Richter is a must, likewise his studio album with András Schiff six years later. In both cases, the singer's tone is even in all ranges, the upper pianissimo notes held effortlessly and delivered with a full voice. Schreier manages his tour de force before a live audience, in full command of his voice and maintaining total concentration throughout. At once lyrical and intimate, his interpretation achieves its expressiveness by relying on the beauty of the melodic line. His duo with Richter is fascinating in that the pianist varies tempos and accentuates expression as if he wants to impress each musical gesture with a specific mood. The approach is different, for sure, but the chemistry is right. The recording with Schiff is simpler in a way, because it is lighter and livelier, and much closer to its roots in popular song. In either case, the recordings are simply magnificent.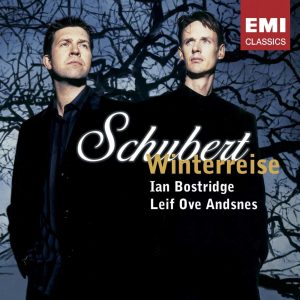 Ian Bostridge's reading of this work with Leif Ove Andsnes in 2004 transports us into another world. The words are given more weight, as is the sense of drama and the frame of mind of the protagonist. All is sung in a staccato manner, the notes more detached, almost speech-like, the rhythms more syncopated, and far removed from the elegant lyricism of Schreier. If you prefer hearing a pure vocal line, this interpretation will come as a surprise, and might not even be to your liking, but it is among the most remarkable ones to date. Bostridge is currently the best-known interpreter of Winterreise. His reputation rests on the sense of drama he infuses into his readings of the work.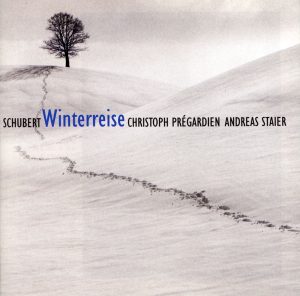 There are several more interpreters worth mentioning. Tenor Christoph Prégardien delivers a wonderfully lyrical version in his 1996 recording with Andreas Staier at the pianoforte. Jonas Kaufmann, the well-known German Heldentenor, released his version in 2014 accompanied by Helmut Deutsch. Kaufman is respectful of the intimacy required by the Lieder and does so by keeping his otherwise powerful voice in check. Turning to baritones, Matthias Goerne is among the foremost interpreter of Winterreise. A case in point is his 1996 album with Graham Jones at the piano, a recording that reveals the beauty of the melodic line, which he delivers with considerable drama.
While intended for the male voice, this cycle has also had its share of female interpreters. Most famous of these is the mezzo Brigitte Fassbaender who tackled it in 1988 with Aribert Reimann at the piano. While well-known to music lovers, this reading is also controversial because it is imperfect from a vocal point of view, as if the singer had intended it that way. Conversely, it is very dramatic, with sudden vocal interjections and lots of tension that convey the visceral sufferings of a human being. One version I personally like is the 2004 recording by contralto Nathalie Stutzmann and pianist Inger Södergren. The voice is not only full and rich, but in tune. She imbues the music with an aura of nobility, and the sheer beauty of her voice enhances that.
Like all great masterpieces, Winterreise inspires interpretations of all kinds, each revealing a different facet. To this day this cycle enchants us. A remarkable feat for a work penned close to two centuries ago.
Translation by Marc Chénard
This page is also available in / Cette page est également disponible en:

Francais (French)