Advertisement / Publicité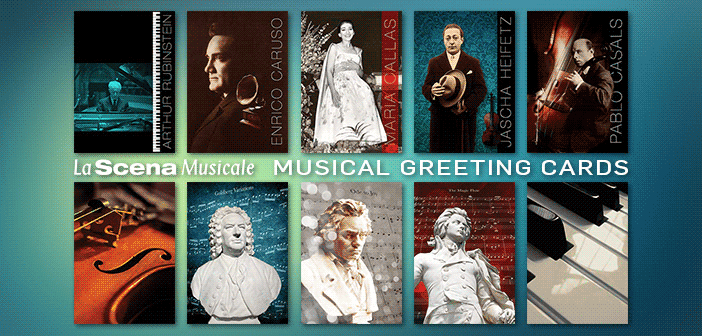 This page is also available in / Cette page est également disponible en:

Francais (French)
Montreal, April 3, 2017 – It is in the heart of Place des Arts, at the Espace culturel Georges-Émile-Lapalme, that Jean-Marie Zeitouni, I Musici de Montréal's Artistic Director, unveiled the orchestra's 34th season. Alongside host Mario Paquet, the musicians and many of the season's guest artists, we discovered the 9 programs featured in the I Grandi Concerti and I Concertini Series. 
Highlights of I Musici de Montréal's 34th Season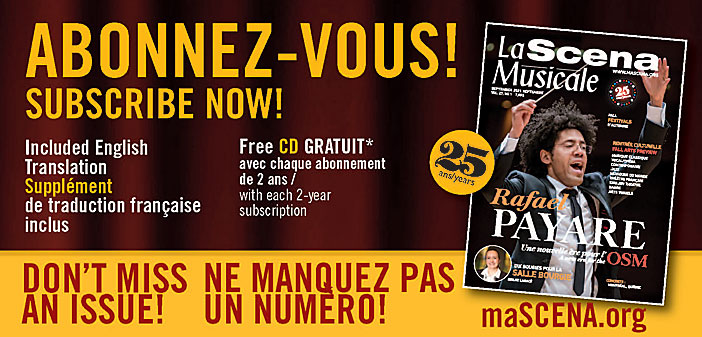 In curating this new season, Jean-Marie Zeitouni's aim was to consolidate the numerous initiatives of the past; deepening friendships and fostering cultural collaborations, promoting local talents as well as encouraging the creating of new works are – and will remain – at the heart of his vision for I Musici.
From the perspective of discovering established and emerging talents from today's classical world stage, I Musici welcomes back friend and sublime pianist Christian Blackshaw and it's in full confidence that Maestro Zeitouni will hand over the baton to two young colleagues: Alexander Prior and Maxim Rysanov, both in their Montreal debuts. Naturally, talent from here won't be neglected: cellist Matt Haimovitz, flutist Jocelyne Roy, pianist Jeanne Amièle, and composer Julien Bilodeau will be joining the orchestra throughout the season.
For a third year running, I Musici will take part in the Arte Musica Foundation's Bach complete cantata cycle, led this season by Andrew Megill, chorus master of the OSM. The orchestra will also renew its partnership with the Montreal Bach Festival in a concert featuring the German tenor Julian Prégardien and Montreal-based horn player Nadia Côté.
Finally, with the exception of the season opener at Maison symphonique, I Musici is very excited to focus the core of its artistic output, the I Grandi Concerti and I Concertini series, at Bourgie Hall.
2017-2018 Subscriptions and Tickets
The subscription campaign begins on April 3, 2017. Subscribers have priority access to the best seats until May 1st, 2017.
Single tickets will be on sale as of May 8, 2017. Ticket office and information: 514-982-6038 – imusici.com
 I GRANDI CONCERTI SERIES
FIVE FABULOUS CONCERTS, TWO EXCEPTIONAL CONCERT HALLS:
Maison symphonique
I Musici de Montréal kicks off its 34th season with an exciting opening concert.
Bourgie Hall
The musicians are joined by internationally renowned soloists and guest conductors for four concerts as they perform major works from the repertoire.
Le retour de Christian Blackshaw: September 24, 2017, 2 p.m. – Maison symphonique
For this exciting season opener, I Musici is thrilled to share the stage once again with the superlative British pianistChristian Blackshaw. Following critically-lauded performances in Montreal, Blackshaw returns amplified by the glorious acoustics of Maison symphonique to perform Mozart's Concerto no. 24. Also on the program, a premiere by celebrated Quebec composer Julien Bilodeau and the evocative landscapes of Beethoven's Pastoral. Concert partner:National Bank Financial
Prégardien : de Bach à Britten: November 27, 2017, 8 p.m. – Bourgie Hall
Jean-Marie Zeitouni has a fascinating proposal for this year's Montreal Bach Festival: bring Bach and Britten — two musical universes perhaps not as diametrically opposed as one might think — into tune with one another. Together with I Musici, tenor Julian Prégardien performs some of the most beautiful arias for tenor, drawn from the German composer's cantatas and oratorios, echoing Britten's enchanting Serenade for Tenor, Horn and Strings.
Les cantates de Bach – l'intégrale se poursuit: January 28, 2018, 2 p.m. – Bourgie Hall
For a third year running, the Arte Musica Foundation welcomes I Musici to take part in Bach's complete cantata cycle. This year under the direction of Andrew Megill, the orchestra is joined by the OSM Chorus as they perform three cantatas featuring concertante choruses and arias in which voices converse with oboes, horn, and strings. In this selection, Bach's mastery of word painting, typical of his religious works, is vividly demonstrated.
Alexander Prior : fougue et intimité: April 25, 2018, 8 p.m. – Bourgie Hall
Always looking for emerging talent, I Musici invites gifted conductor and composer Alexander Prior to make his Montreal debut by handing him the reins of the orchestra for an evening. In addition to conducting orchestras all over the world, Prior was recently named chief conductor of the Edmonton Symphony Orchestra — despite being only 24 years old. He presents a program drawn from the string quartet repertoire, yours to discover or rediscover, ranging from Mozart to Sibelius, and even one of his own compositions.
Haimovitz : odyssée spirituelle : May 24, 2018, 8 p.m. – Bourgie Hall
For its season closing, I Musici brings you on a journey covering a wide palette of emotions. The exceptional cellist and musical pioneer Matt Haimovitz revisits Schubert's famous Arpeggione Sonata, followed by a performance of From Jewish Life, a musical exploration of the Jewish spirit. A traveller's sightings and impressions are then portrayed inViatore for string orchestra. And, to conclude a vibrant season, I Musici's fearless musicians take on Beethoven's monumental Grosse Fuge orchestrated by Jean-Marie Zeitouni.
I CONCERTINI SERIES
FOUR INTIMATE CONCERTS, TWO TAILORED FORMATS, A NEW WELCOMING VENUE
I Musici de Montréal invites you to revisit Bourgie Hall in a series of 60 minute programs showcasing the talent of its exceptional musicians.
Choose between two experiences!
Each program will be performed twice, allowing patrons to select an experience tailored to their taste and availabilities.
1 – Rencontre matinale  – Thursday at 11 a.m.
Start your day on a good note and enjoy a warm cup of coffee before the concert. Complimentary coffee served by Café Brossard.
2 – 5 à 7 apéro – Thursday at 6 p.m.
Join friends, colleagues and the musicians for a complimentary glass of wine carefully selected by les Vins Triani.
La poésie de Vivaldi: October 26, 2017, 11 a.m. and 6 p.m. – Bourgie Hall
Furtive nocturnal fragrances; alluring springtime birdsong; meditative prayers at the Sepulchre; startling animal cries. Such are the utterly unique tableaux that I Musici and flutist Jocelyne Roy, recipient of the 2005 Prix d'Europe and new member of the Orchestre Métropolitain, invite you to discover in this enthralling baroque program.
Cordes du Nord: November 16, 2017, 11 a.m. and 6 p.m. – Bourgie Hall
Sweden, Finland, Norway, Russia, Latvia, Estonia… From the countries of the Baltic region come the string works of this program which brings us back to I Musici's core, while paying tribute to its founder, Yuli Turovsky. In addition, as Canada celebrates its sesquicentennial, we reflect on our own nordicity in a new work commissioned for the occasion by close friend and collaborator of the orchestra, Julien Bilodeau.
Mystères de l'amour: February 15, 2018, 11 a.m. and 6 p.m. – Bourgie Hall
Young Edward Elgar won his future wife's heart over through his romantic Serenade for Strings. In Young Apollo, Britten describes the passionate love affairs of the Greek god of beauty. Finzi's Eclogue evokes the peaceful happiness of a humble pair of shepherds. And, at last, in his Visions fugitives — here magnified into a stirring arrangement for strings by Rudolf Barshai — Prokofiev reveals the tumult of the Russian soul. Joining I Musici for the occasion is young pianistJeanne Amièle, 2015 winner of both the Canadian Music Competition and OSM Manulife Competition.
L'alto dans toute sa splendeur: May 17, 2018, 11 a.m. and 6 p.m. – Bourgie Hall
Another Montreal first, I Musici is delighted to present Maxim Rysanov, a star of the international classical scene. Born in the Ukraine and now established in London, Rysanov is not only recognized for his gorgeous viola playing; he is also a charismatic orchestra conductor in his own right. It's in this dual role that you will see and hear him with I Musici, in a program reflecting his double allegiance, British and Slavic.
This page is also available in / Cette page est également disponible en:

Francais (French)