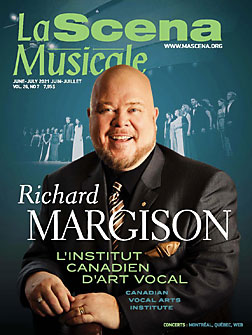 This page is also available in / Cette page est également disponible en:

Francais (French)
Name: Karina Bray

Voice type: Mezzo-soprano

From: Toronto

Teachers: Jean MacPhail 

Education: Wilfrid Laurier University 
Canadian mezzo-soprano Karina Bray recently performed the roles of Inez from The Gondoliers with Toronto Operetta Theatre, La Ciesca from Gianni Schicchi, and Flora Bervoix from La Traviata with the Summer Opera Lyric Theatre. Karina has participated in voice workshops at l'Académie de la Roche d'Hys, France with Jeannette Aster, in Saarburg, Germany with Semyon Rozin, and in the Toronto Contemporary Showcase with Adrianne Pieczonka. 
What made you decide to pursue studies in opera?
I would have to say that opera chose me in a way. It would play in the background in the house when I was a child but I didn't really pay attention to it. Opera patiently waited in the background for my voice to mature and grow. It wasn't until university when I studied my first aria that not only did I fall in love with it but my voice did as well! Opera has been with me ever since, like a warm hug from a dear friend.
How have you been keeping your voice in shape during the pandemic?
I have been very lucky and fortunate to have my voice teacher, Jean MacPhail, supporting  me during these trying times. I have lessons online every week and we continue to work through repertoire together. I am also truly grateful to CVAI for offering an amazing program and an opportunity to continue working on my craft.
How do you see your voice evolving in the next 10 years?
Over the next 10 years, I see my voice not only maturing but also growing in size. I hope to continue to work with professionals in order to learn from the best, and to grow as an artist.
This page is also available in / Cette page est également disponible en:

Francais (French)