This page is also available in / Cette page est également disponible en:

Francais (French)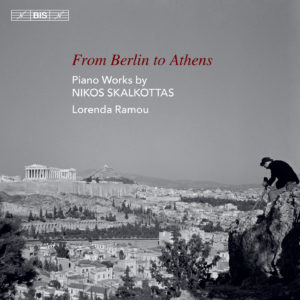 The Greek composer Skalkottas died of a ruptured hernia in 1949, shortly after the birth of his second son. He was 45 and completely unknown, his health broken by internment in a camp during the German occupation.
Possessed of a questing mind, Skalkottas enrolled in Arnold Schoenberg's Berlin class from 1927 to 1932, learning how to write ultra-modern serialism and balancing it with his own instinct forMediterranean melody. This collection of piano pieces by the Greek scholar Lorenda Ramou contains three world premieres, all of considerable curiosity.
In the Greek Suite of 1924, Ramou draws bouzouki-like sounds from her piano, plangent little dances that would have not sounded out of place on the Zorba film set. A second suite from the same year has Jazz Age rhythms reminiscent of the Parisian Les Six. When Skalkottas turns serial he does so with a charming lightness, fingers flying across the black keys, wispy wavelets kissing the island shore. I particularly like the suite of 1941 when, with the world crashing around him, Skalkottas conjures up polkas and tangos in strict 12-note order, frisky with restless hope and a sense of fun. If you're into 20th century piano music,  this should be high on your wishlist.
Sign on to the blogfeed: www.slippedisc.com

Visit the website: www.normanlebrecht.com
This page is also available in / Cette page est également disponible en:

Francais (French)