This page is also available in / Cette page est également disponible en:

Francais (French)
User Ratings (

1

Votes)

3.6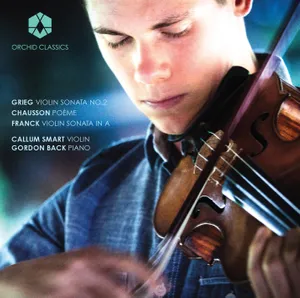 Has anyone lately seen Edvard Grieg? The song of Norway has gone a bit quiet since the record industry stopped pumping out Grieg's piano concerto as an automatic companion to Schumann's and the hall of the mountain kings got converted into social housing. These twin peaks and the Peer Gynt incidental music aside, there's not much Grieg left to perform and what there is has fallen out of fashion. It's been all Norvège nul points the last few years.
The three sonatas for violin and piano, written at different points in his longish life (1843-1907), are the first Grieg to come my way in a while. Attractive conversation pieces, lyrical and atmoshpheric, the sonatas lack the psychological depth of the chamber music of Brahms, with whom Grieg was often and mistakenly compared. They have more in common with the lighter side of Tchaikovsky (not that the Russian was the spirit of levity), allied to an existential loneliness that belies the ease with which Grieg conducts the drawing-room conversation. These are modest portions of light music, laid out on a bed of winter greens.
The third sonata is the darkes of the three, storms over the fjord, perhaps. Elena Urioste and Tom Porter play with just the right blend of application and adroitness, nothing too serious or mentally taxing.
NL

Visit the website: www.normanlebrecht.com
This page is also available in / Cette page est également disponible en:

Francais (French)