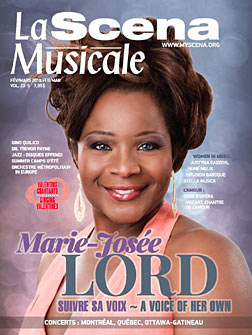 Haydn: Symphonies No. 26 and No. 86. Mozart: Violin Concerto No. 3.
Handel and Haydn Society. Harry Christophers, conductor. Aisslinn Nosky, violin. Coro COR 16158. Total Time: 69:15.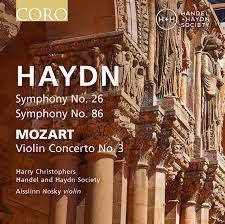 The British conductor Harry Christophers has his own record label, Coro, which turns out a stream of fine performances, mostly with his own group The Sixteen. This release, however, is with Christophers' other group, the venerable Handel and Haydn Society of Boston, America's oldest performing arts organization. It presents two Haydn works written 20 years apart with Mozart's G Major Violin Concerto sandwiched in between. It shows Haydn looking both to past and future, with his protégé skipping around in the middle.
The Symphony No. 26 "Lamentatione" of 1768 harks back to the oratorios of Bach and Handel, with phrases that might sit just as easily in Messiah or the St. Matthew Passion. Devotional in the simplest meaning of the word, it is exquisitely short – two four-minute movements with an eight-minuter in the middle – leaving the listener positively gasping for more. The 86th, one of Haydn's Paris Symphonies, has a majestic opening followed by a frenetically spirited Allegro, a dance on the edge of the French volcano of the late 1780s. Haydn is too careful ever to address a political context but it's there to be heard.
The Mozart concerto is played by renowned Canadian violinist Aisslinn Nosky (of Tafelmusik fame) without fuss or pretence, restoring the work to its intended courtly setting. In a grey January week, this unpretentious album sheds fragile rays of hope. NL