This page is also available in / Cette page est également disponible en:

Francais (French)
Montreal, December 16th, 2021 – Pro Musica is proud to unveil its 2022 program. Maintaining the theme Let's Sow Beauty, it is also under the sign of a wonderful journey through time and around the world, that this new programming wishes, once again, to offer a privileged chance of encounters between artists and the public. More than a theme, it is an invitation to share and magnify music.
For the season, two concert series are on the calendar, from January 23 to May 17, 2022: the Cartes blanches series, inaugurated last year, and the Mélodînes, both under the artistic direction of Irina Krasnyanskaya. Due to the success of the digital concerts, Pro Musica will offer a hybrid program for both series this season.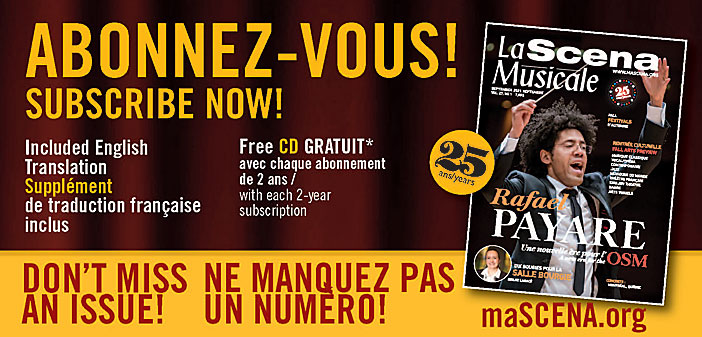 "Our programming this season is not only beautiful music, but a true invitation to travel ! With our 15 musicians of the Cartes Blanches and Mélodînes series, we have worked́ very hard to offer you a musical journey that will take you all over the world: from Quebec to Eastern Europe" said Irina Krasnyanskaya, artistic director of Pro Musica.
The Cartes blanches series, offers beautiful encounters with the great classics – Rachmaninov, Mendelssohn, Dvorak, Franck – but also with lesser-known music, mostly written by renowned composers who are only now being discovered: Clara Schumann, Amy Beach, Louise Farrenc, Vítězslava Kaprálová and Jessie Montgomery. For its part, the Mélodînes series has an ambitious and original project, which will highlight young musicians from here, three beautiful recitals of music from Spain, Quebec and the Nordic countries, Norway and Finland, as well as the 4th concert of the season, with the birth of the Mélodînes quartet, which transports us to Germany.
The Cartes blanches series gives the magnificent New Orford String Quartet and four exceptional pianists, Stéphane Lemelin, Angela Park, Philip Chiu and Ilya Poletayev, the opportunity for unforgettable performances at the Montreal Phi Center.
On January 23rd, violinist Andrew Wan, cellist Brian Manker and pianist Ilya Poletaev will perform a "Germany" program with Clara Schumann's Trio for Piano, Violin and Cello in G minor, Op. 17 and Felix Mendelssohn's Trio for Piano, Violin and Cello No. 1 in D minor, Op. 49.
On February 13th, France will be on the program with violinist Jonathan Crow and pianist Philip Chiu performing Louise Farrenc's Sonata No. 2 in A minor and César Franck's Sonata for Violin and Piano in A major FWV 8. Remember that 2022 marks the 200th anniversary of this composer's birth.
On March 20th, violinists Jonathan Crow and Andrew Wan, cellist Brian Manker, violist Sharon Wei and pianist Stéphane Lemelin will perform an "America" program: Jessie Montgomery's String Quartet No. 12 in F major "American", Strum and Amy Beach's Piano Quintet, Op. 67.
On April 24th, the duo of Brian Manker on cello and Angela Park on piano will transport us to Eastern Europe, performing Sergei Rachmaninoff's Sonata for Cello and Piano in G minor, Op. 19, Bohuslav Martinu's Variations on a Slovak Theme, H. 378, and Vitězslava Kaprálová's Ritournelle for Piano and Cello, Op. 25.
The Mélodînes series, presented on Tuesdays at noon at Place des Arts – Salle Claude-Léveillé, is dedicated to the development and promotion of emerging Quebec and Canadian artists who have already distinguished themselves in the classical music world. Creative, passionate and very talented, these young concert artists will present a first solo or duo recital followed by a quartet-quintet in the last concert of the season.
On February 8th, a "Spain" program will be performed by Tristan Longval-Gagné at the piano for works by Enrique Granados – Goyescas : Los Requiebros, op 11, Manuel De Falla – Spanish Dance No. 1, Federico Mompou – Canciones y danzas No. 5 and No. 6, and Isaac Albeniz – Iberia, Book II.
On March 1st, honor to Quebec with a concert of Dominique Beauséjour-Ostiguy, cellist and Jean-Michel Dubé pianist with the Sonata for cello N°2 and piano in G minor by Dominique Beauséjour-Ostiguy, the Romantic Prelude for piano by André Mathieu and the Sonata for cello and piano (music from the TV series Juliette Pomerleau).
On April 5th, Marie Bégin, violin, and Samuel Blanchette-Gagnon, piano, will perform a program inspired by Nordic European countries with the Sonata for violin and piano No. 3 in C minor, op. 45 by Norwegian Edvard Grieg and 5 pieces for violin and piano, op. 81 by Finnish Jean Sibelius.
On May 17th, to close the season, a quartet-quintet in which Cynthia Blanchon on viola and Abby Walsh on violin join Marie Bégin on violin, Dominique Beauséjour-Ostiguy on cello and Tristan Longval-Gagné on piano, will play together for the first time in a "Germany" recital. The program includes Franz Schubert's String Quartet No. 12 in C minor, D 703 (Quartettstatz) and Robert Schumann's Quintet for piano and strings in E-flat major, Op. 44.
In keeping with its mission to promote and facilitate access to classical music, Pro Musica offers very affordable prices for both individual concerts and season subscriptions. Subscription or à la carte, the packages range from $25 (taxes and service charges included) for a Mélodînes concert to $170 (taxes and service charges included) for a subscription to the Cartes Blanches series.
All performances in the Cartes Blanches series will be recorded at the Phi Center, while those in the Mélodînes series will take place at the Place des Arts in Montreal. In each case, the sanitary standards set by the Public Health Department were rigorously respected.
Single tickets and season tickets
Official website: www.promusica.qc.ca
Pro Musica

Pro Musica is a specialized chamber music broadcaster that accomplishes its mission by offering Montreal audiences the best in chamber music. The greatest musicians from here and abroad come to meet Pro Musica's audience to offer them concerts that combine artistic quality and unique musical moments. It serves as a springboard for young Quebec and Canadian artists by encouraging the emergence of tomorrow's great artists. Pro Musica builds lasting ties between emerging artists, established artists, and the artistic community, thereby contributing to the development of musicians and the advancement of the local musical community. Pro Musica concerts aim to develop a special relationship between musicians and music lovers by making artists accessible to the public and creating an intimate relationship with them during concerts. Different series are offered throughout the year.
This page is also available in / Cette page est également disponible en:

Francais (French)