Vera Causa Opera has announced they will be performing Julijana Hajdinjak's first opera, titled Padajuća Zvijezda in Waterloo and Cambridge on June 22nd, 2018 and June 23rd, 2018. 
Set in a celestial kingdom, Padajuća Zvijezda is a tale of two lovers in a world where love has become outlawed. Love, in the kingdom is punishable by banishment to Earth — a dishonourable world lacking the beauty of the galaxy. A story of passion, justice and optimism, Padajuća Zvijezda explores the power of human emotion and how it can change the world.
The new Canadian-Croatian opera is based on the story, Why Do Stars Fall? by young author and songwriter, Danijela Hajdinjak, with libretti written by Julijana and Danijela Hajdinjak.
Intrigued by astronomy, Julijana was quickly inspired by her sister's short story set in an otherworldly kingdom. Her Croatian heritage prompted Julijana to create a work that combined both her Croatian roots and the English language in order to showcase the beauty of both languages. Julijana hopes to take listeners on an auditory journey of the universe through her opera set among the stars.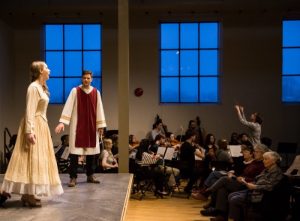 Julijana Hajdinjak is a Canadian-Croatian Composer, Soprano, Songwriter, Teacher and Conductor. Born in Mississauga, Julijana is trilingual. Her first language is Croatian, despite being born in Canada. She is the Founder of Fortepiano Music Studio and will commence her position as Conductor of the Canadian Croatian Choral Society's Youth Choir in Fall 2018. Graduating in June from Wilfrid Laurier University with a degree in Honours Bachelor of Music: Contemporary Music Composition, Julijana has also received the highest honour at Laurier, the President's Gold Scholarship for the full four years of her studies.
Composer Julijana Hajdinjak is excited about the collaboration with Vera Causa Opera:
"I've known Dylan for quite some time now, from sitting next to him during choir rehearsals to working together at VCO, I'm excited for this collaboration."
Julijana is excited to see the production come to life:
"As a composer, one of the most rewarding moments is hearing your work performed by talented musicians, and it's a rare opportunity to be given the chance to have a work the size of an opera performed."
The same two nights, Vera Causa Opera will be premiering another opera by Dylann Miller, titled The Covenant. 
Vera Causa Opera is a registered charity based in the Waterloo Region that is dedicated to making opera more enjoyable, affordable, and accessible for all.
Padajuća Zvijezda Production Details:
Tickets are $15.00 General Admission, students and children get in FREE. Tickets available at http://vcopera.ca
For more information, contact Julijana Hajdinjak at [email protected] & www.julijanahajdinjak.com