MALCOLM LOWE TO RETIRE FROM THE BSO AFTER AN EXTRAORDINARY 35-YEAR TENURE AS BOSTON SYMPHONY ORCHESTRA CONCERTMASTER, ONE OF THE MOST COVETED POSITIONS IN THE WORLD
OF CLASSICAL MUSIC
APPOINTED UNDER THE MUSIC DIRECTORSHIP OF SEIJI OZAWA IN 1984, MALCOLM LOWE IS THE SECOND LONGEST-SERVING BSO CONCERTMASTER IN THE BSO'S 138-YEAR HISTORY
FOR VIDEO OF MALCOLM LOWE PERFORMING MOZART'S SINFONIA CONCERTANTE IN E-FLAT, ALSO FEATURING BSO PRINCIPAL VIOLIST STEVEN ANSELL, CLICK HERE
FOR AUDIO OF MR. LOWE PERFORMING THE CONCERTMASTER SOLO IN BRAHMS' SYMPHONY NO. 1, CLICK HERE
FOR DOWNLOADABLE PHOTOS OF MR. LOWE, CLICK HERE


Malcolm Lowe has announced that he will retire from his position as Boston Symphony Orchestra concertmaster after serving 35 years in the prestigious leadership role. Mr. Lowe joined the Boston Symphony Orchestra as concertmaster in 1984 under Seiji Ozawa's music directorship, becoming the tenth concertmaster since the orchestra's founding in 1881 and only its third since 1920. He retires from the position just prior to the opening concert of the 2019-20 BSO season on September 19.
As BSO concertmaster, Malcolm Lowe has been the leader of the orchestra's string section and First Violin and Artistic Director of the Boston Symphony Chamber Players (BSCP), one of the world's most distinguished chamber music ensembles sponsored by a major orchestra and made up of principal players from that orchestra. Of special note, the BSO's concertmaster is the liaison on behalf of the orchestra with the music director.
To consistent high acclaim over the years, Mr. Lowe has been featured with the Boston Symphony in many beloved solos of the orchestral repertoire as well as in major works for solo violin and orchestra. Along with his colleagues in the BSCP, Mr. Lowe has played a significant role in the commissioning of new works for the ensemble. Among his many accomplishments, Mr. Lowe has been featured in his leadership concertmaster role on a great many BSO and BSCP recordings and tours, both national and international, over the last three-and-a-half decades.
At the time of his appointment as BSO concertmaster in 1984, Malcolm Lowe succeeded Joseph Silverstein, whose tenure in the role spanned from 1962 to 1984. Having completed 35 years in the BSO's principal violin position, Mr. Lowe is the second longest-serving concertmaster in the orchestra's 138-year history. The record for greatest number of years in the position is held by Richard Burgin, whose 42-year tenure started in 1920.
.


QUOTE FROM MALCOLM LOWE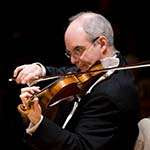 "I have decided that it is time for me to retire as the Boston Symphony Orchestra's concertmaster and to begin a new adventure and artistic journey and listen to the voices that are beckoning me to do other things with the rest of my life.
"From the bottom of my heart, I thank my orchestra colleagues and Andris Nelsons for their dedication and their ability to delve deeply into the music and ask the unanswerable questions—to find the voice that lifts music from the ordinary to an extraordinary living poetry. I will cherish forever the shared moments of everyday work, moments striving in our artistic search, practicing, trying to perfect, to contribute, to give meaning to our efforts, the music, our team, and our orchestra. I am also forever grateful to our generous audiences and donors for their incredible passion and support year after year, concert after concert—their enthusiasm never wanes.
"My recovery to health and playing this summer at Tanglewood after a year's absence due to a concussion injury has been one of my most satisfying accomplishments—truly a mountain conquered. I feel so blessed that I was able to meet this challenge and get back to full strength and power. Being able to perform again with all of my colleagues was a gift to me and I am so very grateful to all of them for their many kind words of support and encouragement.
"It was my honor to serve as the Boston Symphony Orchestra's concertmaster for the past 35 years. It was really an exciting adventure and brought unexpected meaning to a boy from the prairies of Canada."
QUOTE FROM ANDRIS NELSONS, THE RAY AND MARIA STATA BSO MUSIC DIRECTOR

"Malcolm Lowe's 35-year career as Boston Symphony Orchestra concertmaster represents an extraordinary dedication and commitment to excellence at the highest level of music-making.
"Malcolm has inspired generations of music lovers with his exquisite musicality and beauty of sound, alongside his unerring consistency of performance time and again at the highest levels of his art form. As only the third BSO concertmaster in nearly a century, Malcolm leaves a legacy of musical excellence and leadership that will live on among the singular accomplishments that have contributed to the BSO's storied history and its reputation as one of the world's greatest orchestras.
"We are deeply indebted and grateful to Malcolm for sharing his countless musical gifts with us these many years. We wish him the very best as he moves into a beautiful new chapter of his life, while remaining one of the most treasured members of the BSO family."
Further Details of Malcolm Lowe's Career
Malcolm Lowe, equally at home as an orchestral player, chamber musician, solo recitalist, and teacher, has appeared frequently since 1984 as a soloist with the
Boston Symphony Orchestra at Symphony Hall and Tanglewood. Since his first appearance with the BSO as a concert soloist in 1985 at Tanglewood, he has been soloist with the orchestra for works of Bach, Berlioz, Brahms, Britten, Bruch, Chausson, Haydn, Mozart, Saint-Saëns, Spohr, Vivaldi, and Walton. Among his major solo appearances with the BSO are Bruch's Violin Concerto No. 1 in G minor, Mozart's Violin Concerto No. 3 in G, and Brahms's Violin Concerto and Concerto for Violin and Cello, the latter also featuring former BSO principal cellist Jules Eskin, and Berlioz's Reverie and Caprice for Violin and Orchestra (also featured on the BSO's 1994 Asia tour), all under the direction of Seiji Ozawa; the William Walton Violin Concerto with guest conductor Jeffrey Tate; Benjamin Britten's Concerto for Violin No. 1 with guest conductor James Conlon; and Mozart's Sinfonia Concertante for Violin and Viola with BSO principal viola Steven Ansell, under the direction of Andris Nelsons. Over the years, audiences and critics alike developed a deep appreciation of Mr. Lowe's violin solo passages in such works as Strauss's Ein Heldenleben and Beethoven's Missa Solemnis. Mr. Lowe has also returned many times to his native Canada for guest appearances as a soloist with the Toronto and Montreal symphony orchestras and the National Arts Centre Orchestra in Ottawa. For further details about Mr. Lowe's solo appearances with the BSO, please visit https://archives.bso.org.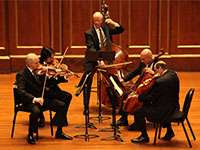 In his role as BSO concertmaster and first violin of the Boston Symphony Chamber Players, Mr. Lowe has participated in more than 25 international tours throughout Europe, the Far East, South America, and Canada, as well as several national tours, performing with the BSO and BSCP to immense popular and critical acclaim in the most prestigious music capitals and major summer music festivals throughout the country and around the world.
Over the course of his tenure with the BSO, Malcolm Lowe's artistic leadership position within the orchestra, in his role as concertmaster, has been manifest on more than a hundred recordings. Highlights include a Mahler cycle, Henri Dutilleux's The Shadow of Time, Strauss's Elektra, and Bartók's Concerto for Orchestra, as well as albums of works by Ravel, Debussy, Tchaikovsky, and Berlioz, all under the direction of Seiji Ozawa; a Grammy award-winning recording of Ravel's Daphnis and Chloé and an album of works by Charles Wuorinen, both under the direction of James Levine; a boxed set of the Brahms symphonies under the direction of Bernard Haitink; an album entitled "Bernstein: The Final Concert," featuring the BSO performing Beethoven's Symphony No. 7, with Leonard Bernstein conducting; and the recent acclaimed series of recordings of Shostakovich symphonies (the first three in the series winning Grammy awards in three consecutive years) under the direction of Andris Nelsons. In addition, Malcolm Lowe's playing has added luster to well more than a dozen recordings by the Boston Symphony Chamber Players, including the 2012 Grammy nominated album, Profanes et Sacrée, featuring 20th century French chamber music. For a list of BSO recordings, visit https://www.allmusic.com/artist/boston-symphony-orchestra-mn0000193772/discograph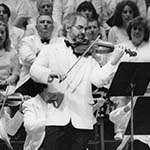 Throughout his tenure with the BSO, Malcolm Lowe was an active participant on every audition committee organized to fill empty positions in the orchestra. In addition, Mr. Lowe served on the search committee that resulted in Andris Nelsons' appointment as BSO Music Director. Mr. Lowe's Concertmaster position with the Boston Symphony Orchestra is named the Charles Munch Chair, endowed in perpetuity.
Mr. Lowe is a faculty member at the Tanglewood Music Center and Boston University. Prior to his Boston appointment, he was concertmaster of the Quebec Symphony Orchestra. The recipient of many awards, he was one of the top laureate winners in the 1979 Montreal International Violin Competition.
Born to musical parents—his father was a violinist and his mother a vocalist—on a farm in Hamiota, Manitoba, Mr. Lowe moved with his family to Regina, Saskatchewan, at the age of nine. There he studied at the Regina Conservatory of Music with Howard Leyton-Brown, former concertmaster of the London Philharmonic. He later studied with Ivan Galamian at the Meadowmount School of Music and at the Curtis Institute of Music. Mr. Lowe also studied violin with Sally Thomas and Jaime Laredo and was greatly influenced by Josef Gingold, Felix Galimir, Alexander Schneider, and Jascha Brodsky.

List of Concertmasters Since the Boston Symphony Orchestra's Founding in 1881:
1984-2019 Malcolm Lowe
1962-1984 Joseph Silverstein
1920-1962 Richard Burgin
1918-1920 Fredric Fradkin
1910-1918 Anton Witek
1907-1908 Carl Wendling
1904-1907; 1908-1910 Willy Hess
1903-1904 Enrique Fernández Arbós
1885-1903 Franz Kneisel
1881-1885 Bernard (or Bernhard) Listemann
Further Details on the Role of an Orchestra Concertmaster
After the conductor, the concertmaster is the second most significant leader in the orchestra; the concertmaster also leads the orchestra in its tuning prior to each concert and plays any of the violin solos featured in the orchestra repertoire. Those who are appointed concertmaster of the Boston Symphony Orchestra are considered among the very top players in the world of violin performance. The competition for such a spot is as intense and demanding as it gets in the world of classical music.
The Search Process for the Appointment of the Next BSO Concertmaster
Under the terms of the orchestra's master agreement, the Boston Symphony Orchestra will immediately begin defining the search process for the appointment of the next concertmaster of the Boston Symphony Orchestra. As is common practice at the BSO and in the U.S. orchestra industry at large, the audition process will remain private and protected in order to maintain the fairness and integrity required to ensure the best possible outcome.