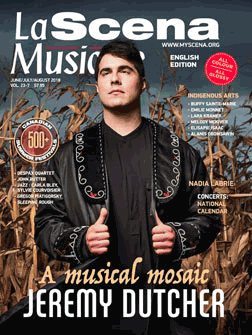 This page is also available in / Cette page est également disponible en:

Francais (French)
Filmmaker Manon Barbeau has long been a scriptwriter and director for Télé-Quebec and the National Film Board (Les enfants du Refus Global, L'armée de l'ombre). Although the documentary filmmaker does not identify as First Nations, she has always been deeply interested in Indigenous issues.
It was while shooting a film with young Attikameks that she realised the degree of distress that existed among First Nations youth. Using her talents for cinematographic and musical production, and with the help of the Atikamekw Nation Council, the Council of First Nations Youth and the National Film Board, Manon Barbeau founded the production company Wapikoni mobile.
The first travelling studios were inaugurated in June 2004. Motorized vehicles outfitted with editing and recording equipment were sent to Indigenous communities, offering youth the opportunity to express themselves by shooting documentaries, music videos or short films. The idea was an instant hit. The first permanent studio was inaugurated at Wemotaci in 2006; other communities have since acquired similar studios. Today, the company is proud to have helped produced over a thousand short films – an unparalleled cultural heritage.
Last year, Barbeau began the pan-Canadian project Wapikon: Reconciliation. Officially partnering with UNESCO, the company doubled its activities and extended its workshops throughout the country, effectively giving a voice to young Indigenous people from coast to coast to coast. The company will also work in Eastern Europe and Palestine, where a first test will happen June.
At first only three, their team now has 20 members. The company wishes to extend its network to the United States. Barbeau is dedicated to the consolidation of partnerships and to the international development of the company, in addition to overlooking its artistic and educational vision.
Activist Odile Joannette will assume the role of managing director of the company's Indigenous department and will be in charge of its strategic operations. "She has an inspiring and diplomatic personality, brings a new energy, and has a valuable understanding of our internal process," says Barbeau.
Translation by Joshua Seguin
www.wapikoni.ca
This page is also available in / Cette page est également disponible en:

Francais (French)