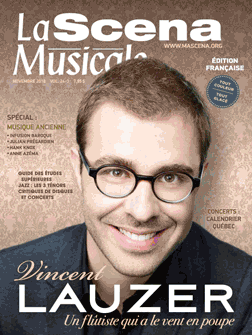 Baroque music, in my view, addresses the passions of humanity. In its heyday, it was a music of sophistication, elegance and exuberance, its essence profoundly humane. Those who expressed themselves through this medium were craftsmen who influenced its development, each honing his abilities according to whims and inspirations.
As a genre, Baroque music is coded. There are certain ground rules, to be sure, but they are neither stringent nor imposing, simply understated. They constitute more of a framework for performers to engage with others with increased spontaneity and creative input. Ornamentation, dynamics, agogics, tempo, even the instrumentations themselves, are left up to the players' discretion, the only caveat being that somewhat elusive concept of "good taste."
In its expressiveness, Baroque music is very physical because of its close relationship to dance. Both artistic forms are closely knit, for kinetic purposes or as a pure source of inspiration. I find both pleasure and motivation in meeting the challenge of sustaining or capturing the power of these gestures in ways that are lighthearted, charming, noble, earthy, even dramatic.
Baroque Montreal
I am a true product of the Montreal Baroque music scene. After first earning my bachelor degree as a recorder player under the tutelage of Francis Colpron, I went on to get a masters in viola da gamba with Margaret Little and finally a doctorate on the pardessus de viole with Susie Napper.
More than that, the scene allowed me to blossom as an artist by working with the following ensembles: Viol Consort, Les Voix humaines, Les Boréades de Montréal, Bande Montréal Baroque, Sonate 1704, Masques (the last now most active in Europe). The scene is diverse, creative, seemingly hyperactive in its activities, even daring – to the point of being inspiring. All these artists and entrepreneurs motivated me to put together my own group, L'Harmonie des saisons, which I co-direct with the harpsichordist/chief conductor Eric Milnes. On Nov. 15 the ensemble launches a four-day run of Mozart's Requiem, a collaboration with the Festival Classica, and soon thereafter an appearance at the Montreal Bach Festival with countertenor Jozef Orlinski as special guest. After that, it's off New York to perform Handel's Messiah, then to Regensburg, Germany, for two more shows at the Festival Alte Musik.
Viola da gamba
A cousin of both the violin and guitar families, the viola da gamba is but one member of the "viol consort" a family of different-sized instruments immensely popular during the Renaissance. They were very much in favour with the noble and bourgeois classes taken by their sophisticated repertoire of elegant works. These stringed instruments were so en vogue that they influenced both musical style and design of instruments, which were now graced with sculpted heads, tops with purlings, tailpieces, decorative touches and elaborate marquetry. After its peak of popularity in the Baroque period, the viola da gamba relinquished its place to the cello.
_____
A frequent performer in international festivals, Mélisande Corriveau has made more than 40 recordings. Pardessus de viole (a duo with harpsichordist Eric Milnes), earned up an Opus award, top honours as record of the year by Radio-Canada and a Top-10 rating from the CBC. Mélisande's ensemble L'Harmonie des saisons received a Juno award in the classical music/vocal category for its album Las Ciudades de Oro.