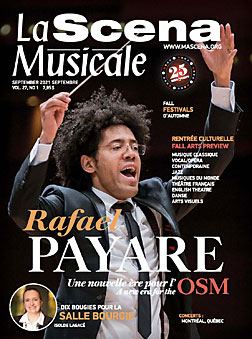 This page is also available in / Cette page est également disponible en:

Francais (French)
The 2021-22 season of the Orchestre FILMharmonique, under the direction of Francis Choinière, opens on Oct. 2 at the Maison symphonique. The orchestra, the first in Canada entirely dedicated to film music, will perform for L'Univers symphonique du cinéma, a program drawn from some of the greatest soundtracks in the repertoire: Cinema Paradiso, Le fabuleux destin d'Amélie Poulin and Schindler's List, among others.
"Film music, for us, has an important place in the classical repertoire," Choinière explains. "It's a repertoire that reaches a large audience, especially young people. With this music, usually quite virtuosic, we attract an audience that often is hearing a symphony orchestra for the first time. This is part of our mission."
The 24-year-old conductor is distinguished by his many projects. In addition to being principal conductor and co-artistic director of the Orchestre FILMharmonique, he is co-founder of Productions GFN, conductor and artistic director of l'Orchestre philharmonique et Chœur des Mélomanes and conductor of the Chœur Fernand-Lindsay of the Lanaudière Festival.
Delighted to be back in front of the public, he has constructed this program with one goal in mind: pleasure. "The repertoire is a mix of music from successful films or series and classical music that can be found in films, such as Barber's Adagio or Mahler's Adagietto. It's a mix of favourites. And Schindler's List and Memoirs of a Geisha will shine the spotlight on our special guest, concertmaster Jean-Sébastien Roy."
This renowned violinist has an impressive track record. Winner of the Prix ​​d'Europe in 2006, he was the winner also of the 2004 OSM Competition and the Joseph-Rouleau Prize at the Concours musical international de Montréal in 2003 and 2006. He has performed as a soloist with the National Arts Centre Orchestra in Ottawa, the Edmonton Symphony Orchestra, the Orchestre Métropolitain (conducted by Yannick Nézet-Séguin) and Les Violons du Roy.
On this occasion, the Orchestre FILMharmonique will be made up of 35 professional musicians, all happy to be back in front of an audience. The concert will be recorded for a delayed webcast.
The remainder of the 2021-2022 season is scheduled, but not yet officially announced, owing to the pandemic. One certainty is that the orchestra will participate in the FINAL FANTASY VII REMAKE Orchestra World Tour, in collaboration with a choir and a hundred musicians under the direction of conductor Arnie Roth on Feb. 22, 2022 at Place des Arts. "Now that things are starting to reopen," the young conductor says, "we are making adjustments. And we are excited to be back at Place des Arts with major productions."
L'Univers symphonique du cinéma. Oct. 2 at 4 p.m. and 7:30 p.m. at the Maison symphonique.
https://www.facebook.com/FILMharmonique/
This page is also available in / Cette page est également disponible en:

Francais (French)