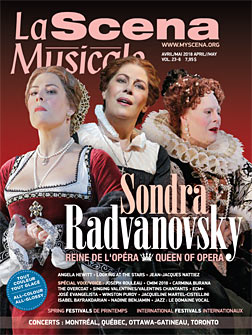 This page is also available in / Cette page est également disponible en:

Francais (French)
To conclude its 78th season, the McGill Chamber Orchestra presents a gala in the company of tenor Marc Hervieux, its spokesperson for 2017-2018. This huge party on June 6 will have the Rialto resonating with the sound of the singer's voice, which will be accompanied by his band as well as a string quintet comprising MCO players. The colourful setting of the famous Montreal theater will add a glamorous touch to this musical night.
MCO artistic director Boris Brott has only praise for his collaborator: "To have Marc Hervieux as a spokesperson has been almost miraculous for us. We worked really well together and I wish for this collaboration to go on."
This internationally known tenor will present a program of French, Neapolitan and operatic favourites. Repertoire will be drawn mostly from his new album Nos Chansons, in which the singer takes pleasure interpreting such hits such as O sole mio, La quête and Une chance qu'on s'a. "It will be an occasion to have access to Marc Hervieux, to learn to know him a little more, to talk to him, to shake his hand," Brott says.
Brott expects the cabaret formula to be intimate, animated and joyful. Hervieux is at ease with the public. "Nice voice, talented musician, gorgeous personality," Brott says. In addition to the musical contribution, Hervieux will be the host of an auction.
Colourful end of season
Before concluding the season, the MCO joins the singers of the opera atelier of Jeunesses Musicales du Canada (JMC) in Mozart's Don Giovanni. We hear Geoffroy Salvas in the title role, Odéi Bilodeau as Donna Elvira and Susan Elizabeth as Donna Anna. The opera, staged by Oriol Thomas, will be presented April 15 at the Monument-National.
Still in collaboration with the JMC, the MCO offers Annabelle Canto, a show for youth which tells the story of a diva (soprano Christina Tannous) who loses her voice and, with the help of her répétiteur (Dominic Boulianne, piano), tries to find it back. The staging on May 17 is by François Racine.
In association with the St. Lawrence Choir and the Ottawa Choral Society, the MCO will perform Mozart's Requiem in Ottawa (June 1) and Montreal (June 2). These concerts bring to the fore the emerging Canadians Marianne Lambert (soprano), Marjorie Maltais (mezzo-soprano), Charles Sy (tenor) and Iain MacNeil (baritone). The program will be completed by Mozart's cantata Davide and, in Montreal only, Aubade and the Fantaisie pour cordes by Auguste Descarries.
Don Giovanni, April 15 at 4 p.m. Monument-National.

Annabelle Canto, May 17 at 7 p.m. Théâtre Maisonneuve.

Mozart Requiem, June 1 at 7:30 p.m. St. Joseph Church (Ottawa) at June 2 at 7:30 p.m.
Saint-Jean-Baptiste Church (Montreal).

Marc Hervieux gala, June 6, 6 p.m. Rialto Theatre.
Translated by Viviane Reid
This page is also available in / Cette page est également disponible en:

Francais (French)