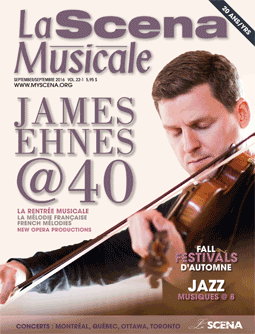 This page is also available in / Cette page est également disponible en:

Francais (French)
On Stage
By the looks of it, there is plenty of live jazz at the Maisons de la Culture this season, and the following listings merely scratch the surface.
In what might be one of his final appearances, Oliver Jones will play on November 18 at Maisonneuve. Bassist Michel Donato, for his part, hasn't called it a day yet; on December 2, he'll perform on a double bill at the Chapelle historique du Bon-Pasteur, first by improvising in and around the Bach Cello Suites, backed by drummer Pierre Tanguay, then join forces with two other veterans, pianist Pierre Leduc and drummer Richard Provençal.
Youthful pianist Guillaume Martineau heads a newly formed quintet for three dates, the first on November 17 (Villeray-Saint-Michel-Parc-Extension), the others on December 1 (Rosemont-La-Petite-Patrie) and 15 (Maisonneuve).
Bassist Jean Félix Mailloux, leader of Cordâme (another string dominated group) premieres Satie Variations on October 1 (Villeray). Trumpeter Aron Doyle pays tribute to the Brecker Brothers (Ahuntsic-Cartierville, Oct. 13) with saxophonist André Leroux standing in for the late brother Michael.
The Orchestre national de jazz Montréal (ONJ-Mtl) kicks off its fourth season on September 24 at l'Astral, with local tenorman Al McLean and his L.A. counterpart Azar Lawrence in an all Coltrane program (just a day after his 90th birthday). These saxophonists launch a joint recording that evening. The orchestra heads to Quebec City on October 18 with singer Jessica Vigneault to reprise their Ella Fitzgerald program Get Happy, after which it will repeat saxophonist Christine Jensen's Under the Influence suite in Montreal on December 3, in preparation of a studio recording to be supported by a crowd funding initiative.
Last but not least, the Off Festival is back for its 17th edition, running from October 6 to 15. This year's event, to be unveiled on September 7, holds much promise because of a larger contingent of invited guests from both Europe and the States, its closing event with a major name. Read all about it in next month's section.
Off the Record
While some might think CDs are passé, they are still coming. Opening the season (Sept. 16) is the debut of the Piano Cameleons duo, issued on Justin Time. In a more world beat vein, the Malasartes label launches three new titles with supporting concerts: first, the Solawa Quintet (Oct. 3, La Vitrola), the Nomad's Land trio, (Oct. 20, L'Astral) and Pierre Labbé – Parlures et Parjures (Nov. 7, Sala Rossa).
For the more experimental, the Rimouski label Tour de Bras has five new titles in the offing, the most recent one being a singular minimalist trio of tuba, piano and vola di gamba that will perform on October 20 at the Casa del Popolo. Ambiance magnétiques, for its part, will have six new title available by early December, including the latest of their large Supermusique ensemble. Saxophonist Samuel Blais, finally, appears in a new album of the New York contemporary jazz group Split Cycle, also due out by year's end.
» For more information:
This page is also available in / Cette page est également disponible en:

Francais (French)