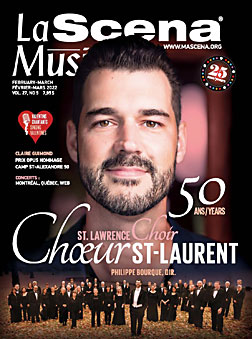 This page is also available in / Cette page est également disponible en:

Francais (French)
Jazzlab Orchestra – LOGUSLABUSMUZIKUS – Effendi FND 164
For close to two decades, the Jazzlab Orchestra has established itself as the in-house composers' forum for the Effendi label. For the band's latest outing, the honours have been bestowed on the label boss, double bassist Alain Bédard. Seizing on the opportunity, he has churned out a repertoire as imposing in duration as the disc's title, its nine mid-length tracks exceeding the 75-minute mark. Fronting the usual rhythm trio including piano and drums is a lineup of two brassmen and four multi-reedists who tackle the sophisticated and densely written charts with much savvy. As polished as the performances of these works are, their strictures are such they do not offer that many openings for the musicians to go off on more personal tangents, even in the solo spots. To be creative, a music need not only be played well, but played around with to some degree. Listen to soundbytes here .
L'Oumigmag – Habitant – Corne de Brume 002
While the October Off Festival performance of guitarist Sébastien Sauvageau's folk-meets-creative music sextet came up short timewise, his band's twin CD running over 80 minutes certainly makes up for that. On the upside, the leader offered each of his bandmates and himself one feature piece; on the downside, the drummer's track is marred by some unfortunate distortion from the bass, not to forget the tiny font of the liner notes printed in yellowish-green on glossy paper. A follow-up album from this band would be more than welcome, albeit with more attention to production details. Listen to soundbytes here. 
Nick Fraser Quartet – If there Were No Opposites – Hat ezz-thetics 1034
One striking characteristic in today's jazz scene is the overwhelming numbers of ephemeral groups thrown together for a single project. Bucking that trend, Toronto tubman Nick Fraser's quartet has stayed afloat for a decade now, issuing four albums to date, this latest one released last fall on the Swiss imprint Hat ezz-thetics. On board for the ride are the ringleader's Hog Town compadres bassist Rob Clutton and cellist Andrew Downey, with New York colleague Tony Malaby on saxes adding to the cachet. Composer credits for five of the seven tracks on this 42-minute disc go to the drummer, the final two being a single collective improvisation split in two tracks that bookend the side. In keeping with its past efforts, this foursome delivers a visceral music that follows the path of free group improvisation rather than the usual jazz procedure of playing variations on written themes and their harmonies. Listen to soundbytes here .
Tania Gill Quartet – Disappearing Curiosities –  Artist release
When it comes to making albums, Toronto pianist Tania Gill takes her time. This side, coming out in March, is the follow-up to her 2010 debut Bolgar Station. With bass and drums, she welcomes trumpeter Lina Allemano back into the fold (a musician profiled in this section last October). With nine tracks spread over a mere 36 minutes, this recording is proof positive of what contemporary mainstream jazz should sound like, one where more traditional musical devices are offset by more adventuresome practices, the solos giving some extra lift to the music – even if though it would have been nice of the players to stretch them out a little more – and occasional synthetisizer enhancements adding an element of surprise. Listen to soundbytes here .
Also in this issue: Mezzo Piano – A Portrait of Marc Copland
This page is also available in / Cette page est également disponible en:

Francais (French)