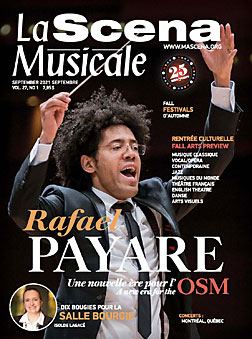 This page is also available in / Cette page est également disponible en:

Francais (French)
Montreal's Off Jazz Festival (OFJM) is back with a vengeance this year. Compared to last year's drastically slimmed-down two-day online-only event, the 22nd edition will offer 18 events, three of them as double bills, all presented before live audiences (knock on wood). Also worth noting is the fact that its 10-day run beginning on Sept 30 is double the length of its big rival, the FIJM, whose activities were displaced from its usual late-June time slot to mid-September.
Given its mission of promoting local talent, both established and up-and-coming, OFJM did not have the rug taken out under its feet after the sudden stoppage of international touring activities. While the Goliath was caught squarely in that squeeze and has since been biding its time, the David could easily fill its bill with headliners from its own backyard (see a list of them at the end of this piece).
More importantly, the OFF festival has been consistent in its goal of allowing newcomers to present fresh musical projects, some mainstream, others more adventuresome. What follows are profiles of three promising candidates belonging to the latter category, all of which have slightly unusual lineups, two with rather offbeat names.
L'Oumigmag
Of all groups slated in the program, the quintet spearheaded by acoustic guitarist Sébastien Sauvageau may well catch an eye or two for its name. If you have an inkling that the word Oumigmag stems from a First Nation's tongue, you're almost on the money, as it is a slight rewrite in French of ummimak, the Inuktitik word for musk ox.
"I lifted it from a documentary by the late Québécois filmmaker Pierre Perrault,ˮ the bandleader explains, "because I wanted to pay my respects to a man who, like me, is very much rooted in his land. As a native of the Lanaudière region, where I still live, I am a country boy at heart, so I am deeply connected to that.ˮ
But Sauvageau is no stranger to the big city, Montreal having been his musical training ground. The study of classical music and composition at the Université de Montréal with, among others, Denis Gougeon, has influenced him considerably in terms of a musical vision that cross-cuts several genres. Folk musics also figure prominently in his approach, especially those from the Nordic latitudes, of Canada first and foremost, but also the traditions of the Scandinavian countries. Not to be overlooked in the mix is jazz, and the language of improvisation that allows him to open up his music to a greater degree. "I really like that ECM aesthetic, pianist Nik Bärtsch in particular," Sauvageau notes. "Approaches like that don't exist here, and that's what interests me.ˮ
These varied influences meld together in an all-acoustic group comprising guitar, double bass, drum kit, reeds (saxophones and bass clarinet) and violin. "David Simard, who also plays viola d'amore, comes from that old-time fiddler tradition,ˮ says Sauvageau, "and does that foot-tapping thing, too, which I incorporate in my pieces. On occasion, I throw a few dabs of electronics into the mix, to broaden the sound palette.ˮ
For its festival appearance, Oumigmag will focus for the most part on the repertoire of its self-produced 2019 double-album Habitant, though the leader hints at the possible inclusion of a couple of new works.
Wed. 6, 8 p.m., le Ministère. (This group's set will be the opening act for the guitar and double bass duo of Sylvain Provost and Frédéric Alarie.)
Sun Warriors
Not only is the name of this sextet distinctive in its own right, but so is the name of its double-bassist leader Summer Kodama. Born in Hawaii but raised in Las Vegas, she is one of countless young American musicians drawn to Montreal's McGill University, both for its highly regarded jazz studies program and relatively affordable tuition fees.
With respect to the bandname, the leader explains: "I chose ʻWarriors' in relation to the first lineup I had in school; they were all very energetic people, me included, and totally invested in my project. The 'Sun' part is tied in some way to my own name, and I just liked how the two sounded together, so I kept it throughout my studies, which I finished in the nick of time, just as the first wave hit us last year.ˮ
After graduating, Kodama moved back home to the American Southwest, but intends to settle back in town in the weeks preceding her festival appearance. "My Montreal experiences were so great, and I made so many friends, that the climate is so much better for me, at least in creative terms," she says. "But the weather, that's another story!ˮ
With respect to her musical background, it was all classical, with a particular interest in 20th-century composers, Prokofiev being among her all-time favourites. "The bass always attracted me, even if I played violin at first, and still do a little now,ˮ Kodama says, " but just the look of it was impressive, likewise for its sound. Jazz only came into the picture when I arrived at McGill, and if one musician turned me on, it has to be Mingus. I love that constant tug between order and disorder in his pieces, and that's how I want my music to be, with composition being an essential aspect of my work.ˮ
Looking ahead to the concert, she has been putting together a brand new repertoire over the course of the year, tailored to an almost entirely female lineup of two saxophones (one of them being Claire Devlin, presented in this section last spring), a vocalist, singing both lyrics and melismas, an accordionist and, as the lone male, the drummer. Sounds promising.
Fr. 8, Café Résonance, 5 p.m.
Julien Fillion Quartet
While the bandname of this outfit may come across as undistinguished, its instrumentation, however, is anything but generic. Consider its double-barrelled lineup of two tenor saxes and two drum sets: a standard jazz quartet it is not. Its headman, Julien Fillion, was a longtime alto player before moving over to the larger horn a couple of years ago, meshing it perfectly with that of a longtime friend and fellow reedist Phillipe Brochu-Pelletier, their sparring partners being Thomas Sauvé-Lafrance and Alain Bourgeois.
"Yes, I studied jazz at Université de Montréal,ˮ Fillion says, "but I really learned how to play this music on a nightly basis in bars, one in particular, L'Escalier on Ste. Catherine Street. Over a two-, three-year period, I jammed with all sorts of people, and that is where I met the drummers, and so it came about. From one thing to the next, we got an offer for to play in a small out-of-town festival, and the people were so enthralled by it that we kept it up. The nice thing for me is that there are no role models to follow, yet another incentive for us.ˮ
Over the course of its early evolution, the group has gone beyond its first all-acoustic forays into an increased use of live electronics (keyboards, pedals, laptops). Their work seems to have paid off, as it netted the French CBC Revelation prize for this year, the award resulting from a jury adjudication of candidates fielded by industry insiders.
"In December 2020,ˮ says Fillion,"we did our first record in a studio, hoping it would come out a few months after, but the pandemic thwarted our plans. The good news is that the launch is now set for Nov. 9 at Le Petit Campus on Prince-Arthur Street.ˮ From early indications, such as the video clip above, this band has one thing going for it: a pretty bracing sound.
Tues. 5, 8 p.m. le Ministère.
Headliners to watch for

Sept. 30: Joe Sullivan – Chansons et poèmes (12-piece ensemble and guest vocalist Sonia Johnson). L'Astral, 8 p.m.

Oct. 1: Double bill: Frank Lozano and Gentiane Michaud-Gagnon duo followed by the Doxas Brothers' Circle quartet with special guest, pianist Marc Copeland. – Cinquième salle, PDA, 8 p.m.

Oct. 2: Philippe Côté and Marc Copeland + Le quatuor Saguenay – Le Gesù, 8 p.m.

Oct. 8: François Bourassa solo (L'impact du Silence) – Salle Claude-Léveillée PDA, 8 p.m.

Oct. 9: Jean-Nicholas Trottier 10tet (Live recording) – Théâtre Plaza, 8 p.m.

Daily festival feature: Scott Thomson — Solos de trombone à heures indues – Fonderie Darling. (Performance times vary each day, consult the program for the timetable.)
Complete festival lineup online, including ticket purchases, available here
Go here to read our record reviews (Twice Upon a Time – Final instalment).
This page is also available in / Cette page est également disponible en:

Francais (French)