This page is also available in / Cette page est également disponible en:

Francais (French)
While there are signs of better times ahead, there is still reason to be guarded with regards to the pandemic. In the performing arts, venues are now allowing audiences to witness shows in greater numbers again, after months of limited access or total shutdown. Through it all, artists ground their teeth, some despairing to the point of hanging it up for good. Others found ways of making the best of a difficult situation. Here are three cases on the local jazz scene that give credence to the saying that necessity is the mother of invention.
SAMUEL x 4 (AND MORE)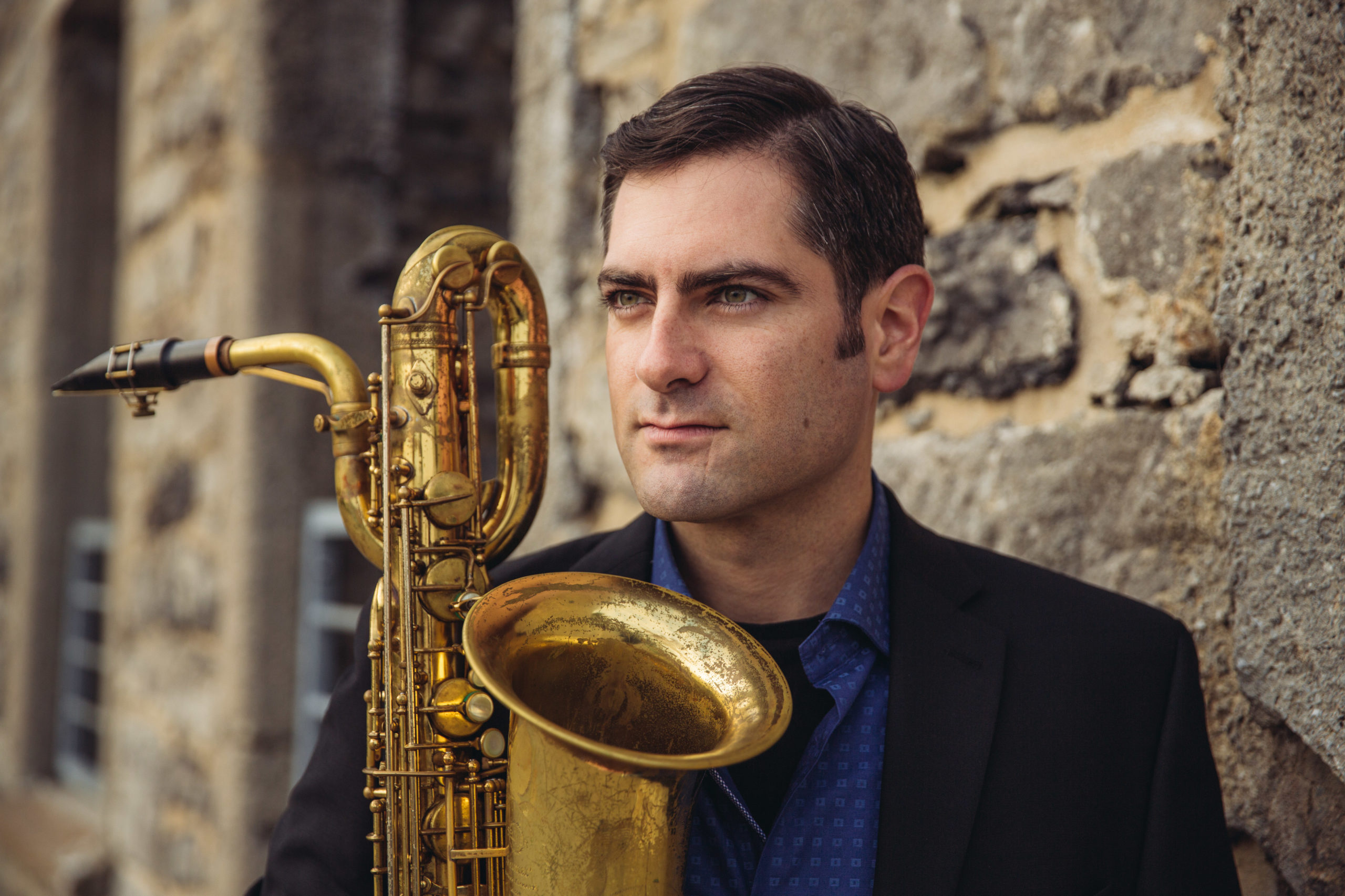 Like everyone else, multi-reedist Samuel Blais was holed up at home, but that did not deter him from sharing his music with the world in a way unlike any other: by duplicating himself before our eyes. With four saxophones, a pair of clarinets, even a drum set and a double bass, he produced a series of short videos uploaded on his own YouTube channel that feature multiple versions of himself.
"When the first wave hit last year," Blais recounts, "I had received a grant to write more music for the saxophone quartet I put together in 2012, the one with the two Daves, Liebman and Binney, and Donny McCaslin, a band that finally put out its debut recording in 2019 on Sunnyside Records (Fourvisions Saxophone Quartet). Parallel to that, I was developing a side interest in producing and editing videos, and the school I teach at, the CEGEP in Joliette, happened to have licenses of software programs for that purpose. With no training in the field, I simply went about it on my own."
After having set up his basement, Blais first filmed himself laying down each part he had written in separate takes, then superimposed them to create the illusion. Another layer of complexity was added to the undertaking by using several cameras, a procedure requiring a tight synchronization between sound and image, not to forget the importance of never changing the camera positions.
To view more of these clone videos, enter "Samuel Blais saxophone" in the YouTube search box.
JACQUES x 16
Music groups of all stripes were dealt a hard blow when the first lockdown came into effect in early 2020. Caught in the squeeze, the Orchestre national de jazz de Montréal (ONJ) had to cancel the final concerts of its season. As much as that was a matter of concern, the fact of not knowing when to reschedule them was enough to give its founder and director Jacques Laurin (crouching) an added headache. But not so, according to him: "Honestly, it did me some good to stop completely, at least in the beginning, because I had never really taken a break since the group's inception in 2012. But then comes the time of having to face the music again, so to speak."
Laurin took the opportunity to dust off an idea he first formulated in a project of establishing a jazz house. "Fifteen years ago, I foresaw the potential of filming concerts for the purpose of broadcast and distribution over the Web, but the required broadband technology was not as widespread then as it is now."
In the orchestra's past concert season, which ended last May, Laurin did just that: videotaping its seven performances held at the Cinquième salle of Place des Arts, four with no audience, the remainder with a limited one. To further his objective, he invested in state-of-the-art video and sound equipment for broadcast and post-production purposes. That, to him, is where the future lies, in the live concert recording, rather than the studio album for a CD, which he considers to be old hat. Yet he bemoans the absence of a venue in town with a control room for video tapings, hence the obligation of owning his equipment and going through the motions of setting it up in an adjacent space to the hall. His ultimate goal is to make all concerts available over the internet, both in audio and visual formats, but added funding is required for editing and mixing purposes. https://www.onjm.ca
FRANÇOIS x 1
If one musician knows what lockdowns are about, it surely has to be François Bourassa. "I go over to France regularly," Bourassa explains, "because my wife is from there, and her relatives, too. But travelling was a trying experience each time, because we had to isolate ourselves for two weeks, both to and fro."
Yet, these trips were beneficial in one important way, because they allowed him to produce that long awaited solo-piano recording, and under the best possible circumstances.
"Everybody has been on my case to do one," Bourassa confides, "and the pandemic occurred just as I was wrapping my head around it. In a sense, the events worked in my favour, in that with nothing else to do, I had all my time to work on the material."
The recording took place in the final days of September last, as the second wave was about to set in, the chosen facility being the prestigious Studio La Buissonne in the French Provence, some 40 km from Avignon.
"I knew nothing of the place," Bourassa admits, "until the producer of my albums, Alain Bédard, recommended it to me, based on his own knowledge and that of drummer Michel Lambert, who had previously worked there." (For the unaware, this studio is one of two currently used by ECM records for all of its productions, and produces albums of its own under its eponymous label.)
When asked about the experience, Bourassa gives a glowing review, not only for the splendid-sounding room and marvellous Steinway concert grand (probably the best instrument he has ever played), but also for the man in charge, Gérard de Haro. "His expertise is second to none," Bourassa says, "and he is there for the musician, which means he never imposes himself, but is all ears and makes suggestions." His only quibble was having so little time to make the record. "At first, I wanted three days, to take at least one to get myself acquainted with the instrument and warm up, but he gave me just two. Pianists always have to contend with a different instrument, so we welcome any opportunity to spend added time on one." 
Listening hint: L'impact du silence — Effendi FND 162
For more jazz, go here to our record review section, Off the Record.
This page is also available in / Cette page est également disponible en:

Francais (French)