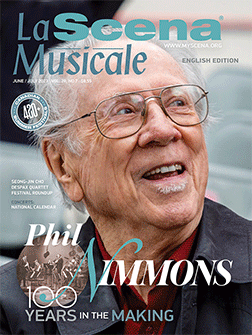 This page is also available in / Cette page est également disponible en:

Francais (French)
For all of the uncertainties that loomed large over the Canadian jazz festival scene in recent years, it is now back in full swing in these post-pandemic times. The 20-some events that dot our country's landscape will be hosting their annual music bonanzas, returning to their pre-2020 level of activities, both indoors and outdoors.
Thanks to the Jazz Festivals Canada touring network, international performers will hop, skip and jump between cities to entertain audiences of all stripes in the weeks to come. Not to be overlooked are our own homegrown talents who benefit greatly from publicly-funded touring grants. Among those lucky enough to be part of the action, there are quite a few women showcased this year, of which the following are but a small sampling.
Ostara Project
Co-founded by Vancouver bassist Jodi Proznick and pianist Amanda Tosoff, a Vancouver native now residing in Toronto, this all-female super-band of five instrumentalists and two vocalists (Laila Biali and Shruti Ramani), most of them based in those cities except for two Montrealers: drummer Valérie Lacombe and trumpeter Rachel Therrien, who also has a foothold in New York. Named after the Germanic Goddess of the Spring equinox, this contemporary mainstream jazz unit performs mostly originals from each of its members in an engaging way, as heard on its eponymously titled Cellar Live debut release, reviewed in this section two issues ago. Festivalgoers in Saskatoon and Edmonton, take note that Marianne Trudel from Montreal will sub for Tosoff, while vocalist Ramani will appear in all but the first of its nine engagements. On stage: June 22: Winnipeg; 23: Medicine Hat; 24; Victoria: 25: Vancouver: 26: Ottawa; 28: Toronto; 30: Saskatoon; July 1: Edmonton; 7: Montreal.
To sample Ostara's album, click here
Kokoroko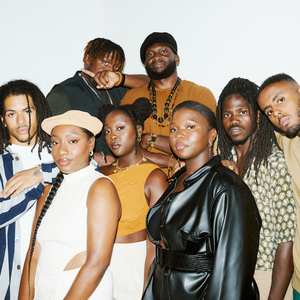 From the foregoing group of seven Canadian women, we bump it up by one with this mixed-gender group of Afro-British Londoners led by trumpeter Sheila Maurice-Grey. Its brash lineup of brassy horns and grooving rhythm section will surely get crowds swaying on the outdoor stages during its three-city Eastern Canada whirlwind tour. Back home, they've caused quite a stir and earned plenty of rave reviews for the infectious music that rekindles the spark of the 1980s dance floor jazz craze in the U.K. that somehow never made it beyond its borders. Catch this band's vibe by searching out its 2022 debut LP release Could We Be More,available on the main streaming platforms (Spotify, Bandcamp and the like). On stage: June 27: Ottawa; 28: Toronto; 29: Montreal.
To sample Kokoroko's album, click here.
Brandee Younger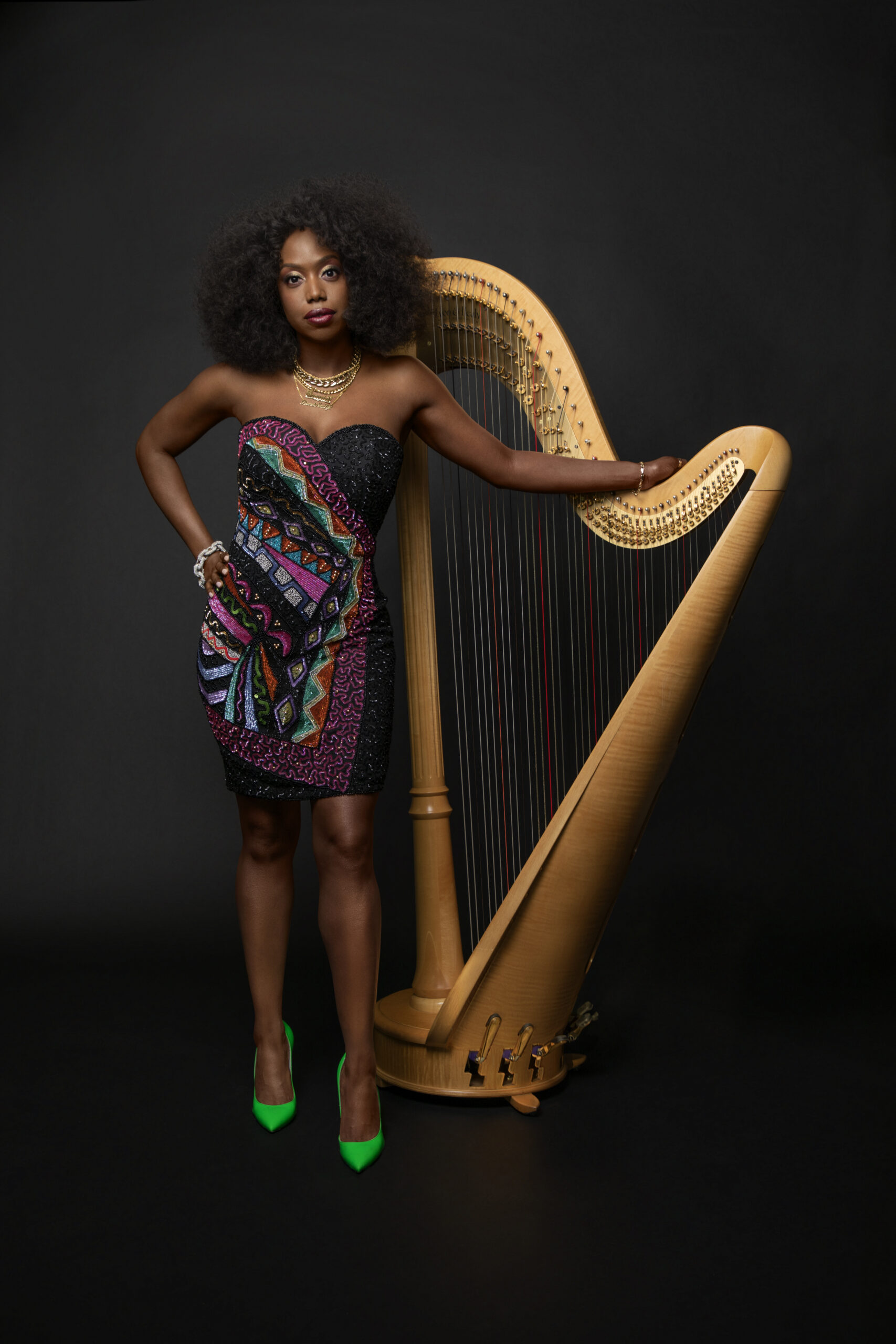 She plays the most unlikely of all instruments in jazz, the harp. Precedents are few and far between, so few that you could pretty well count them all on the fingers of one hand. Alice Coltrane may well be the first name that comes to mind, though she was a pianist who only switched after her famous husband got her one; in the 1990s Deborah Henson-Conant surged for awhile, yet the real jazz harp pioneer was Dorothy Ashby some four decades earlier. (Historians, however, will stake their claim on Casper Reardon, heard on some Jack Teagarden sides, circa 1929.) As for the newest member of the lineage, Brandee Younger, she received a considerable career boost in 2021 when one of her pieces was nominated for a Grammy. In her most recent album Brand New Life, she revisits the music of Ashby to the tune of the today's hippest beats. In this, her Canadian debut, Younger hits three cities accompanied by bass and drums, probably the best format to showcase the abilities of any musician. On stage: June 28: Victoria; 29: Vancouver; July 2: Montreal.
To sample any one of Brandee Younger's recordings, click here.
Gentiane MG
Hailing from Montreal, pianist Gentiane Michaud-Gagnon (MG for short) is a typical product of her generation: a jazz-studies graduate informed by a wide range of influences cross-cutting jazz and classical music. Since her arrival on the scene a decade ago, she has received several awards for her work, one of them being the 2018 CBC/Radio Canada Jazz Award. To date, she has three trio releases to her name, the latest Walls Made of Glass issued last fall. On this, her first extensive cross-country tour, she will share the stage with her longstanding bandmates Levi Dover on bass and Louis-Vincent Hamel, performing pieces from that recent offering and some older music, if not a few surprises that she might have up her sleeve. To find out which ones, check her out at a festival near you. On stage: June 23: Ottawa; 24: Winnipeg; 27: Victoria; July 1: Calgary; July 3: Montreal; Aug. 6: Mont-Tremblant Jazz festival
To sample any one of Gentiane MG's albums, click here
Mali Obomsawin
One musician to keep an eye (and ear) on is bassist Mali Obomsawin. A member of the Abenaki First Nation, she presents a unique combination of folk-inspired songs from her people and open forms of free improvised music. Together with her band—a sextet with a cornetist doubling on flugelhorn, a pair of sax and clarinet players, a guitarist (acoustic and electric) and drummer—they use traditional drums to conjure the spirit of the culture while also singing lyrics in the native tongue. From the ritualistic sounding compositions, the music veers off into unchartered waters, allowing one or several players to launch into some free-wheeling improvisations of particularly heated intensity. If your tastes are precisely that, stretching your ears beyond the tried and true, this is a musician well worth discovering. On stage: Quartet: June 24, Vancouver, and June 25, Victoria; Sextet: July 7, Montreal; Quintet: July 15 in Halifax N.S., 16 in Sackville, N.B., and 18 in Fredericton, N.B.
To sample Mali Obomsawin's album, click here
For more information of the Canadian jazz festival network, go to: www.jazzfestivalscanada.ca
This page is also available in / Cette page est également disponible en:

Francais (French)