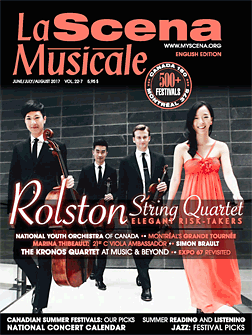 This page is also available in / Cette page est également disponible en:

Francais (French)

Donny McCaslin
Beyond Now / Motema Music
Tenorman Donny McCaslin saw fit to doff his cap towards the man once known as Ziggy Stardust, including two of his tunes ("A Small Plot of Land" and "Warszawa") on this his latest release. His appearance on Blackstar, Bowie's musical testament issued but two days before his passing in early 2016, represents quite a career boost for this most deserving saxophonist. Not a tribute album per se, this outing has all the earmarkings of the slickness and polish of pop music that Bowie excelled at. In the disc's nine tracks (a tenth available only by download), there are two other pop numbers, the rest by the leader. The band, a quartet with electric bass, keyboards, and drums, is as well-oiled as you can get in this genre, full of fiery solos and tight ensemble playing, all calculated to a tee. Of course, McCaslin has been granted plenty of exposure here – and who would not be tempted by the lure? – but it remains to be seen if he wants to remain there for popularity's sake.

BassDrumBone
The Long Road / (2) Auricle 16-17
The title of this two-disc set says it well for three musicians who have gone down a very long road indeed… for four decades now and still counting. To celebrate their anniversary, they could have well put together a  retrospective by dusting off a bunch of their favourite tunes; instead, they decided to stay with the times and offer new items, everyone contributing to the effort. All pieces but two are studio recordings, the exceptions being live performances to close the second disc and where they stretch out for maximum effect. As bonus attractions, the trio welcomes two prominent guests in studio, tenor titan Joe Lovano and the ever-crafty pianist Jason Moran, each heard three times, but never together. Despite its longevity, there are no signs of this trio getting long in the tooth, a fact that will certainly bear out in concert from a band that never fails to deliver the goods at each performance.

Ingrid and Christine Jensen
Infinitude – Whirlwind Records W/R 544
With their feet planted in tradition and the ears peeled to the times, Ingrid and Christine Jensen (trumpet and saxes, respectively) are a perfect musical match. On their most recent effort, issued on the British imprint Whirlwind, they further their journey in impeccable company, with drummer Jon Wikan, bassist Fraser Hollins, and the topflight guitarist Ben Monder in tow. As always, a lyrical thread runs through the music of the co-leaders, the compositions shaped in legato phrases and frequent long held notes, unfolding over floating harmonies; yet, the improvisations show some daring, such as when two players solo freely at the same time, or when Ingrid uses electronics on her horn, likewise for Monder's distortions. All told, this is quality music performed with lots of skill but, more importantly, a good deal of imagination.

Kaze
Uminari / Circum-Libra 203
Few musicians associated with the jazz avant-garde have been so successful in documenting their career so steadily as pianist Satoko Fujii. In a little more than 25 years, her discography exceeds fifty titles, most under her name, a handful of under her husband's, trumpeter Natsuki Tamura. Of the many bands she tends to, the quartet Kaze pairs the couple with two Frenchman, Christian Pruvost (2nd trumpet) and Peter Orrins (drums) This band's third album is very much in keeping with its predecessors in that the music shifts between two poles, one being compositions with clear jazz contours, the other improvisations of a very abstract nature, exploring sonic effects rather than thematic variations or harmonic progressions. Thus, the five long tracks of this 70-minute-side proceed along these lines, especially the last two, where the compositions are more of an afterthought. Kaze is a unit that will surely catch the ears of those who like creative music that does not stick to the tried and true.

Perch Hen Brock and Rain
Live at Tampere Jazz Happening – Relative Pitch Records rpr1051
This recording from a festival in Finland captures four top rate improvisers at work, two from the Big Apple (Ingrid Laubrock, saxes, and her partner Tom Rainey, drums), the other pair from Amsterdam (violist Ig Henneman, tenor saxophonist, clarinetist, and shakuhachi player Ab Baars). The latter is one of the most startling tenor players around, with a massive gargling sound that almost goes out of control when the player is actually in full command; more conventional, Laubrock is an adroit conversationalist who is a good foil to the Dutchman. The group offers four long pieces, each one bearing a word from the band's name, and a short closing encore. Throughout, the musicians demonstrate their resourcefulness, creating roles for themselves, trading places, even inventing new ones.
(Opening for it in Montreal will be another quartet comprised of a Montreal couple, Karoline Leblanc, piano, Paulo Ferreira Lopes, drums, and two guests from Portugal, Luis Vicente, trumpet, and Hugo Antunes, bass. They too have a self-produced entitled A Square Meal, a disc well worth a listen, and a show worth catching.)

Gord Grdina and Haram
And Her Eyes Illuminate – Songlines SGL 2407-1
Home to a hearty crop of talented musicians, Vancouver is a hotbed for all kinds of creative music, especially those with an edge. Guitarist Gord Grdina, for one, loves putting atypical bands together, and once succeeded in hiring stellar musicians like Gary Peacock and the late Paul Motian. What's more, he has a fondness for non-Western music, and his tentet Haram serves as a vehicle for his explorations of Middle-Eastern traditions. In 2012, he debuted the band on the record reviewed here, an album that underscores his intelligent and engaging combination of musical traditions. If you missed the album, you can catch the band live this summer and revel in its entrancing grooves and broad palette of sounds.
This page is also available in / Cette page est également disponible en:

Francais (French)