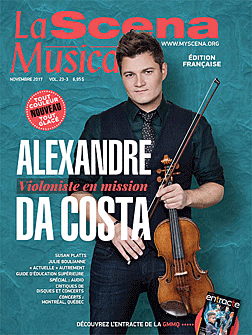 This page is also available in / Cette page est également disponible en:

Francais (French)
Prizes and Awards
New York's Concert Artists Guild has just announced the winners of its annual Victor ­Elmaleh Competition. The Argus String ­Quartet shared top honours at this year's 67th edition, sharing first prize with pianist ­Dominic Chieli, with violinist Yoojin Jang finishing second. All awardees earn a right to join the CAG's artist roster, including an ­exclusive two-year management contract. These performers will make their Carnegie Hall debuts during the 2018–19 concert ­season on the CAG Presents concert series. The Argus Quartet has been offered tenure as the string quartet in residence at the Juilliard School of Music for the fall semester. A Naxos recording artist, pianist Chieli is based in Los Angeles where he studies at the Colburn ­Conservatory.
Canadian ­­mez­zo Emily D'Angelo pick­ed up second prize recently at the 30th edition of the Neue Stimmen voice competition in Gütersloh, ­Ger­many.
Top honours went to the 24-year-old Bulgarian mezzo-soprano Svetlina Stoyan­ova earned, while bass Cho ChanHee from South Korea finished first among male vocalists.
Cash prizes of €15,000 were awarded to each winner, with second and third prizes receiving €10,000 and €5,000 ­respectively. Presided over by the prestigious Bertelsmann Foundation, this competition is now recognized worldwide as one of the prime talent search competitions in the field of opera singing.
Dallas native Alcée Chriss III was a double winner at the 2017 Canadian International Organ Competition, held last month in ­Montreal. A third-year doctoral student at McGill University, this 25-year-old American won first place in a field of six finalists as well as the Gérard-Coulombe Bach prize, which earns him a ­performance opportunity at the forthcoming Montreal Bach Festival in the spring of 2018.
Beyond the monetary awards of $25,000 and $5,000 respectively, the musician will also benefit from a three-year artist management contract and another for the production and distribution of a CD. A keyboard virtuoso, adept at both the harpsichord and jazz piano, Chriss previously earned top honours at two similar competitions in his home country. Now with three wins in his pocket, he claims to be finished for good with competitions.
The iconic jazz pianist Chick Corea, 75, and the versatile drummer Steve Gadd, 72, have been granted ­honorary doctorates by the Eastman School of Music. On ­October 13, both musicians were ­bestowed this honour during a ­ceremony which also ­included a­ ­performance by these long-time ­associates, now in the midst of a year-long world tour. Corea's career spans more than five decades, ­including his legendary ­association with Miles Davis. He has fronted a host of other groups, of which his mid-1970's band Return to Forever was one of the most ­celebrated of the jazz fusion groups. Celebrated worldwide, he has been nominated 63 times for Grammy Awards and has netted 22 of them, a remerkable accompishment to say the least. Known for his work in both acoustic and electric jazz, he has also crossed over into funk music and even classical, in which he has composed both a piano concerto and a string quartet. Steve Gadd is both a native of Rochester, home to the Eastman School, and an ­alumnus of this ­institution. He has lent his talent to a host of headliners in the popular music field, ­including Paul Simon, the Bee Gees and James Taylor. According to the ­pianist: "Every ­drummer wants to play like Gadd ­because he plays perfectly … He has brought orchestral and compositional ­thinking to the drum kit while at the same time having a great ­imagination and an ­ability to swing."
A demotion, a promotion
On the heels of the recent Weinstein scandal in Hollywood, yet another case of sexual harassment now rocks the entertainment world, this one in Montreal. Gilbert Rozon, founder and ­director of the city's Just for Laughs Festival, a.k.a. Juste pour rire, has nothing to laugh about anymore. Two Quebec actresses have­ accused him publicly of grabbing them several years ago, adding more fuel to the current #MeToo campaign on social media. The ­ensuing outcry has forced Rozon to resign as ­director of the event he founded, including the selling of his shares. Moreover, he has stepped down from the city's 375th anniversary ­celebration committee, over which he had presided. These revelations have brought ­condemnation from all quarters of the community and embarrassment to current mayor Denis Coderre, endorsed by Rozon for re-election on November 5. News has travelled quickly since, with reports appearing both south of the ­border and in ­Europe. In France, Rozon had been a long standing jury member of a talent search show, and his actions have forced him to quit. Rozon, 63, has ­expressed his deep regret while offering apologies to all concerned parties. But as one says, the higher they rise, the harder they fall.
On an upbeat note, the Canadian Opera Company in Toronto has extended the contract of its ­current General Director Alexander Neef until the 2026–2027 season. First hired in this ­position ten years ago, Mr. Neef has achieved, according to Mrs. Colleen Sexsmith, chair of the COC's board, "visionary artistic leadership [that]has significantly advanced our company's international profile and reputation, attracting the world's best artists for significant role ­debuts and performances as well as creating new productions of critically important works and collaborating with industry-leading organizations." By the same token, the COC also ­reports a surplus for its previous season, slightly exceeding its budget of $43 million. Of that amount, no less than thirteen million dollars were raised by fundraising campaigns.
Errata
Due to a production error in the October issue, Denis Robert was not clearly identified as the author of the Magda Olivero article. We apologize.
This page is also available in / Cette page est également disponible en:

Francais (French)