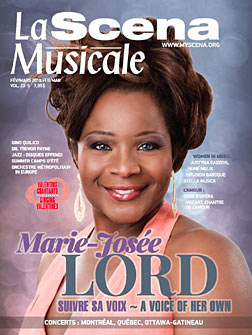 This page is also available in / Cette page est également disponible en:

Francais (French)
This year marks the 20th anniversary of Effendi Records, Montreal's premier label for home-grown contemporary mainstream jazz. "Effendi", if you didn't know, is a word of Turkish origin ­designating a gentlemen of good standing. It also happens to be the title of a McCoy Tyner tune, which is the actual source of the label's name.
An as indie company focused on local bands and artists, Effendi has built a catalogue that now exceeds 150 titles, an ­impressive feat. Credit goes of course to its founder, Alain Bédard, a savvy musical ­entrepreneur who certainly knows the ropes. With its emphasis on homegrown talent, it has actually released few albums of foreign bands, but occasional guests do appear alongside local groups as invited soloists.
And the recordings keep on coming. Six new titles have hit the market in about as many months (see reviews next page). The latest, ­issued lst month, is by flutist François Richard.

For his part, Bédard is not just a producer who sits in a control booth. He stands in front of the mike as well. A bassist by training, ­Bédard is both a bandleader (his main vehicle being the Quartet Auguste) and a driving force behind the Jazz Lab, a co-op octet he first put together over 15 years ago.
Around that time, in 2001, he launched his own event, Jazz en Rafale, as an outlet for his roster. To support him in this venture, he ­created Jazz Services, a distinct entity with non-profit status. On the business front, his products are distributed internationally thanks to Naxos. Last but not least, he has ­succeeded admirably as a tour manager by sending his charges worldwide, with stopovers in Asia, Europe, the United States and Canada from coast to coast.
Formative years
"In the mid-1990s, the local scene was not well represented on disc," Bédard said in a recent interview. "You had Justin Time, but it had shifted its interests to the international scene. Then there were small labels like Amplitude, Lost Chart or DSM, who were all treading water. That's what led me to start the label, with much help from my partner Carole Therrien [a classically-trained vocalist who turned out two sides of her own on the label]".
Prior to that, Bédard was active as a ­musician in Quebec City, his home town. He remembers doing the very first gig in the late 1970s at the Clarendon Hotel, the city's ­­long-standing jazz haunt before its temporary ­suspension of activities about decade ago. After spending several years of commuting to Montreal, he finally settled there in 1989. In the ensuing years, he went back to school, earning a first diploma as a sound engineer and a second in classical performance at the Université de Québec à Montréal (UQAM). Shortly thereafter, Bédard fractured his back in a fall, an incident that seriously compromised his performing career.
"The idea of the label came to me at that time," he recalls. "Were it not for the accident, I might never have thought of it. But it was tough sledding at first: we only put out our first three albums in 1999, a whole year after we recorded them."
Turning Points
Bédard recognizes three milestones in the label's history.
One is Yannick Rieu's debut release, Little Zab, which won the Félix for best jazz record that year. "It helped us in terms of local ­market exposure," Bédard says.
Another is the 2000 disc featuring Lee Konitz in France under the direction of ­fellow saxophonist François Théberge. "That one put us on the map internationally and opened some doors, too. The band toured Europe to much success and a second recording was done two years after. It was a great experience, not only for myself, but for Lee Konitz, too. I was very touched by how appreciative he was to us all."
Yet another signpost for him is the Jazz Lab. "I'm glad to have created this group. I ­intended it to be a platform for composition and arrangement."
While Bédard can rightfully stake his claim as the instigator of the Jazz Lab, there are reasons of a more personal nature that ­factor into the equation. At its inception, in 2002, the bassist had picked up his instrument again and wanted to involve himself in a more long-term project.
His wish has certainly been fulfilled. The group now has six releases to its credit, ­including one under saxophonist Alexandre Côté's name. At this writing, a new edition of the band is working on a project featuring compositions of its pianist, Félix Stüssi (see concert listing below).
Now in its 16th year, the Jazz Lab is one ­Effendi's flagship groups, sharing that honour with pianist François Bourassa's quartet. Over time it has continually renewed its personnel, the bassist being its only common thread. More than a studio project, this unit has toured repeatedly, its performances much ­acclaimed, its recordings selling well.
Of all his duties, Bédard has proven his mettle as a tour booker. Without boasting too much, he casually states: "I happened to count the number of tours I organized since the first one in 2001, and it ads up to 128. That's an average of seven per year. Not bad, I have to say."
Convincing presenters worldwide to hire bands from an underrated scene like ours is no piece of cake. This requires good ­networking. Bédard contends that ­JazzAhead, the international jazz trade show held annually in Bremen, Germany, has been a boon to him. He is grateful for the support of the Quebec government that allows him to manage a booth on its behalf.
Now in the offing is a new album by pianist Rafael Zaldivar, an Afro-Cuban project due out this Spring. On another front, Bédard wants to revive a project he first presented in concert a few years ago, the Orchestre de ­contrebasses. Jazz en Rafale, for its part, takes a sabbatical this year for administrative ­reasons. Having carried the event on his shoulders alone for the least two years, Bédard promises to be back in 2019, with a new team and executive board in tow.
In concert: Effendi Jazz Lab Orchestra Quintessence, Théâtre Outremont, February 8, 8 PM, www.effendirecords.com 
This page is also available in / Cette page est également disponible en:

Francais (French)