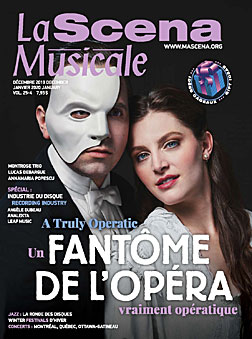 This page is also available in / Cette page est également disponible en:

Francais (French)
James Cameron's 1997 blockbuster Titanic became one of the most profitable movies of all time, grossing over $2 billion at the box office and winning 11 Academy Awards, including Best Picture, Best Director and more importantly, Best Original Song and Dramatic Score.
The mere names of the two stars of Titanic continue to create a spontaneous craze. Leonardo di Caprio brilliantly (and with charm) embodies Jack, a penniless artist, while the well-bred but poor Rose is interpreted by Kate Winslet with all the sensitivity and emotion the role calls for. Celine Dion's most iconic rendition of "My Heart Will Go On" is still a mega success by today's universal standards.
More than a century after the famous shipwreck, the fascination with the Titanic hasn't faded. It is a cautionary legend that speaks to our times of great technological advances and even greater perils.
The soundtrack was written by James Horner, who is credited with the music for more than 100 motion pictures, include Avatar (the only film to surpass Titanic in box office sales), Braveheart, Aliens, Apollo 13, Star Trek II and more recently, The Amazing Spiderman.
Now the film will be shown with live orchestra in the form of Titanic Live, a presentation that had its premiere in April 2015. "This experience is beyond anything I've seen in the theatre," said James Cameron at the time. "When hearing the music out front and dominating, you really realize how the music drives the emotion of the movie. I felt these big surges of powerful emotion, whether it was the elation of the love story or the dread, the fear. A beautiful experience."
It is now Montreal's turn to experience Titanic Live. Interpreting James Horner's epic score is conductor John Jesensky, who leads the musicians of the Orchestre FILMharmonique, backed by Les Petits Chanteurs du Mont-Royal and Celtic musicians. A total of 130 musicians will be on stage as the original version of the film is projected on a large HD screen with French subtitles.
Titanic Live is a production of Avex Classics International and presented in Montreal by GFN Productions, Salle Wilfrid-Pelletier, Feb. 8 at 7:30 p.m. and Feb. 9 at 2 pm. www.placedesarts.com
This page is also available in / Cette page est également disponible en:

Francais (French)