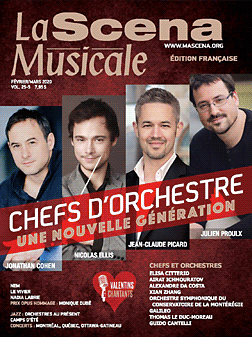 This page is also available in / Cette page est également disponible en:

Francais (French)
And the next music director of the Montreal Symphony Orchestra is… Unknown. Perhaps even to the committee that was struck in October 2017 to seek a successor to Kent Nagano who conducts
his final concert in August. But MSO chief executive Madeleine
Careau has confirmed that there is a short list to which no further names will be added. Since a mandatory requirement for the lucky can- didate is to have conducted the orchestra at least once – and recently – we can look at a few conductors who have already appeared in the Maison symphonique, and especially at those who, by the end of the 2019–20 season, will have visited Montreal more than once.
Vasily Petrenko
Making his fifth visit in April is Vasily Petrenko, 43, who told the Montreal Gazette in 2017 that there was "a certain interest". He will conduct Prokofiev's Romeo and Julietballet music. He will have to toggle between Montreal and London, where he starts as music director of the Royal Philharmonic in 2021. His English is excellent. He would have to add French to his repertoire, which includes German, Russian and Spanish.
Lionel Bringuier and François-Xavier Roth
Frenchmen with the requisite linguistic skills include Lionel Bringuier, 33, who makes his second visit on March 14 in Florent Schmitt's La tragédie de Salomé. François-Xavier Roth, 48, made his second visit last October. He has a sheaf of good reviews from London, where he is principal guest conductor of the London Symphony Orchestra.
Jérémie Rhorer
In May Jérémie Rhorer, 46, ar- rives for the second time with Stravinsky (Firebird Suite) and Strauss (Also Sprach Zarathustra). This harpsichordist and composer remains best known as a man of early music. But apart from his own period orchestra, Le Cercle de L'Harmonie, he is is free of con- tractual commitments.
Susanna Mälkki
One of the first conductors to be "tried out" was Susanna Mälkki at Lanaudière in July 2018. She has not been invited back. But no contempo- rary orchestra in a city with a liberal outlook can afford to work from a short list without a female candidate. This 50-year-old Finn speaks French and English fluently, to judge by in- terviews on YouTube. She has a pen- chant for contemporary music. Possibly Mälkki will appear next sea- son. No law forces the MSO to make up its mind before Kent Nagano leaves in August.
Juanjo Mena
Juanjo Mena, born in Basque country, returns in a big way in late April to lead a three-concert Spanish festival includ- ing many selections that the orchestra has already recorded under Charles Du- toit. He speaks French.
Canadians?
No canadian conductor other than Yan- nick Nézet-Séguin comes to mind as someone equipped with the requisite experience – and we know where his lifetime sympathies lie. Stay tuned for more evidence in the 2020–21 OSM season, which will be announced in the middle of March.
This page is also available in / Cette page est également disponible en:

Francais (French)