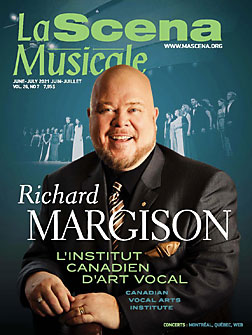 This page is also available in / Cette page est également disponible en:

Francais (French)
Québec
Festival Classica
Saint-Lambert, 29 mai au 22 juin
www.festivalclassica.com
Le 10e Festival Classica se déroulera sous le thème De Wolfgang à Amadeus, plus d'une vingtaine de concerts seront tenus en présence physique et seront également accessibles en webdiffusion. Pour l'occasion, le Festival convie le public à la Paroisse catholique de Saint-Lambert. Pour son événement de clôture, le Festival Classica accueillera l'Orchestre Métropolitain et son chef Yannick Nézet-Séguin qui offriront La Grande Messe en ut mineur de Mozart. Le Festival Classica collabore également avec l'Orchestre classique de Montréal et les Chambristes du grand Montréal. Parmi les nombreux autres artistes qui performeront dans le cadre de cette édition anniversaire, mentionnons Karina Gauvin, l'Arion Orchestre Baroque, Stéphane Tétreault, l'Ensemble Caprice, Valérie Milot, Luc Beauséjour, Élisabeth Pion, Pentaèdre, Stick&Bow, Denis Plante, Elvira Misbakhova, Nadia Labrie, Isaac Chalk, Benoit Loiselle, Antoine Bareil, Anna-Sophie Neher, Sophie Naubert, Antoine Bélanger, Marc Djokic, Chloé Dominguez, Olivier Godin, Florence Bourget, Marc Boucher, Antonio Figueroa, Cynthia Blanchon, Mathieu Lussier, l'Ensemble vocal Arts-Québec, Jean-Philippe Sylvestre, Ilya Poletaev, Dominic Boulianne, Dominic Painchaud, Caroline Bleau, Matthias Maute et Yukari Cousineau.
Présence autochtone: Montréal First Peoples Festival
Montréal, 3 au 11 août
www.presenceautochtone.ca
Le son du tambour revient guérisseur battre le tempo, au cœur du centre-ville convalescent qui se réveille au soleil de l'été triomphant. Le Festival international Présence autochtone vous invite à vous connecter à l'esprit revigoré sur la terre des premiers peuples où tout recommence. En salle ou en galerie, comme sur la grande place des Festivals, dans le respect de finales mesures sanitaires, nous esquisserons joyeusement les pas de la danse du renouveau. Thérapie tellurique aux effets cosmiques, les arts autochtones déchirent le voile des temps sombres, saluant en beauté les belles années que nous avons devant nous.
The sound of the drum returns to beat the rhythm in the heart of convalescent downtown Montreal as it awakens in the triumphant summer sun. The International First Peoples Festival invites you to connect with the revived spirit of the land of the First Peoples as everything begins again. In theatres or galleries, and the grand Place des Festivals, while respecting the remaining health measures, we will joyously initiate the dance of renewal. Terrestrial therapy with cosmic effects, the Indigenous arts tear away the veil of dark times, beautifully welcoming the happy years ahead of us.
Concerts aux Îles du Bic
Rimouski, 7 au 15 août
418 736-0036 | www.concertsauxilesdubic.org
Pour le plaisir de grandes œuvres interprétées par des musiciens de haut calibre, ce festival, récipiendaire de plusieurs prix Opus, vous accueille pour sa saison 20e anniversaire. C'est dans des paysages de carte postale et des lieux patrimoniaux chargés d'histoire que résonnera la musique. D'abord, le festival vous charmera avec cinq concerts d'exception. Parmi les incontournables, « Retrouvailles » avec Mathieu Gaudet, « Images oubliées » avec Stéphane Tétreault faisant une rétrospective en musique sur la vie de Claude Debussy, « Salut Astor ! » pour fêter les 100 ans de la naissance d'Astor Piazzolla avec Denis Plante et deux danseurs étoiles et « Éclats de romantisme » avec David Jalbert, Magali Simard-Galdès et le Quatuor Saint-Germain. En complément, un volet hors festival en extérieur du 24 au 8 août avec, notamment, les Quatre saisons de Vivaldi. Pour les 20 ans : 20 rendez-vous musicaux éphémères, mais inoubliables !
Carrefour mondial de l'accordéon
Montmagny, 3 au 5 septembre
www.accordeonmontmagny.com
Du 3 au 5 septembre 2021 à Montmagny (Chaudière-Appalaches), venez entendre des accordéonistes canadiens au sommet de leur art. Jazz, musique traditionnelle, tango et classique, il y en aura pour tous les goûts ! Cette année, c'est sur trois scènes intérieures et deux scènes extérieures que joueront de grands artistes tels que Michael Bridge, Sergiu Popa, La Famille Leblanc, Tango Boréal et plus de 30 autres ! Les billets sont ­disponibles dès le 15 juin sur lepointdevente.com/billets/accordeon, au (418) 248-7927 ou à ­[email protected] Faites vite, les places sont limitées !
Ontario
Ottawa Chamberfest
Ottawa, 22 juillet au 9 août
www.chamberfest.com
D'Isabel Bayrakdarian, la soprano de renommée internationale, au New Orford String Quartet, en passant par le Gryphon Trio, l'Orchestre baroque Arion, le Lemon Bucket Orchestra, I Musici de Montréal et le pianiste Stewart Goodyear : les plus grands musiciens de chambre du Canada occuperont le devant de la scène quand Chamberfest d'Ottawa sera de nouveau à l'affiche cet été. Joignez-vous à nous, en direct et en ligne, du 22 juillet au 4 août, et restez à l'écoute pour des détails des événements en personne.
Fondé en 1994, Chamberfest d'Ottawa réunit les artistes les plus novateurs pour la célébration musicale dans la capitale du Canada, tout au long de l'année. Chamberfest d'Ottawa est un événement qui fait partie du «Top 100 » de 2020 du Festival et événements Ontario (FEO) et a été nommé « Événement de l'année » par Tourisme Ottawa en 2019.
From internationally-celebrated soprano Isabel Bayrakdarian, to the New Orford String Quartet, Gryphon Trio, Arion Baroque Orchestra, Lemon Bucket Orchestra, I Musici de Montréal, pianist Stewart Goodyear, Canada's greatest chamber musicians are at the forefront as Ottawa Chamberfest returns this summer. Join us live and online from July 22 to August 4, and stay tuned to chamberfest.com for in-person event details.
Founded in 1994, Ottawa Chamberfest brings together the boldest names in ensemble and solo performance for musical celebration in Canada's capital throughout the year. Ottawa Chamberfest is a 2020 Festivals and Events (FEO) Ontario "Top 100" Festival and winner of the 2019 Ottawa Tourism Award for Event of the Year.
Brott Summer Music Festival
Hamilton, Burlington, July 15 to August 8
905-525-7664 | www.brottmusic.com
Brott Music Festival, Canada's largest orchestral festival, has been enthralling audiences for 34 years – The majority of performances are focused on greater Hamilton, Halton and Niagara ­regions. This summer Covid friendly concerts will take place at the Ancaster Fairgrounds ­welcoming audience "bubbles" in their cars. ­Orchestra, soloists and singers perform on stage under a tent. Large video screens either side of the stage illuminate performers. Sound will be projected both live and via FM channel. Additional performances at Sue Anne Staff Winery in Jordan, the Collingwood Music Festival and ­Toronto Summer Music Festival, Koerner Hall. visit www.brottmusic.com.
Call 905-525-7664.
This page is also available in / Cette page est également disponible en:

Francais (French)