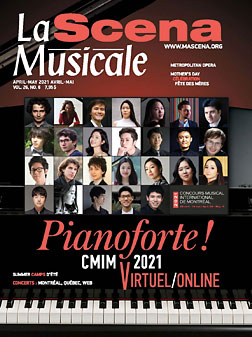 This page is also available in / Cette page est également disponible en:

Francais (French)
En raison du contexte sanitaire, plusieurs camps pourraient ne pas avoir lieu en personne. 
Veuillez vous en assurer auprès des organisateurs.
Due to the health regulations, some camps could be canceled, postponed, or no longer take place in ­person. Please check with the organizers.
NEWFOUNDLAND
Vinland Music Camp
Online, August 8 to 29
 | www.soundbone.ca
MONTRÉAL
Arti-Culture, camps multi-arts et spécialisés
Laval, 21 juin au 27 août
450-662-9564 | www.articulture.org
Camp Livingstone
Magog, 28 juin au 13 août
819-843-2019 | www.camplivingstone.ca
Camp Sainte-Anne
Lachine, 28 juin au 20 août
514-637-3571 x632 | www.campsainteanne.ca
Camps de jour en arts de la scène Nos Voix Nos Visages
Longueuil, 28 juin au 20 août
450-442-0740 | www.nosvoixnosvisages.ca
Centre des arts visuels
Montréal, 28 juin au 20 août
514-488-9558 | www.visualartscentre.ca/school-of-art/summer-camp
Creative Video Day Camp
Montréal, 28 juin au 20 août
514-808-9053 | www.collectivevision.ca
École de théâtre du vieux St-Eustache, camp de théâtre et d'impro
St-Eustache, 21 juin au 13 août
450-473-5850 | www.ecoledetheatrevse.com
Jours d'été / Summer Days – Centre d'art de Préville
Saint-Lambert, 5 juillet au 13 août
450-671-2810 | www.centrepreville.org
Dates limite : places sont limitées
Coût : Session de deux semaines 355 $; avant le 1er mai: 325 $; service de garde: 115 $
Langues : français et anglais
Catégories d'âges : Enfant et Ados
Cours : piano, violon, guitar, choeur, danse, théâtre, arts visuel, English, Espanol, échecs, design de mode, arts martiaux, science
Description: Notre camp de jour offre le développement des compétences musicales, de la langue, des sports, des arts visuels et arts de la scène. Enseigné par notre personnel exceptionnel de Préville, notre camp a un environnement favorable et amical, parfait pour les journées d'été. Notre camp de jour est pour les enfants et les adolescents de 5 à 17 ans. Le service de garde est disponible avant 9h et après 15h. Réservez avant le 1er mai et vous profiterez d'un tarif spécial.
Our day camp offers the development of musical skills, language, sports, visual arts and performing arts. Taught by our outstanding Préville staff, our camp has a supportive and friendly environment, perfect for summer days. Our day camp is for children and teens ages 5-17. Day care is available before 9am and after 3pm. Sign up before May 1st for the early bird special.
Retraite estivale KlezKanada de la culture et des arts yiddish
Montreal and Online, 23 au 29 août
514-489-9014 | www.klezkanada.org
Sunny Acres Day Camps
Sainte-Anne-de-Bellevue, 28 juin au 13 août
514-369-6364 | www.sunnyacresdaycamp.com
SuperCamp @ Vanier College
St-Laurent, 22 juin au 3 juillet
 | www.supercamp.ca
AILLEURS AU QC
Académie internationale de musique et de danse du Domaine Forget
Saint-Irénée, 31 mai au 20 août
418-452-8111 | www.domaineforget.com
Camp Musical Asbestos
Asbestos, 27 juin au 13 août
819-879-4342 | www.campmusicalinc.com
Camp Musical d'Asbestos
Asbestos, 27 juin au 13 août
819-879-4342 | www.centreo3.com/fr/camp-musical
Camp musical du Saguenay Lac-St-Jean
Metabetchouan-Lac-à-la-Croix, 13 juin au 15 août
418-349-2085 | www.campmusical-slsj.qc.ca

www.campmusical.com
Camp musical Saint-Alexandre
St-Alexandre-de-Kamouraska, 27 juin au 2 juillet
www.campmusical.com
Camp musical Tutti
Online, 10 au 17 juillet
www.camptutti.com
Camp Nominingue
Nominingue, 3 juillet au 25 août
819-278-3383 | www.nominingue.com
Camp Violon Trad Québec
Saint-Côme, 11 au 13 juin
514-378-0918 | www.violontradquebec.ca
Centre musical CAMMAC



Harrington, 1 juin au 31 août
888-622-8755, 819-687-3938-poste-25 | www.cammac.ca
Bourses/aide financière : oui
Langue d'enseignement : français et anglais
Instruments, ensembles et disciplines : chant, flûte, piano, flûte à bec, trombone, cor français, cuivres, violon, alto, violoncelle, contrebasse, cordes, guitare, harpe, saxophone, clarinette, basson, hautbois, bois, percussion, ukulélé, orchestre, chorale, musique de chambre, harmonie, jazz, blues, musique ancienne, musique du monde, musique celtique, Broadway, théorie, chef d'orchestre, improvisation, composition, ORFF, théâtre musical, yoga, danse.
Description: Offrez-vous un été mémorable ! Que vous venez entre amis, en famille ou en solo, vous vivrez une semaine musicale inoubliable dans un cadre enchanteur. Les programmes d'été de CAMMAC se déroulent dans une atmosphère amicale, relaxante et non compétitive, convenant parfaitement aux musiciens de tous âges et de tous niveaux.
Make your summer memorable! Come with friends and family or on your own and enjoy an unforgettable week of music in a spectacular lakeside setting. CAMMAC's summer programs offer a friendly, relaxing and non-competitive atmosphere, perfect for musicians of all ages and levels.
JazzWorks Summer Jazz Workshop and Composers' Symposium
Grand lac MacDonald, 23 au 29 août
www.jazzworkscanada.com
Orford Musique
Orford, 6 juin au 14 août
www.orford.mu
OTTAWA-GATINEAU
Camp musical Adagio
Gatineau (Hull), July 5 to 30
819-772-9711 | www.campmusicaladagio.com
TORONTO
Camp Wahanowin, Creative Arts Programs
Toronto, July 2 to August 19
416-482-2600 | www.wahanowin.com
Conservatory of Dance and Music
Toronro, July 3 to 24
416-497-1793 | www.cdmdance.com
National Music Camp
Toronto, August 21 to September 5
416-482-2475 | www.nationalmusiccamp.com
National Music Camp of Canada
Toronto, August 21 to September 5
416-482-2475 | www.nationalmusiccamp.com
Sing Music Studio
Mississauga, July 12 to August 20
www.singmusicstudio.com
Tafelmusik Baroque Summer Institute
Toronto, June 14 to 20
416-964-6337 | www.tafelmusik.org/tbsi
The Royal Conservatory School
Toronto, June 29 to August 21
416-408-2824 | www.rcmusic.com/camps
The Royal Conservatory School's Vocal Performance Intensive
Toronto, July 12 to 24
www.rcmusic.com/summer-vocal
Toronto Music Camp
Toronto, July 6 to August 21
416-406-5355 | www.torontomusiccamp.com
ONTARIO ELSEWHERE
AlgomaTrad
Desbarats, August 9 to 15
www.algomatrad.ca
Centauri Summer Arts Camp
Wellandport, July 5 to 30
416-766-7124 | www.centauriartscamp.com
Deep River Summer Music
Deep River, July 19 to 30
www.summermusic.ca
Interprovincial Music Camp
10 Camp Road, August 22 to September 5
416-488-3316 | www.campIMC.ca
Lake Field Music Camp
Lakefield, August 8 to 15
www.lakefieldmusic.ca
Music at Port Milford
Prince Edward County, July 19 to 31

www.musicatportmilford.org
Niagara Symphony Summer Music Camp
St. Catharines, July 19 to August 20
905-687-4993 | www.niagarasymphony.com
Ontario Mennonite Music Camp
Waterloo, August 15 to 27
519-885-0220 | www.grebel.ca/ommc
Southwestern Ontario Suzuki Institute
Waterloo, August 7 to 15
519-240-6995 | www.mysosi.ca
Studio PAVAS Performing and Visual Arts School
Mississauga, July 5 to August 27

www.studiopavas.com
Summer Sizzle: A Piano Pedagogy Symposium and Keyboard Camp
Mount Forest, July 13 to 14
866-889-8807 | www.cncm.ca
SASKATCHEWAN
SOA International Saito Conducting Workshop with Wayne Toews
Saskatoon, July 17 to 24
www.conductorschool.com/SOA.html
ALBERTA
Virtual Summer Camp Calvin
St. Paul, July 19 to 22
www.campcalvin.ca
BRITISH COLUMBIA
Comox Valley Youth Music Centre
Courtenay, July 3 to 24
250-338-7463 | www.cymc.ca
Early Music Vancouver
Vancouver, July 12 to 17
604-732-1610 | www.earlymusic.bc.ca
Kamloops Interior Summer School of Music
Kamloops, July 5 to August 20
236-425-4221 | www.kamloopsmusiccollective.info/kissm
Suzuki Summer Workshops
Langley, July 5 to August 26
604-534-2848 | www.langleymusic.com
Vancouver Symphony Orchestral Institute
Vancouver and online, July 5 to 16
604-684-9100 x245 | www.vsoinstitute.ca
Victoria Conservatory of Music – Summer Intensive
Victoria, June 11 to September 3
250-386-5311 | www.vcm.bc.ca
Victoria Conservatory of Music Summer Intensive Guitar Program
Victoria, August 17 to 21
250-386-5311 | www.vcm.bc.ca, [email protected]
Deadline: July 15, 2021
Cost: Full course: $225
Scholarships: Bursary application: https://vcm.bc.ca/students/scholarships-and-bursaries/bursary-application/
Language: English
Experience: At least 1 year of guitar study is recommended.
Age minimum: 12 years.
Discipline: Classical guitar
Description: The Victoria Conservatory of Music Summer Intensive Guitar Program is a relaxed, focused, encouraging, online learning environment for classical guitar players of all ages and abilities. Expand and refine your skills through individual lessons and masterclasses. Faculty includes Dr. Alexander Dunn, Dr. Stephen Lochbaum, Dr. Randy Pile, Anna Pietrzak, Maestro Pepe Romero, and Drew Henderson. vcm.bc.ca/music-programs/summer-intensive-programs
This page is also available in / Cette page est également disponible en:

Francais (French)