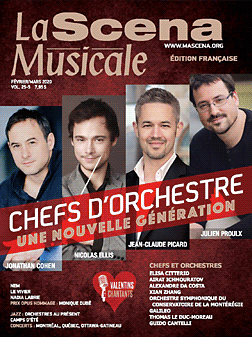 This page is also available in / Cette page est également disponible en:

Francais (French)
Haydn's Op. 77 No. 1, Mendelssohn's Op. 13, Beethoven's Op. 131: The program is logical enough. After all, the Elias String Quartet takes its name from Mendelssohn's oratorio Elijah – Elias being the German form. Beethoven's String Quartet in C Sharp Minor Op. 131 is a towering masterpiece, and this is the composer's 250th anniversary year.
Mendelssohn wrote his String Quartet No. 2 in A minor in 1827, when he was 18, months after Beethoven's death. The influence of the late string quartets of the master is quite clear in the work of his young admirer.
As for Haydn's String Quartet in G Major Op. 77 No. 1, it is just a good piece. And quartet concerts presented by the Ladies' Morning Musical Club in Pollack Hall, like this one on Feb. 23, often begin with Haydn.
The Elias foursome took shape in 1998 at the Royal Northern College of Music in Manchester, England, where they worked closely with the late Christopher Rowland. The players also spent a year studying at the Hochschule in Cologne with the Alban Berg Quartet.
Between 2005 and 2009 the Elias was the resident string quartet at Sheffield's "Music in the Round" as part of Ensemble 360. The format keeps all listeners within 20 feet of the stage. The quartet is now ensemble-in-residence at the Royal Northern College of Music.
The Elias players are ready for the Beethoven year. Eleven of their first 12 concerts in 2020 include music by this composer.
Beethoven is not a new avocation. In 2009 the Elias Quartet was chosen to participate in BBC Radio 3's New Generation Artists' program. With the support of the Borletti-Buitoni Trust, the Elias Quartet mounted The Beethoven Project, studying and performing all of Beethoven's string quartets as cycles and sharing the experience through a website (www.thebeethovenproject.com) that is still active. The project culminated with a cycle at Wigmore Hall. All six concerts were recorded live for the Wigmore live label.
The Elias String Quartet is building its CD catalogue. They have recorded the Schumann and Dvořák Piano Quintets with Jonathan Biss, Britten for Sonimage, Mendelssohn for ASV Gold and Schumann for Outhere.
The members of the quartet are Sara Bitlloch and Donald Grant, violins; Simone van der Giessen, viola; and Marie Bitlloch, cello. The remaining LMMC presentations in 2020 are programs by the Pavel Haas Quartet with pianist Boris Giltburg (March 15), pianist Pavel Kolesnikov (April 5), and violinist James Ehnes (April 26). The Ehnes recital is solo. On the program: Bach's Sonatas No. 2 and No. 3 and Partita No. 3.
Go to www.lmmc.ca
This page is also available in / Cette page est également disponible en:

Francais (French)