This post is originally from the
source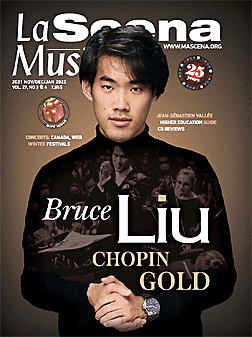 This page is also available in / Cette page est également disponible en:

Francais (French)
New Two-Year Professional Performance Diploma. Beginning in fall 2022, renowned international music conservatory Manhattan School of Music (MSM) will offer the Professional Performance Diploma (PPD), a new two-year degree for ­career-focused, accomplished performers ­possessing a Master of Music degree or the ­equivalent.
The program's individualized course of study is designed for classical musicians seeking to hone their craft while developing critical entrepreneurial skills – valuable career-building tools that will help graduates thrive as they ­navigate their own distinctive professional paths.
"This is an individualized program that will help develop singular careers," says MSM President James Gandre. "There will be a handful of classes that are required, but the accomplished student artists participating in this two-year course of study will be given great freedom within the program to self-­direct and to link to their own career goals."
The advanced diploma's two-year duration will give students the opportunity to "go deep," to gain a breadth of time and experience with faculty, major lessons, graduate electives, ­performance opportunities, while at the same time identifying a focus to advance their career goals.
"Students in the PPD program will have the opportunity to hone their craft as musicians while developing critical aptitudes related to entrepreneurship, freelancing work, and other business-related skills required of an independent musician," says MSM Executive Vice President and Provost Joyce Griggs. "This new degree program will help them to meet their potential, broaden their skills, and gain heightened access to a variety of performance work. In addition, the program's coursework will prepare them to engage in repertoire ­planning that meets the demands for more ­diversity in programming, addressing current needs and gaps in the professional performing arts world."
The program includes a career-focused seminar followed by three semesters of ­student-selected, career-relevant core coursework, in addition to a wealth of private ­lessons, large ensembles, electives and a ­graduation recital for a total of 55 credit hours completed.
This page is also available in / Cette page est également disponible en:

Francais (French)