This page is also available in / Cette page est également disponible en:

Francais (French)
Culture Days / Journées de la culture
Across Canada / Partout le Canada, September 25 to October 25
www.culturedays.ca
Nova Scotia
Celtic Colours International Festival
Cape Breton, October 9 to 17
www.celtic-colours.com
Halifax Pop Explosion
Halifax, October 21 to 24
www.halifaxpopexplosion.com
New Brunswick
Harvest Jazz & Blues Festival
Fredericton, September 29 to 29
www.harvestjazzandblues.com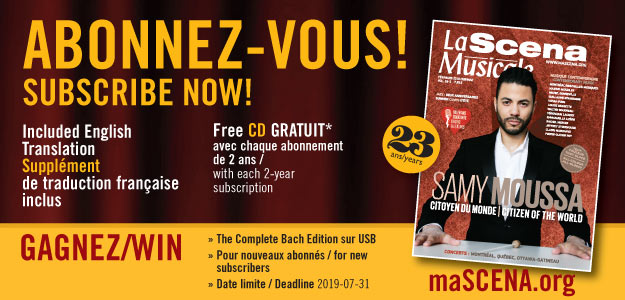 Silver Wave Film Festival
Fredericton, November 5 to 8
www.swfilmfest.com
Montréal
Festival Montréal Baroque
Montréal et en ligne, septembre au déc
www.montrealbaroque.com
Artch, art contemporain émergent
Montréal, 9 au 13 septembre
www.artch.org
Festival Quartiers Danses
Montréal, 11 au 20 septembre
www.quartiersdanses.com
Festival international de la littérature (FIL)
Montréal, 18 au 27 septembre
www.festival-fil.qc.ca
POP Montréal
Montréal, 23 au 27 septembre
www.popmontreal.com
Festival International du film Black de Montréal
Montréal, 23 septembre au 4 octobre
www.montrealblackfilm.com
Carnaval des Couleurs
Montréal, octobre
www.carnavaldescouleurs.org
La 3e édition du CARNAVAL DES COULEURS DE MONTRÉAL offrira gratuitement au grand public une occasion de se rencontrer afin de découvrir les talents, cultures et saveurs qui forment la grande mosaïque de Montréal. Le tout dans un esprit de diversité, d'inclusion et d'échanges. Cet événement aura un volet intérieur au complexe Desjardins et un volet extérieur dans le quartier latin/village gai, et proposera plusieurs scènes présentant des performances d'artistes avec un accent particulier sur ceux issus des communautés multiculturelles et LGBTQ. Élizabeth Blouin-Brathwaite & Normand Brathwaite, ambassadeurs de l'événement, le groupe du chanteur Kizaba et le Cirque Kalabanté, font partie des têtes d'affiche de la prochaine édition. Soyez à l'affût des détails à venir pour les dates et la programmation en visitant notre site web.
L'OFF Festival de Jazz de Montréal
Montréal, 1 au 3 octobre
www.lofffestivaldejazz.com
L'OFF JAZZ met à l'honneur des artistes chevronnés et de jeunes créateurs qui façonnent la scène jazz d'ici et favorise les rencontres avec des invités nationaux et internationaux. Depuis sa création en 2000, le festival propose une programmation qui allie qualité musicale, créativité et expression libre. Il est devenu le rendez-vous automnal des projets originaux et de la communauté jazz d'ici. Cette année le festival mettra en lumière les artistes d'ici et proposera une formule hybride en salle et en ligne .
Festival Phénomena
Montréal, 3 au 23 octobre
www.electriques.ca
Festival des couleurs de l'orgue français
Montréal, 4 au 25 octobre
www.ciocm.org
Le Concours international d'orgue présente le Festival des couleurs de l'orgue français 2020. Venez découvrir la chapelle splendide du Grand Séminaire de Montréal en écoutant des récitals d'orgue gratuits, chaque dimanche au mois d'octobre à 15 h. Les concerts sont présentés dans le cadre des Journées de la culture et ils seront suivis d'une période de questions et réponses avec les artistes. Contributions volontaires suggérées.
Yves-G. Préfontaine (4 oct.), Jacquelin Rochette (11 oct.), Raymond Perrin (18 oct.), Adrian Foster (25 oct.), Chapelle du Grand Séminaire de Montréal (2065, Sherbrooke O – Métro Guy-Concordia / Autobus 24)
The Canadian International Organ Competition presents the 2020 Festival des couleurs de l'orgue français. Discover the Grand Séminaire de Montréal's magnificent chapel with free organ recitals each Sunday in October at 3 p.m. Presented as part of Les Journées de la culture and featuring post-concert discussions with the artists. Freewill donations encouraged.
Festival du nouveau cinéma (FNC)
Montréal, 7 au 18 octobre
www.nouveaucinema.ca
Festival Spasm
Montréal, 17 au 31 octobre
www.spasm.ca
Festival de films francophones CINEMANIA
Montréal, 4 au 15 novembre
www.festivalcinemania.com
Rencontres internationales du documentaire de Montréal
Montréal, 12 novembre au 2 décembre
www.ridm.ca
Le salon du livre de Montréal
Montréal, 12 au 15 novembre
www.salondulivredemontreal.com
MUNDIAL MONTREAL
Montréal, 17 au 20 novembre
www.mundialmontreal.com
Le Festival Bach de Montréal
Montréal, 19 novembre au 6 décembre
www.festivalbachmontreal.com
Les journées médiévales
Montréal, 27 novembre
www.reverdiesmontreal.org
Québec
Festival de cinéma de la ville de Québec
Québec et environs, 16 au 20 septembre
www.fcvq.ca
Festival de Jazz de Québec
Québec, 8 au 18 octobre
www.festivaldejazzdequebec.com
Québec en toutes lettres
Québec, 15 au 25 octobre
www.quebecentouteslettres.com
Ailleurs au QC
Festival de musique émergente en Abitibi-Témiscamingue
Rouyn-Noranda, 3 au 5 septembre
www.fmeat.org
Festival Stradivaria
Plusieurs villes, 5 septembre au 3 décembre
www.festivalstradivaria.ca
Sutton Jazz
Sutton, 12 septembre au 11 octobre
www.suttonjazz.com
Festival international de la poésie de Trois-Rivières
Trois-Rivières, 2 au 11 octobre
www.fiptr.com
Festival des musiques de création
Jonquière, 8 au 11 octobre
www.musiquesdecreation.org
Du son à Jonquière! À travers vents et marées, le Festival des musiques de création fait vibrer le milieu musical du Saguenay-Lac-Saint-Jean depuis plus de 30 ans. Malgré les défis liés à la crise sanitaire actuelle, l'équipe du FMC ne baisse pas les bras. Nous croyons fortement que la créativité est un puissant moteur de cette reprise des activités. Nous sommes convaincus que les musiques nouvelles sauront se frayer un chemin vers de nouveaux publics. Peut-être avec une nouvelle curiosité. Peut-être avec une nouvelle écoute. Avec assurément un besoin fondamental de se retrouver devant des artistes et des musiciens qui sauront les faire voyager.
Tout en débrouillardise, le FMC présente sa 31e édition en version automnale plus éclatée que jamais. Du 8 au 11 octobre prochain, il y aura Du son à Jonquière! Cette formule sécuritaire et revisitée du festival met en lumière la musique nouvelle en plus d'y allier d'autres arts (installation, arts visuels, théâtre, performance). Les échanges entre artistes et avec le public créeront des moments furtifs, des expériences inoubliables. Cette circulation d'idées fortes et d'œuvres sans pareilles prendra d'assaut notre territoire : l'exploration et l'hybridation seront encore une fois cette année au rendez-vous.
Rappelons que le Festival des musiques de création du SLSJ est rendu possible grâce au soutien de partenaires majeurs dont le Conseil des arts de Saguenay, le Conseil des arts et des lettres du Québec, Patrimoine canadien, le Conseil des Arts du Canada et la Fondation SOCAN.
Les Violons d'Automne
Saint-Jean-Port-Joli, 16 au 18 octobre
www.violons-automne.com
Ottawa-Gatineau
The Ottawa International Writers Festival
Ottawa, September 13 to October 20
www.writersfestival.org
the Isabel FALL Festival
Kingston, September 21 to December 11
www.queensu.ca/theisabel
Toronto
TIFF
Toronto, September 11 to 19
www.tiff.net
The Word On The Street
Toronto and area, September 26 to 27
www.thewordonthestreet.ca
Art Toronto
Toronto, October 28 to November 8
www.arttoronto.ca
aluCine Latin Film & Media Arts Festival
Toronto, October 28 to 31
www.alucinefestival.com
Kensington Market Jazz Festival
Toronto, November 7 to 8
www.kensingtonjazz.com
Ontario elsewhere
Windsor International Film Festival
Windsor, August 28 to September 13
www.windsorfilmfestival.com
Sweetwater Music Festival
Owen Sound, September 17 to 20
www.sweetwatermusicfestival.ca
The Canadian Big Band Celebration
Port Elgin and Southampton, September 18 to 20
www.canadianbigband.ca
TD Markham Jazz Festival
Markham, September 27 to March 1
www.markhamjazzfestival.com
X Avant New Music Festival
Toronto, October 1 to 18
www.musicgallery.org
Manitoba
Breakout West
Winnipeg, September 25 to October 9
www.breakoutwest.ca
Alberta
Yardbird Suite Virtual Series
Edmonton, September 11 to 29
www.yardbirdsuite.com
Calgary Intl Film Festival
Calgary, September 23 to October 4
www.calgaryfilm.com
Banff Mountain Film & Book Festival
Banff, October 31 to November 8
www.banffcentre.ca
British Columbia
BMO Virtual Mainstage
Vancouver, August 28 to October 23
www.bardonthebeach.org
Vancouver Fringe Festival
Vancouver, September 10 to December 6
www.vancouverfringe.com
Vancouver Int. Film Festival
Vancouver, September 24 to October 7
www.viff.org
Antimatter [Media Art]
Victoria, October 14 to 24
www.antimatter.ca
Whistler Film Festival
Whistler, December 1 to 20
www.whistlerfilmfestival.com
This page is also available in / Cette page est également disponible en:

Francais (French)