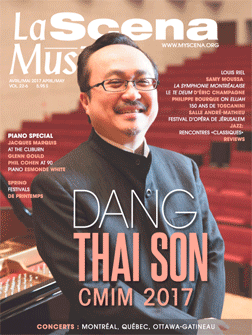 This page is also available in / Cette page est également disponible en:

Francais (French)
When retired Concordia music professor Phil Cohen was hospitalized in early February, his piano students didn't want to miss their lesson, so they joined him at the Richardson Hospital where he was recovering. For a brief moment the common room was transformed into a ­concert hall with a master class in progress. As patients watched TV while others listened, the old beat-up piano-in-residence, freshly tuned for the occasion, filled the space with the music of Granados, Albeniz, and Prokofiev.
This is a significant year for Cohen, who turned 90 in February. It is his 50th year since joining Concordia, where he built the music department from the ground up, created a graduate diploma in performance, and, with psychologist Norman Segalowitz, co-founded the Leonardo Project, an interdisciplinary inquiry into the nature of musical performance.
Most important, to innumerable people who have gone through his hands and ­benefited from his pioneering vision, this year marks 70 years of Phil Cohen's teaching "as no one has before or since," according to one of his students, Laura Fenster.
A teacher and concert pianist, Fenster met Cohen when she was 11, in the 1950s. Like many other Cohen students, including string and horn players as well as singers, her relationship with Cohen spans, off and on, several decades and cities. "He was someone I could talk to. It ­wasn't only piano, it was always a friendship. He had respect for everyone." Fenster had vision problems that affected her balance and her ability to read. "He understood how to work with that. It's not about technique but about how you use your body to do music in a musical way."
Fenster had first studied with Cohen's teacher Yvonne Hubert, who was a student of Alfred Cortot. "Such a totally unique love of beautiful tone came from the Cortot/Hubert legacy, but how Phil teaches is an entirely unique phenomenon, not how Hubert taught at all. She was a marvellous musician and what she said about interpretation was very valuable. But Phil taught how you, as an individual, had to get there, and not what it should be."
Cohen's work is the opposite of "one-size-fits all" methods. His teaching and perpetual ­experimentation are carried out within the living musical experience of his students and himself.
Composer pianist Peter Manning Robinson also had physical problems. Like Fenster and others, he travels from out of town to see his teacher. "Quite simply, Phil Cohen saved my life," he says. "By the time I was in my mid-20s I had developed a severe case of tendonitis in both wrists, so painful I could only play for two minutes at a time and had to stop touring." Told that he would have to unlearn everything he knew about music, Robinson took up the challenge. "Phil taught me a very unconventional approach, using an extremely flat wrist, sitting very low in the chair, martial arts postures, and utilizing standing, kneeling, hands upside-down, cross-handed, and many other techniques to avoid my original injury."
Like every musician interviewed for this story, he stresses that Cohen's approach varies with each individual. "Phil is truly unique in my experience. He has developed and ­invented so many of these performance ­techniques by himself. One simply can't learn them from anyone else." Robinson now ­performs and records his own music on an ­instrument he invented, an electronically ­enhanced piano that creates sounds in real time, The Refractor PianoTM.
Angela Chan, founder of the Lambda music school in Pierrefonds, did her graduate studies with Cohen. She considers him her major mentor. "My teaching has been immensely inspired by him. I find that many teachers like to demonstrate, but a touch is worth a million words."
Accomplished jazz pianist and songwriter Jeff Franzel met Cohen as an adult. He had studied with John Mehegan, jazz pianist, lecturer, and critic, from whom he learned much about ­theory. "But meeting Phil is more than theory; it's about playing from your heart, to really develop a signature, your own sound at the piano. Phil emphasizes the movement, how your ideas are all derived from the way you touch the piano. You don't attack the instrument, you caress it, you learn how to glide through the keys. Once you have these sounds coming through, you can develop your own individual sound."
Franzel recalls the impact of his first meeting with Cohen: "My first lesson with Phil just changed my life. It was a very trippy feeling, I felt very high. I think it was the first time that somebody got into my soul, not only the music but my psyche. He understood who I am — and could become."
Trevor Payne, of the Montreal Jubilation Gospel Choir, still has the textbook he used years ago at Concordia, in Cohen's course on music in the non-Western world. "My ­scholarly interest in African-American music was actually instigated by Professor Cohen. He had a lot to do with the path I chose."
Interviewed at home, Cohen warns against preconceived notions regarding creativity. "Don't assume anything," he says. "The question of communicating [musical]meaning can only be dealt with in action." Cohen says that ­creativity is the ability to pass on something that "otherwise would not be passed on, that makes an enormous difference in the lives of others."
In trying to express the essence of Cohen's work, his words about his own teacher, Yvonne Hubert, come to mind. He called her spiritual legacy "a vision of music as the ultimate delight of the soul, to be shared with grace, modesty, passion, wonder, and above all, joy."
On May 17, Cohen's students will present a special concert in honour of Phil Cohen at 7:30 pm at Oscar Peterson Hall. Admission is free.
This page is also available in / Cette page est également disponible en:

Francais (French)