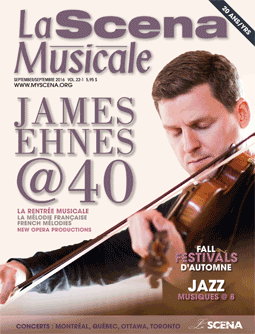 This page is also available in / Cette page est également disponible en:

Francais (French)
Studies show that appreciation for classical music begins at a young age. Though it's sometimes difficult to find a reason (or the means) to bring younger children to the symphony or opera, there are plenty of inexpensive children's programs this fall that are enjoyable for the whole family. When the commitment is only an afternoon, children's concerts are an easy way to enrich the lives of the youngest members of your family!
---
Musical Exploration with JMC
The Jeunesses musicales du Canada has ­unveiled a diverse program this year with many opportunities to explore something new. On September 28, join Architek Percussion at the JMC house for an exciting program of Canadian composers entitled Marimba Plus. Universal presentation. To keep the beat going, join JMC at the Bibliothèque de La Petite-Patrie on ­October 1st for Body Beats, where your whole body becomes a musical instrument. For ages 3 to 6 or 7 to 12, French presentation. On October 21, the Rythmobile makes a stop at the Centre communautaire de l'Est — can the hybrid percussion vehicle be fixed to win the race? For ages 5 to 10 years, English presentation.
Oops-a-Daisy the friendly witch needs your help to create a magical potion in La marmite ensorcelée. Celebrate the spookiest season as a sorcerer's apprentice to a witch who wishes to win the "That's So Scary!" competition and show the other witches she can be scary too. Accompanied by a host of percussion ­instruments, you might just get spooked as well! October 20, 21, 24, 25, and 31, 2016 at the Joseph-Rouleau Chamber Music Hall at JMC. For ages 3 to 7, French presentation. www.jmcanada.ca
Kattam et ses Tam-Tams
Multiple locations, September 3-5, 16 & 25 and ­October 1 & 2
Learn the sounds of instruments of the world with multi-percussionist Kattam, who plays the balafon, djembe, darbuka, mbira, and dhol. These percussion instruments originate from many different cultures in Africa, the Middle East, and India. With Kattam as your guide, experience the dance of the desert, the African rap, and Bollywood trance and dance.
At various cultural centres and libraries across Montreal; see www.kattam.ca for more details. French presentation.
Wondrous Noises with the OSM
Maison Symphonique, October 2 and November 12
This October 2nd, three magical characters will take over the Maison Symphonique. In Music, Noise & Silence, chaos ensues in the Orchestre symphonique de Montréal when Silence and Noise take over the orchestra. With your help, conductor Andrei Feher and Music will restore harmony to the stage. French presentation.
Return to the Maison Symphonique on ­November 12 for a spectacle that is sure to dazzle the whole family. In this version of Alice in Wonderland, experience the wonder first-hand with a combination of circus, singing, theatre, puppetry, and dance. OSM Assistant Conductor Adam Johnson leads the orchestra in a program of symphonic favourites by Ravel, Stravinsky, Satie, Britten, and Glass. The show features ballet dancers from the École supérieure de ballet du Québec. French presentation. www.osm.ca
Arsenal's Carnaval des animaux
Multiple locations, October 23 & 24
Tickets may be sold out for Arsenal à musique's Carnaval des animaux at Salle Bourgie on ­October 23, but you can catch the same performance the following day at Maison de la culture de Villeray–Saint-Michel–Parc-Extension. Discover (and re-discover) the extraordinary score by Camille Saint-Saëns while you are guided through the members of the animal kingdom by Octave and Mandoline and their puppets. French presentation. www.mbam.qc.ca, ­www.accesculture.com
Fred Piston and his 7 Trumpets
Grand Théâtre de Québec, Quebec City, November 13
With humour and verve, Frédéric Demers (a.k.a. Fred Piston) gives a demonstration of his seven trumpets. Discover the tones of the orchestra's brightest and brashest instrument in this technicolour multimedia show. French presentation. www.osq.org
TNT: Trumpet 'N' Tuba
Multiple locations, November 19 & 20
You need not understand English or French to enjoy the explosive musical duo of Frédéric Demers and Samuel Lalande-Markon in TNT: Trumpet 'N' Tuba. Voyage around the world without leaving your seat with a veritable ­buffet of musical genres: Baroque, Classical, Romantic, jazz, klezmer, and whatever else suits their fancy. At the Centre éducatif communautaire René-Goupil on November 19 and Salle Bourgie the 20. www.mbam.qc.ca,  www.accesculture.com
Bach Undercover
Church of St-Andrew and St-Paul, November 19
Due to popular demand, Bach Undercover ­returns this year to the Montreal Bach Festival. The program, created by conductor Nicolas Ellis and the Orchestre symphonique de l'Agora, is expanded this year with the addition of violin superstars Kerson Leong and Martin Chalifour, concertmaster of the Philarmonic Orchestra of Los Angeles. Truly a concert for all ages. www.festivalbachmontreal.com
Simon Says Silflay!
NAC main lobby, Ottawa, November 20
Join the Silflay String Quartet – violinists Leah Roseman and Mark Friedman, violist Paul Casey, and cellist Karen Kang – on ­November 20 to learn how composers use the technique of imitation in their music. For ages 3 to 8, bilingual presentation. www.nac-cna.ca
This page is also available in / Cette page est également disponible en:

Francais (French)