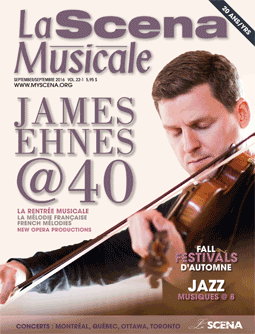 This page is also available in / Cette page est également disponible en:

Francais (French)
Age may be but a number, but its influence is broad. For celebrated Canadian violinist James Ehnes, turning 40 earlier this year has led to a once-in-a-lifetime opportunity to tour his homeland in a series celebrating family, community, and (of course) great music. Though he is no doubt still fielding quips about being over the hill, Ehnes's bustling performance schedule certainly erases any doubts about him slowing down any time soon.
Ehnes, a Brandon, Manitoba native, began playing the violin at the age of 4 and studied with renowned violinist and pedagogue Francis Chaplin at 9. From 1993 to 1997 he attended Juilliard, where he won the Peter Mennin Prize for Outstanding Achievement and Leadership in Music. Other notable achievements include the Grand Prize in Strings at the Canadian Music Competition (1987), First Prize in Strings at the Canadian Music Festival (1988), the first Ivan Galamian Memorial Award, the Canada Council for the Arts' Virginia Parker Prize, and an Avery Fisher Career Grant (2005). He is also the youngest person elected as a Fellow to the Royal Society of Canada (2007).
The James [email protected]: Canada 2016 tour, which started in Ottawa on April 28, is a cross-country road trip of every province and territory. Together with his long-time collaborative pianist Andrew Armstrong and the "Marsick" Stradivarius of 1715, Ehnes will have hit more than 25 Canadian cities in two touring periods by the end of the year: one this past spring, and one this coming fall.
When asked about the reasoning behind the tour, Ehnes answers with a self-deprecating laugh, "It's sort of silly, right? A 40th birthday is a very artificial thing but everyone talks and jokes about it. 'Ah, you're over the hill!' So, as it was approaching, it just crossed my mind that there were certain special projects that would be very meaningful to me. This whole season has been about these special projects."
These projects included playing the Beethoven Violin Concerto with the New York Philharmonic on January 26, the night before his birthday. With the Ehnes Quartet  – which includes violinist Amy Schwartz Moretti, violist Richard O'Neill, and cellist Edward Arron – Ehnes played a cycle of all of the Beethoven String Quartets in June and July. In August, he played a series of the complete Bach Sonatas and Partitas for solo violin.
Now based in Florida with his wife, Kate, and two young children, Ehnes explains that returning to his Canadian roots with this tour might be the most special project of all, "The thing that's really resonated with me was trying to get to spend as much time as possible up in Canada. I married an American, my life is down in the States. I've been really fortunate to keep a close connection to Canada, but more and more I was flying into the bigger cities – Montreal, Toronto, Vancouver – and then flying home. And that's great, but it's not really seeing Canada."
By virtue of being Canadian, Ehnes's children are Canadian as well. Since his daughter is four-and-a-half, she is at the age where she too can appreciate the trip. "I wanted her to feel that connection, and to be able to see where I grew up, see the Pacific Ocean, the Rocky Mountains and the Prairies, French Canada and the Maritimes," explains Ehnes, "That's all very important for me."
A Full Schedule
Although the plan was always to see as much of Canada as possible, there was much more Canada than the initial spring schedule could handle. Running into scheduling problems in Eastern Canada and Quebec, a second part was added in the fall. This allowed Ehnes to fulfill prior commitments, notably as the Artistic Director of the Seattle Chamber Music Society.
Due to the nature of his career as a well-established international soloist, Ehnes laments he does not often get the opportunity to tour smaller venues like in his earlier years.
"I gained my most valuable experiences as a young performer by [touring]. I did tours for Jeunesses Musicales, where I travelled throughout Quebec playing smaller towns. You learn a lot about trying to communicate with an audience that way. These people were very supportive of me and I'm grateful to have the opportunity to go back," says Ehnes. "There's an appreciation for great music no matter where you go. It's that appreciation in the smaller centres that really helped me so much along my journey in my earlier years."
At its midpoint, the tour appears to be a success for Ehnes both personally and professionally. Musing about the first leg of the tour, Ehnes has nothing but enthusiasm. "It's such a beautiful time of year. In May, everywhere in Canada is beautiful, but every place is beautiful in its own way," he notes. "I reconnect with people in these places, but I also show to the people I care about – like my family and Andy – what I love about these different parts of Canada. It makes me very proud of my country."
Something Old, Something New
Catering to diverse audiences across a vast landscape posed a ­challenge in communication for Ehnes when selecting repertoire. He and Armstrong crafted a chamber recital with broad appeal, mixing well-known classics with unfamiliar but accessible pieces.
"I wanted to put together a program that would work in both very cosmopolitan settings, where maybe there are 30 violin recitals a year, and also places where maybe there hasn't been a violin recital in 5 years – or maybe never," says Ehnes. "If I'm going to play a concert in Iqaluit, I don't want to play something so specialized that people don't get a sense of what a violin recital is."
To that end, the repertoire includes Beethoven's Sonata No. 5 in F Major "Spring," Handel's Sonata in D Major, and showpieces such as Ravel's Tzigane and Kreisler's Praeludium and Allegro, all pieces that Ehnes considers representative of the violin. You can't find a piece that is more instantly loveable and accessible than "Beethoven's 'Spring' Sonata, but neither can you find a piece that is more gloriously sophisticated," explains Ehnes.
The lesser-known works on the programme fit the same profile. Bramwell Tovey's commission, Stream of Limelight, has been a success for Ehnes (who calls it "one of the greatest gifts I've ever received") and Armstrong everywhere they play it.
A kind of meta commentary about the music profession, the piece is a violinistic blend of many influences, including jazz. As Ehnes describes it, the name stems from "the idea that as performers it's as if we were there in the limelight having to be actors, creating all sorts of different moods and characters. So it has very lyrical parts and very virtuosic parts, there's fantastic interplay with the piano. It has a great narrative arc."
But the true significance of the piece for Ehnes is not its reception but his connection to Tovey. "Bramwell is someone that I've known for well over half of my life; I think I met him when I was 14, maybe 13," says Ehnes. "I had so many special musical experiences with him and he gave me so many of my first important opportunities. The piece that ended up being a total hit – it's really one of the best things we're doing on this trip."
Familiar Faces
Ehnes, Armstrong, and company will pick up the trail again on September 14 in Edmonton and reach Montreal by mid-October. Taking the opportunity while he is in town, Ehnes will play the Dvořák Violin Concerto with the Orchestre Symphonique de Montréal on October 13 and 14 in a program conducted by Juraj Valčuha.
As the Artist-in-Residence at the OSM, Ehnes's connections to Montreal run deep. He made his professional debut with the orchestra over 27 years ago and just last year served as the ambassador for the Virée Classique.
"Montreal is always going to be very special for me. Not just for the first major orchestra that I had the chance to work with, but because they've been very good to me, and very loyal to me for so many years. I've shared some truly special experiences with the OSM," admits Ehnes. "I've probably played with that orchestra more than any other in the world."
Ehnes's high praise for the Montreal music scene does not stop at the OSM: "It's wonderful to play for the Montreal audience. Sometimes I'll look out into the hall and see some smiling face, someone I've known for 25 years."
Looking Forward, Looking Back
This year has given Ehnes cause to reflect on his Canadian identity. "I feel proud of the values that Canada holds," says Ehnes. "Of course, every country has its problems, every country has its divides and disagreements, but I think there are fundamental things about Canada that are truly admirable. And I think there are some fundamental qualities of the Canadian music world that are admirable." Ehnes is particularly thankful for years of Canada Council study grants and the loan of an instrument from the Canada Council Instrument Bank.
Not just a musical goal, but a musical tribute to the country where he got his start, James [email protected] will wrap up on November 5 in St. John's, Newfoundland, at the Tuckamore Chamber Music Festival.
Asked what the future holds, Ehnes confesses that the next few years will have a different pace. "I will be more careful with my time and be as efficient as possible and definitely spend less time away from home. That's really starting for the '17–18 season, where things are going to be different," reveals Ehnes. "I'm looking forward to that as well."
---
» James Ehnes @40: Canada Tour: www.jamesehnes.com.
» Ehnes plays the Dvořák Violin Concerto with the OSM October 13 (8PM), & ­October 14 (7PM), Maison ­Symphonique. (www.osm.ca).
» Ehnes and Armstrong play Beethoven, Franck, and Ravel October 16 (2:30PM), Maison Symphonique. (www.osm.ca).
» Ehnes and Armstrong play Handel, Beethoven, and Tovey October 18 (8PM), Palais Montcalm, salle Raoul-Jobin, Quebec City. www.clubmusicaldequebec.com.
» Ehnes in recital at LMMC Concerts, April 30, 2017 (3:30PM), Pollack Hall. www.lmmc.ca.
» Read the full interview here.
This page is also available in / Cette page est également disponible en:

Francais (French)