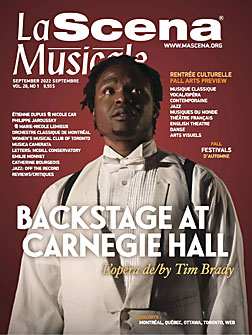 This page is also available in / Cette page est également disponible en:

Francais (French)
Thanks to their international reputation,  Les Violons du Roy have attracted, over the years, the world's foremost soloists and the most memorable of collaborations spanning all sorts of repertoires, notably in baroque music. The 2022-2023 season is no exception. For their Sept. 22 opening concert in Quebec City, and their Sept. 24 concert in Montreal, the chamber orchestra welcomes none other than Philippe Jaroussky and his longtime friend, contralto Marie-Nicole Lemieux.
We no longer need to formally introduce the French countertenor, since his 25-year-long career and his 30 recordings speak for themselves. He was in his 20s when harpsichordist Luc Beauséjour invited him to sing in Quebec for the first time. As for the last time, it was with Les Violons du Roy in 2017, with a repertoire of works by Bach and Handel. For his next visit, Jaroussky will present Handel's arias and duets alongside his friend Lemieux.
Their first collaboration goes all the way back to 2004 with a presentation of Vivaldi music alongside the Ensemble Matheus, under the direction of Jean-Christophe ­Spinosi. "I knew Marie-Nicole when we played the first concerts and recordings of Orlando Furioso. Our very strong friendship was born through that collaboration," Jaroussky said. "I think it's tied to the fact we met when we were young. It was at the start of our careers and Vivaldi brought us both good luck."
Among their joint projects, the countertenor mentioned an intensive series of concerts about the first baroque composers that ­allowed them to explore a range of acting roles. "We could have scenes about the ­relationship between a mother and child, but also about the rapport between two friends, or two lovers. What I love about Marie-Nicole is that she can switch between laughing and ­crying on a dime. She could become the ­greatest tragedienne or someone who could make you laugh out loud. I really admire her ability to throw herself completely into a role, to physically embody things, whereas I have a more cerebral, nonchalant method."
Jaroussky is delighted that, for once, he will be able to sing with Lemieux in her homeland—it's an opportunity to further explore their on-stage dynamic and highlight their tight bond. "The final duet will be a happy end between two lovers. There will also be a duet with an argument, an excerpt of a household scene from the opera Partenope. It's likely to be very colourful! One could even say we're going to sing Handel's most beautiful operatic duet, between Sesto and Cornelia, the son and mother in Julius Caesar. I will interpret arias originally dedicated to castratos, male roles, while Marie-Nicole will change genders throughout—for example, between the role of the queen and that of the villain Polinesso."
The musical director of Les Violons du Roy, Jonathan Cohen, is equally delighted with the arrival of these exceptional artists. "They know the style, sensibility, and the need to move with this repertoire of Handel's arias and duets," he said, "but they also understand the contextual intrigue of each opera. That kind of detail is important to find the right tones and make the text shine. Les Violons du Roy also have a lot of experience with this music, so it promises to be a beautiful opening concert for the season."
The British conductor had more to say about Handel: "For me, Handel is the most dramatic baroque composer. He wrote exceptional oeuvres and developed a method for writing operas and oratorios. He's a humanist with very expressive and compassionate music." He added: "In some moments, the ­orchestra also sings the melody with the soloist duet. Handel's orchestral parts, like Mozart's, are well integrated into the singers' vocal lines, whereas later, in the romantic ­period, they usually take a backseat to the voice."
That said, the great opera stars were born in Handel's time, as is the case with the ­castratos. Jaroussky agreed with Cohen on this front. "For us countertenors, Handel is a little like a god. Between the opera aria and the cantatas, he's up there with Bach for the most genius repertoire. We constantly dream of singing Theodora, Julius Caesar and ­Rinaldo—all of these arias are sublime for ­castratos. Moreover, I began wanting to sing an aria I discovered once on TV, Scherza ­infida from Ariodante. It made a lasting ­impression on me when I was a teenager. We know that these singers had very different voices from countertenors. That's probably why, over time, I tried to find works that could better fit my voice rather than ­always putting on a voice."
While tackling other repertoires on his ­albums, like French melodies, works by ­Schubert, or contemporary music, Jaroussky gladly returns to his first loves of music. Lemieux shares in this passion with roles like Carmen, Dalila, and eventually, Azucena.
Jonathan Cohen will conduct Les Violins du Roy in Pergolesi's Stabat Mater (Nov. 10 and 11) before returning to Handel's repertoire with the just-as-famous opera Alcina (Feb. 9 and 11).
Translation by Zenith Wolfe
Lemieux will perform in the role of Azucena in the Opéra de Montréal's new production of Il trovatore (Sept. 10-18). Jaroussky will continue his North ­American tour with a concert at Carnegie Hall (Oct. 14). In parallel with his teaching activities at the ­musical academy named after him, the countertenor has recently begun a new career as a conductor with the Ensemble Artaserse. www.violonsduroy.com
This page is also available in / Cette page est également disponible en:

Francais (French)