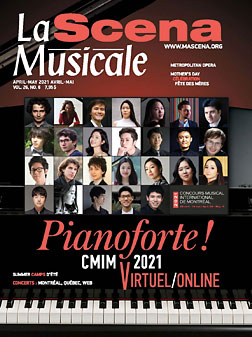 This page is also available in / Cette page est également disponible en:

Francais (French)
Undeterred by the pandemic, the Nouvel Ensemble Moderne and its artistic director Normand Forget were hard at work in recent months. In February, the ensemble recorded a composition by Sandeep Bhagwati at the monastery in Oka for an online video webcast, then streamed a performance dedicated to all health workers, one of them being its oboist Julie Sirois-Leclerc, also emergency physician.
On April 16, it will perform live and online from its usual venue, Salle Claude-Champagne. The concert pays tribute to André Prévost, a composer and eminent teacher who passed away in 2001. The orchestra and its conductor Lorraine Vaillancourt have included two of his works on the program, a third by Michel Longtin, a one-time Prévost pupil at Université de Montréal, the fourth by Joshua Bucchi, the NEM's current composer-in-residence. The centrepiece of the evening will be Menuhin : Présence, a late Prévost opus with cellist Yegor Dyachkov as a featured soloist. "It's a very moving piece," says Forget, "because the composer knew his time was running out, so he dedicated it to Yehudi Menuhin. I am very glad to close the concert with this work, one that should give the audience an opportunity to reflect on the events of the past year. Prévost's music was like that, a life-long meditation of sorts."
But there is more to this evening than paying tribute to a past figure. Forget wants to draw attention to the important contribution of the U de M music faculty in training young performers, especially those participating in its contemporary music ensemble, some of whom are hired by the NEM as extras. Also of note is its commitment to showcase composers of different generations.
"While we are frequently confronted by music that takes us out of our comfort zone," says Forget, "we also believe that composers have to question their practices, so we challenge them in return. For example, the artistic director coaxed Joshua Bucchi to play along with the ensemble so he could view his work from another perspective than his own. As for Michel Longtin, now in his 75th year, his situation is quite unusual in that the piece premiered will be his first new work in 15 years.
Given the current situation and the changes that have occurred, the NEM has done some soul searching. "We really had to step back," Forget notes, "but that forced us to bear down even more, more so than in the past, when we were going full tilt. There is more time now to talk things over and thrash them out. This impacts considerably on how we go about our business, like rehearsing and actual performing. What was once obvious is not the case anymore. That's all there is to it."
Translation by Marc Chénard
This page is also available in / Cette page est également disponible en:

Francais (French)