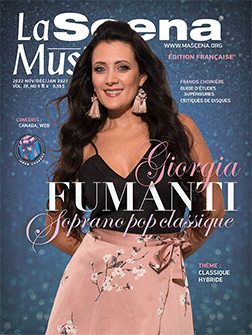 This page is also available in / Cette page est également disponible en:

Francais (French)
On Nov. 15, Isolde Lagacé bids a fond farewell to the Salle Bourgie after 10 years at its helm as artistic and administrative director. Two months before, on Sept. 18, she officially passed the torch on stage to her successors: Caroline Louis as the new administrative head and her counterpart programmer Olivier Godin.
"In the early days of my work for Bourgie," recalls Lagacé, "I could handle both of these tasks easily thanks to my own life history of growing up in a musical family first and then pursuing a career in arts management. After five years on the job, those dual responsibilities were starting to take a toll on me, but I persisted until such time I realized it was simply too much for one person."
Arts Musica, the arts foundation behind the hall, schedules around 120 concerts of its own per year while renting the hall out to some 50 music ensembles, the likes of Arion Baroque, Constantinople and the Trio Fibonacci. "Our facility is more than just a venue for concert-goers, but a public service at the disposal of our music community," Lagacé explains.
Previous to her hiring, she was very much committed to the idea of establishing a new concert space in Montreal for chamber music suitable enough for musicians involved in this field. She was all the more convinced of that because of the Maison symphonique that was about to open its doors.
Arts Musica, for its part, was borne out of a close collaboration between her and Pierre Bourgie, a noted businessman and philanthropist. Lagacé shares some of the inside story: "You had to be fearless in a way, it was one big leap of faith, if you will. True, many museums are endowed with concert facilities, but to set up a wholly independent legal and financial entity under a museum's roof, and to turn it into dedicated concert space rather than a multi-purpose auditorium is something of a rare occurrence. Yet, the museum gave us its blessing because Bourgie committed himself financially to the project."
It did not take long after its inauguration to see the concert program skyrocket in numbers. "Both Pierre and I were intent on creating a broad musical outreach," says Lagacé, "not only in the classics, but jazz and world music, with a view of including concerts linked to the museum's special exhibits. We realized along the way that we had to present more than two concerts in any given series on our schedule, so from an initial slate of 30 events we bumped it up to 50-some." For the record, the exact number was 53, with 10 more tacked on for each of the following four years, "This increase by 10 was totally unintended, just a fluke," Lagacé notes in passing. "Things tend to evolve that way, and as you build on your successes, the audience asks for more, like wanting to hear one artist or the other perform again. That is also true for the performers, many of whom were eager to be invited again."
Isolde Lagacé's knowledge of the musical community stems from her life experiences as concert hall manager, first at the Conservatoire de Musique de Montréal from 1992 to 2000, and from then on to 2007 for McGill University's Pollack and Redpath halls. But none of this would have been possible were it not for her own family background. Both her parents were organists and harpsichordists. As keyboardists, it was normal for them to hold rehearsals at home, which enabled Isolde to see them work with other professionals. From her teen years onward, she built a network of contacts within the community, and extended her outreach with the help of her husband Douglas McNabney, a McGill teacher, chamber music specialist and artistic director of the Domaine Forget from Y2K to 2004.
"Since the bulk of my acquaintances are musicians," Lagacé says, "putting together a program was not a daunting task at all. In recent times though, I've had to deal with more agents, and I certainly do not want to limit myself to hiring only those I know—and it is always nice to make new friends with people who pay us return visits."
Lagacé's good relations with musicians are the result of her assiduous attendance to shows, to the extent that it is at the core of her work ethic "There is no textbook rule that says you have to be there 80 to 90 per cent of the time, but I see this a bit like inviting someone to my place. Just imagine fixing dinner and walking out the door when the guest shows up. No one would ever do that. Our role is to present concerts, and it is paramount to be there to know what went down, the feel in the room, the audience response and what not. You need peripheral vision to take it all in. You learn that way, not just for the sake of learning but for the purpose of doing things better the next time." 
When it comes to managing the space, Lagacé offers the following insights: "I am informed by everything and everyone, employees and bosses alike. You also have to keep your ear on the ground at all times and know who's who and what's what. Going to concerts has been the story of my life, but I do not feel so inclined anymore to catch everything, so the time has come for me to let go. I am confident Caroline and Olivier will steer the course; they will ensure the future, for sure. Mind you, it is not really a matter for them to just tread in my footsteps but to act in accordance to the vision that has guided this undertaking from the onset. In England, you have Wigmore Hall, a venue comparable in size to ours, and whose history spans over a century. Ours is but a decade old, but I wonder what will it be like 50 years from now."
Translation by Marc Chénard
This page is also available in / Cette page est également disponible en:

Francais (French)