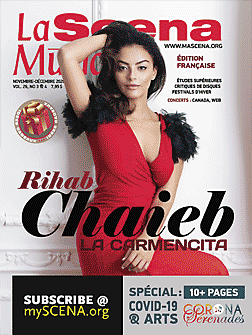 This page is also available in / Cette page est également disponible en:

Francais (French)
With all of the uncertainties that young musicians now face in finding work in their field, many have elected to adjust their plans to pursue careers elsewhere, including the field of arts administration. The next step for some is the HEC's diplôme d'études supérieures spécialisées (DESS) program in arts management. Olivier Delaire enrolled in the master's program at Montreal's Hautes Études Commerciales. A tenor by training, Delaire was directed by his school towards Ambiances Ambigües, a cultural enterprise where he works as an administrative assistant. Both the program and its highly qualified teaching personnel have enabled him to understand first hand the stakes involved in ensuring success for a business operating in this sector.
Another Montreal-based graduate program worth mentioning is the Master in International Arts Management (MMIAM). Concert pianist Yumi Palleschi was in the program's sixth and most recent graduating class.
Originally from Italy, she got her performance degree in the United States and then settled in Montreal. At this writing, she is the accountant and budget director for the Joe, Jack and John theatre company, sharing responsibilities in project financing, strategic partnerships and market development, including public
relations. "The program's scope has been a real asset to me," says Palleschi, "so much so that I can apply pretty well everything I learned in my daily chores."
Students enrolled in the MMIAM spend a year of intensive studies at five different universities – in Dallas, Montreal, Bogota, Beijing, Milan – as well as two seminars in Mumbai and New Delhi, providing ample opportunities to establish ties with arts managers around the world and personally experience other cultures.
Fellow recent graduate Elise Sharron still takes on assignments as a piano accompanist, but the American's main gig is that of director of operations for the Punta Gorda Symphony in Florida.
MMIAM alumni Daniela Alzate and Wenhan Ou – from the first and second graduating classes, respectively – have both landed full-time jobs as arts administrators far from Montreal. Alzate stepped away from the piano to retrain herself before moving back to her native Colombia. She now works as a marketing specialist for the Teatro Mayor Julio Mario Santo Domingo in the capital, Bogota. Ou, yet another pianist, now teaches arts administration at the Xingai music conservatory in Guangzhou, in his home country of China.
We encourage those thinking of a career in arts management to look into the MMIAM program and consider it on the merits of global outreach.
Translation by Marc Chénard
For further information, go to: hec.ca/etudiants/monprogramme/dess/index.html and www.master-in-international-arts-management.com
This page is also available in / Cette page est également disponible en:

Francais (French)