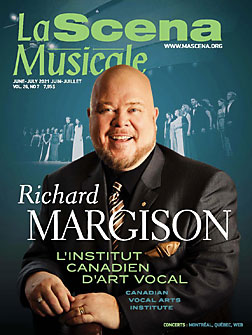 Advertisement / Publicité
This page is also available in / Cette page est également disponible en:

Francais (French)
Concert after concert, record after record, David Jacques continues to share "guitar stories" with his collection of instruments. In February, he was accompanied by I Musici de Montréal in a live webcast concert. On June 6, he will perform in recital at the Centre d'Art La Chapelle in Quebec City.
A first volume was issued last year by ATMA Classique. Fourteen guitars were featured. This time, 15 guitars are presented, along with nearly 30 19th-century pieces to showcase them.
Little-known composers
Among the composers on this second solo album, the guitarist especially appreciates Ernest Shand, an Englishman from the end of the 19th century who is little known today. "For the guitar, this is a completely unique sound," Jacques says. "It sounds like Gershwin. We don't usually have this kind of thing for the guitar and it is not much played by other guitarists. Fortunately for me, I discovered this music and I play it regularly in concert."

 

The idea behind each of his programs is to find numbers whose year of composition coincides with that of the manufacture of the guitars. "I even play romantic Russian repertoire on a Russian seven-string guitar, with an open G-major chord. This chord is so different from what guitarists are used to that many are put off. It's hard to learn to play on such a guitar, but there are fabulous works out there and I've learned some of them for the sake of this album."

 

Andrei Sychra, Nicolai Alexandrov, Vassily Sarenko: A certain number of Russian composers, also little-known, wrote for the guitar. Jacques has chosen to interpret two short pieces by Sarenko. "It's a fascinating, romantic repertoire. In fact, many romances use all kinds of effects, like harmonics in the middle of melodic phrases. It's refreshing on a guitar recording because you don't hear this often."
A collector's soul
His collection of antique guitars dates back only a few years, but long before that, Jacques already had the soul of a collector. "I didn't think it was really possible to play an 1820 guitar," he says. "At the time, I mostly collected guitars from the 1960s and 1970s. I've always been a collector of old things, like coins. When I bought a first old guitar and saw that I could use it, it lit a fire that has not gone away."

 

In addition to recitals and recordings, this vast project, which now occupies most of his time, is adaptable to the needs or requests of presenters. "I designed a 'family' concert with a narrative fabric," he says. "I also prepared a concert to better reach the younger ones and introduce them to these guitars. I have a concert with the tenor Philippe Gagné, voice and guitar, but always with the aim of showcasing the old instruments. A record of guitar concertos, with orchestra, is planned for next year. I even hope to be able to do a third volume of Histoires de guitares." Jacques is never short of repertoire or ideas to promote the instruments that are so close to his heart.

 

For the restoration of his guitars, which he finds most often in Europe, at auctions or from other collectors, he can count on reliable partners. He knows how to surround himself well. The person who manages the historical accounts for his new album is Françoise de Ridder, an eminent specialist in old guitars.

 

"Instead of putting the accent on the composer and the music, I place it on the luthier, the craftsman," he says. "Then I seek the appropriate music. I have a slightly different approach in this sense."

 
David Jacques can be heard performing the repertoire of his new album via a webcast from Le Domaine Forget on the Livetoune platform from May 28 to June 11. www.atmaclassique.com
15 histoires de guitares
David Jacques, guitar
ATMA Classique (May 2021)
ACD2 2821
★★★★★
His first solo album on ATMA Classique had covered a wide period, from the 17th to the 20th century. David Jacques is now back with a continuation of these "guitar stories." On the program: pieces from the 19th century by composers from all over Europe.
Some, like the Englishman Ernest Shand and the Italian Mauro Giuliani, were represented on the previous album. Here, there are almost as many pieces – around 30 – and the names, for the most part, remain unknown. First stop, Italy, with a Gennaro Fabricatore guitar made in Naples in 1817, in pieces where you can feel the influence of the opera, as in "Le Jasmin," an excerpt from Choix de mes fleurs chéries by Giuliani. Jacques makes guitar-music pairings as others match food and wine.
Several guitars played on the album come from the town of Mirecourt in Lorraine (France). The guitarist here highlights a luthier tradition that dates back to the 16th century. He matches these guitars with works by English, Czech or Italian composers. Their styles vary. Shand (1868-1924) composed freeform melodies in a manner close to popular music. His style could not be more different from that of Wenzel Thomas Matiegka (1773-1830), which adheres to more formal standards.
To conclude Jacques takes us to Moscow with a Zimmermann guitar of 1902, as well as to parts of Eastern Europe, notably with the folkloric sounds of Vincenz Schuster's Hungarian Dances.
This page is also available in / Cette page est également disponible en:

Francais (French)