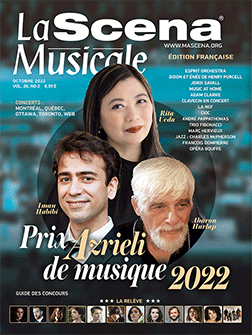 This page is also available in / Cette page est également disponible en:

Francais (French)
User Ratings (

1

Votes)

1.6
The Cello according to Dall'Abaco
Elinor Frey and Catherine Jones, cellos; Michele Pasotti, theorbo; Federica Bianchi, harpsichord
Passacaille (Sept. 2022)
On the heels of her debut recording devoted to the cellist and composer Joseph Marie ­Clément Dall'Abaco (1710-1805), Elinor Frey is back with three more sonatas of that ­composer and three more works written for two cellos. Having compiled a multiple-­volume edition of 35 annotated Dall'Abaco sonatas published by Edition Wahlhall, Frey has penned insightful notes to this album that give added bearing on the life and music of this much overlooked figure.
Particularly moving is the Sonata in e minor ABV 37, whose second movement is striking for its sharp dissonances, in contrast to its more expansive first and third ones crafted in the style of the French overture. The Duo de ­violoncelle en fa majeur, ABV 48, has its own unique flavour, which is what makes it so ­enticing to listen to. Both Frey and her colleague Catherine Jones relish the occasion to play off each other and mesh their lines tightly. The same could be said for the playful opening movement of the Duetto en sol majeur, ABV 47. Any self-respecting lover of period music will enjoy this single track, as will admirers of this most noble sounding instrument.
The Sonate VI en do mineur, ABV 45, makes us recognize Dall'Abaco's gifts as a melodicist blessed with an ability to write out clever lines for two cellos. Also heard are Michele Pasotti on theorbo, with harpsichordist Federica Bianchi appearing in the ­finale. The piece, in rondo form, enables Frey to put her virtuosity to good use, her mastery over the richly ornamented passages being second to none.
This page is also available in / Cette page est également disponible en:

Francais (French)