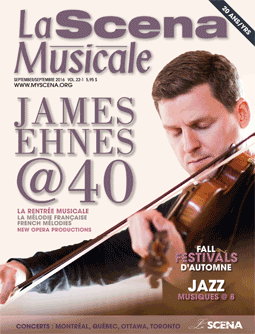 This page is also available in / Cette page est également disponible en:

Francais (French)
Anne-Sophie is nine years old. Behind her natural reserve and sometimes dreamy demeanour lies a determined, enthusiastic child eager to learn new things. Her busy days are divided into school work and her two passions, gymnastics and the violin.
Since the age of three she has been doing gymnastics at the Gymnix club at Centre Claude-Robillard, and the sport now takes up 18 hours of her week. In September she will begin a sport studies program to specialize in the discipline. Her mother says, "I was surprised and glad that Anne-Sophie made this decision by herself. A few years ago she wouldn't have had the confidence, but music and gymnastics have really boosted her self-esteem."
Anne-Sophie began learning the violin at age four with the Petits Archets de Montréal, and practices six times a week. Born into a music-loving family, she was first drawn to the piano, which she studied for a year, and to the cello, which impressed her. Finally she went for the violin. As her sisters did the same, life was relatively easy for their parents to organize. She says playing the violin puts her in a good mood, though this wasn't always the case. Despite being gifted, in the early days Anne-Sophie was very anxious, fearing she wouldn't be able to keep up with the other children at concerts, and suffering a lot of exam-related stress. But once again the violin let her overcome these difficulties and discover that while you can't know everything, you can still learn. She practices everyday without demur, having recognized that regular practice is the only way to make progress.
She looks up to "the big girls who play in concerts, because that makes me want to go on learning, do better and take on challenges." She is open-minded and reveals she likes all sorts of music, including Rieding's Concerto op. 35, Létourneau's La chasse, and the Smurfs. She likes playing with other children as well as by herself, although it's "very different." Both experiences have their own challenges, all of them educational for a child. What's more, the violin lends itself to ensemble playing.
Anne-Sophie is a perfect example of a happy child who isn't overtaxed, despite doing a physically demanding sport and playing an instrument requiring a high level of concentration. Outstanding in her studies and her two activities, she doesn't feel overwhelmed by her workload, and is not hindered by a sense of unhealthy perfectionism. It's worth pointing out that it is quite possible to combine sports at a high level with playing an instrument. Some prerequisites must be met: solid support, reliable guidance and regular supervision by teachers and family. These ensure that music and sport remain enjoyable and don't become onerous. It is also important for children to spend time on their own to relax and let their imaginations run free.
Vacations are a chance to put the violin to one side (though not gymnastics) and enjoy family activities. Although naturally a bit timid, Anne-Sophie recently tried soccer as well as downhill skiing and surfing, none of which she would have tried a few years ago. "Music and gymnastics have given her a lot more confidence, and she's always happy to dive into family activities," says her mother.
Finally, the answer to the question "are you going to continue with the violin once you're enrolled in the sports studies program?" is a decisive yes. "It'll be easier now," says her mother approvingly, since her two other daughters are also studying the violin. But let's leave the last word to Anne-Sophie. She says she loves practising and it's never a chore, because, she adds with a modest smile, "it helps me improve."
Translation: Cecilia Grayson
This page is also available in / Cette page est également disponible en:

Francais (French)