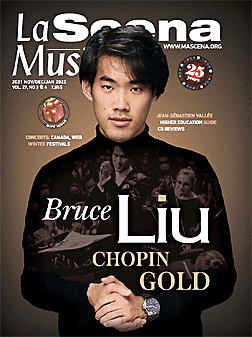 This page is also available in / Cette page est également disponible en:

Francais (French)
The Montreal-born violinist Lucie Robert is a well-known long time Violin professor at the Manhattan School of Music and the Mannes College of Music in New York City. For her, the transition to online teaching was not easy. It was a long journey to find what is comfortable and what works for her and her students. However, in the end, and even with all the ups and downs it turned out positive and beneficial to all her students who remained focused and remained ­motivated through the pandemic.
"At the beginning it was for me like being in a depression," she recalls. "I could not sleep for three days, it was the end of my world. I was not sure my students could survive this. I did not know how I could survive this and certainly did not know how I was going to do this with a computer that I barely knew how to turn on."
After three days of uncertainty, Robert and her husband, Jeffrey Cohen, who is also a ­faculty member at the MSM, decided to get equipped to give lessons via Zoom. The ­couple having both large studio of students taught every day at the same time, one from the ­computer room and one from the music room, with the doors open because the signal was not so strong otherwise. "Live is the real thing," Robert says. "But we had to make Zoom work, that was the reality, it was the only way.
"When I first heard the sound that came out of the computer, I thought I would die. Sound for me is the number one thing I teach to my students; they must find their sound! I could not do anything with what I was getting out of the computer." If she could not trust her ears, Robert could still trust her eyes to see if her students playing looked healthy and deduct how they actually sounded on the other side of the screen.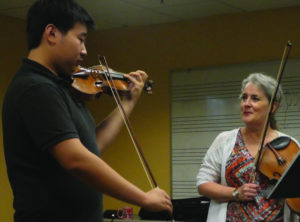 For Robert, it was crucial that all the students play their juries. She argued fiercely that the students in order to keep their motivation need to work and prepare for their end of the year jury. "We needed juries because the students had to have goals, they had to keep working; otherwise, they were going to lose their motivation and that would have been terrible."
Some students were not able to play with piano, so the school decided to take away the violin sonata. Of course, the students had still to play their concerto, but without piano, which in many ways made it more difficult. Robert ­developed a system. Because she wanted her students to focus on how they sound, when they were getting ready for the jury, she asked them to record themselves and to send her the recording. She then listened to all the recordings and wrote back notes to her students.
"I would write everything that bothered me, write something on every bar, whether it was intonation or a lack of direction, I wrote everything. It was so clear: it was black and white. The first time they received my notes they were stunned: 'So, this is how she listens, this is what she heard?' I would ask them to study what I wrote, listen to their recording, practice some more and record and send me again."
Going through this process, Robert's ­students learn how to record themselves and how to be more critical. "Inexperienced ­students will just worry about playing every note perfectly and playing in tune, which is good but not if you forget about the interpretation, about making music," adds Robert. "This is especially true when playing a ­concerto without accompaniment. It could not make you feel more unmusical and not into the music. That was particularly a good 'teaching' situation where the ­student had to learn to be even more convincing in their interpretation. A lot of work for me, but I was very proud of my students at their juries, I felt they had made great accomplishements and learned a lot."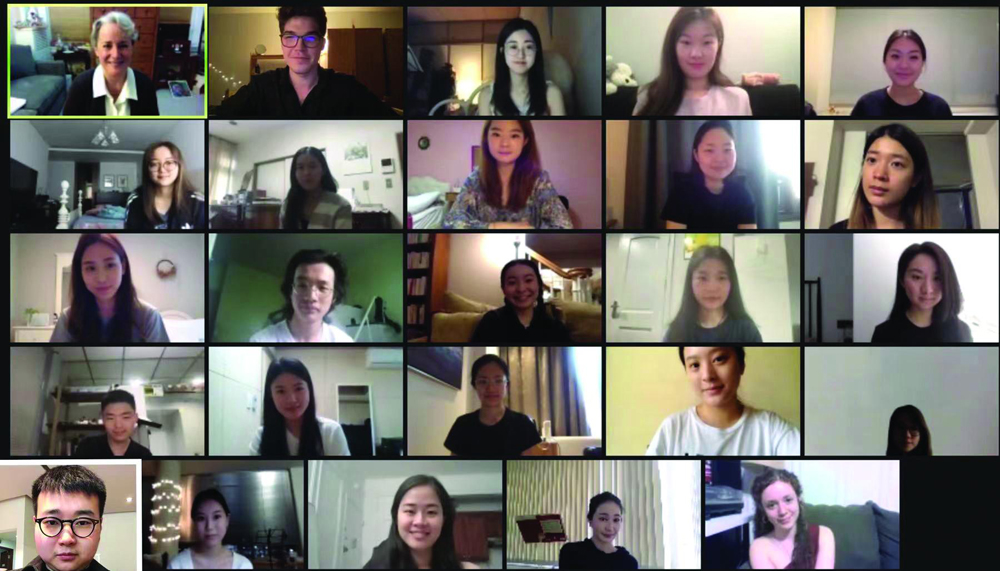 Robert tried to use technology as much as she could. For example, in addition to making sure that Robert could always see both the left hand and the bow hand all the way to the tip of their bow, she would ask the ­students to also arrange the picture on the screen so theu could also see themselves. "I find this generation is very ­visually oriented. There is something interesting about [having]them practising in front of their screen and watching themselves. They could also record the lesson on Zoom and watch it again afterward and learn from it."
Zoom lessons have also been helpful with shy students who tend to often get a little bit too nervous at their lessons. To be forced in this situation, removed from the immediacy of a live lesson seemed to have helped a few feel stronger about themselves. "Now we are back to in-person lessons, and I feel they are not so shy anymore," Robert says. "The shy ones may feel too much during the in-person lesson. Distance for them helped. More than that, we can say it cured them, they are not so vulnerable anymore."
If before the pandemic someone had asked Robert for a Zoom lesson, she would have ­ignored the request, first because of her lack of experience with technology and second ­because she thought online lessons were a waste of time. Of course, online lessons should not take over in-person lessons, but Robert thinks that it is here to stay and can actually be a very helpful additional tool. "Online lessons are a good thing for example when students are auditioning for schools," she says. "It is much less expensive for them than travelling. It is also good to give extra lessons to someone who is not living in the city. So, for me, Zoom, at a certain level, is probably here to stay.
This page is also available in / Cette page est également disponible en:

Francais (French)