Would you be willing to spend a sweltering summer evening listening to a youth orchestra in a venue with no air-conditioning? The hundreds who did avail themselves of such an opportunity on August 4 at the resplendent Chapelle Notre Dame de Bon Secours in old Montreal were delighted with the experience.
The 2017 edition of l'Orchestre de la Francophonie marshalled its forces for a final time to perform a diverse programme- the Haydn Trumpet Concerto, Le Boeuf sur le toit by Darius Milhaud, and Mahler's 4th Symphony.
Since its inception in 2001, this orchestra has provided enrichment for accomplished young musicians from Quebec and beyond. Their conductor has traditionally been Jean-Philippe Tremblay.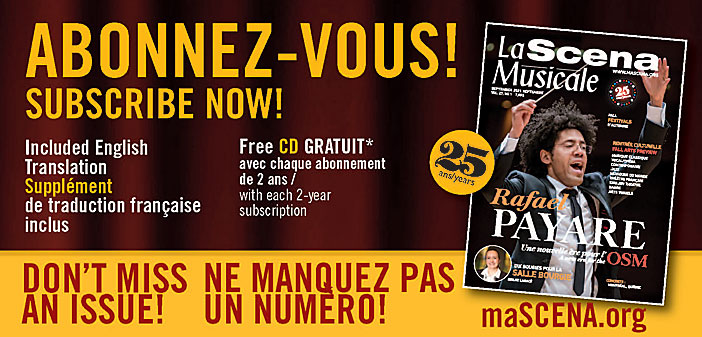 This year, at the eleventh hour, Maestro Tremblay withdrew due to medical concerns. Only eight days prior to the first rehearsal Simon Rivard was appointed conductor for the 2017 season. M. Rivard, a violinist, holds degrees from the Montreal Conservatoire de Musique as well as the Faculty of Music at McGill. This fall Maestro Rivard begins a term as the Royal Bank Of Canada Conductor-in-Residence of the Thunder Bay Symphony Orchestra.
Having heard the 2017 l'Orchestre de la Francophonie early in its season, this reviewer can attest to the remarkable improvement that occurred under Rivard's tutelage.
In a telephone interview, M. Rivard gave the musicians credit for the considerable strides that were made in the course of the ensemble's brief season. He said that the players were highly motivated to present the best concert possible at their final performance. Furthermore, the young musicians were enthusiastic about tackling a Mahler symphony.
On this concert, Haydn's Trumpet Concerto opened the programme. It was performed with impressive facility by Tyler Lindsay, an orchestra member. In this work, the violins in particular aptly rendered the deceptively difficult accompaniment.
Next up was Milhaud's surrealist ballet score Le Boeuf sur le toit. L'Orchestre de la Francophonie used Jean-Marie Zeitouni's arrangement, which featured the ebullient violinist Julie Triquet. In this selection, the orchestra is to be complimented for its vibrant execution of intricate Brazilian tango rhythms.
Mahler's Symphony Number 4 was performed in the second half. Although this is the most accessible of Mahler's orchestral works, it nonetheless constitutes a challenge for most professional ensembles, yet alone youth orchestras. However, l'Orchestre de la Francophonie played this symphony with aplomb.  Kudos are due in particular to the principal horn and clarinet. In the final movement, "Das himmliche Leben" ("The Heavenly Life") was expressively sung by soprano Andréanne Brisson Paquin.
As an encore, the orchestra premiered a work 18 year old Leo Purich composed as a tribute to Canada's 150th anniversary. Purich, a music major at Montreal's Vanier College, was a member of the viola section. This piece, composed in a style reminiscent of the late Classical period, will be performed this fall by the St. John's Symphony Orchestra and its Quebec music director Marc David.
The l'Orchestre de la Francophonie project has consistently been a credit to la belle province.