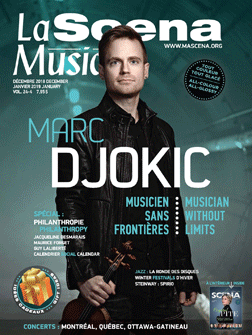 This page is also available in / Cette page est également disponible en:

Francais (French)
The Montreal Chinese Art and Culture Foundation (MCCAF) will host its third Chinese New Year Concert on Feb. 10, 2019 at the Théâtre Maisonneuve of Place des Arts. The Suzhou Symphony Orchestra performs The Sound of Spring under the direction of its renowned conductor Xieyang Chen, a Golden Record recipient with extensive track record on the international scene.
Foundation president Susan Huang is delighted to present an orchestra composed of experienced musicians and rising stars of high calibre. Also worth noting is the multicultural mosaic of this 70-piece ensemble, with some 20 nationalities represented. Beside musicians from China are participants from Japan, South Korea and Russia, even a few from France, Italy, Spain and Greece.
The Montreal date comes on the heels of tours through Europe and Asia. Their acclaimed performances are known for their variety and colourful repertoire. Founded in 2016, this orchestra is not only young in years, but it sports a youthful lineup, with a mean age of 30. Next year the orchestra will perform in New York at the United Nations and up its reputation by yet another notch.
As a nonprofit, the MCCAF has a twofold mission: to promote the richness of Chinese arts and culture and to encourage exchanges between Canada and China. Susan Huang dedicates herself to these causes, both as a skilled administrator and artist in her own right. In 1993 and 1994, she earned first prize at the Montreal Chinese song contest.
Among the Foundation's other special events are the Montreal International Dragon Boat Challenge and the Dragon Jade Culture Festival, both held July 7 and 8 during the Week-ends du monde at Parc Jean-Drapeau. Beyond dance and folk music shows, ethnic crafts and traditional games will also be on display. The festival is an excellent opportunity to discover the wide-ranging richness of Chinese arts and culture, with more than a nod to its ever-captivating cuisine.
Chinese New Year Concert 2019 – The Sound of Spring. A presentation of the Suzhou Symphony Orchestra. Théâtre Maisonneuve, Place des Arts,
Febr. 10, 7:30 PM.
Go to: www.mccafcanada.com.
Translation by Marc Chénard
This page is also available in / Cette page est également disponible en:

Francais (French)