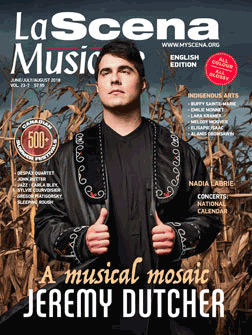 Under interim artistic director Mark Vuorinen, the festival this year is dedicated to the memory of Michael Purves Smith, who founded the Three Centuries Festival in 1979, which later became the Elora Festival. The opening Opera Gala of July 13, given in partnership with the Canadian Opera Company, features soprano Isabel Bayrakdarian (who is also heard in recital the following afternoon), soprano Danika Loren, tenor Andrew Haji and baritone Samuel Chan. COC Ensemble Competition winner Simona Genga will be performing at St. John's Church on July 20. On July, 14 the Shoestring Magic Flute, aimed at all ages, includes free pre-performance activities.
Choral music is dominant: The Elora Festival Singers perform two Bach Lutheran Masses, an evening of Healey Willan, a Bernstein tribute and (as the festival finale on July 29) Mozart's Mass in C and Handel's Te Deum with soprano Claire de Sévigné. The Studio de musique ancienne de Montréal brings the Lamentations of Jeremiah as set by 16th-century composers. Ben Heppner joins the Toronto Mass Choir under Karen Burke for a celebration of Gospel music. The Vancouver Chamber Choir offers "Moods and Modes: Emotion in Music," featuring selections by Bach, Dvorak, Beckwith, Bernstein and Dowland. The Festival of the Sound ensemble brings Sounding Thunder – a piece the ensemble will be premiering at their own Festival in July.
Elora is not all classical. Lesley Bouza sings music by Joni Mitchell. Three-time Juno-nominated group The Sultans of String appear on July 20, and Chris McKhool's Fiddlefire on July 21. Violinist Bénédicte Lauzière performs on the same day and pianist André Laplante on July 28. Juno winner Chantal Kreviazuk makes her festival debut on June 28 and Louise Pitre sings the music of Judy Garland on July 21. Rounding out the stellar lineup are the Gesualdo Six, the Rolston String Quartet, Robi Botos, Paul Novotny, Matthew Larkin and Jackie Richardson.
www.elorafestival.ca