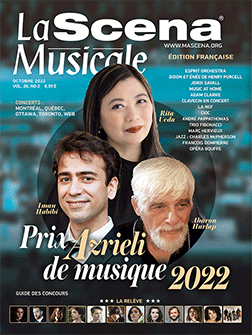 This page is also available in / Cette page est également disponible en:

Francais (French)
When Ensemble Caprice brings Henry Purcell's 1689 operatic gem Dido and Aeneas to Montreal's Salle Bourgie on Nov. 8 under conductor, flutist and composer Matthias Maute, audiences will hear and see an amalgam of old and new.
As with everything this stellar, now 30-year-old group presents, Maute hopes listeners "will feel a spark and be beguiled" by a work that is "really something that is in the present" as much as the far-away past.
Maute will be helped in this regard by the vagaries of history itself. We know Dido and Aeneas premièred as a stage work with a prologue and three acts. However, any music originally used in the prologue is not extant, though it was possibly created to celebrate the 1677 marriage of two monarchs, William and Mary of England. Maute will seize on these historical circumstances to compose his own prologue, and in the process hopes to engage in a dialogue with the 17th-century composer. "It's not about trying to be as good as Purcell," he says, but to find a way to "communicate that goes beyond time and space."
Maute is no stranger to fashioning his own completions to ancient works, having reconstructed the missing ending to Monteverdi's Orfeo, composing it in a more contemporary style. Although still not completely worked out, with Dido and Aeneas he hopes to seize this creative opportunity to delve a little more deeply into the characters' psychology. For example, Maute cites Dido's rather flippant dismissal of Aeneas's offer to remain with her ("No, no, I'll stay, and Love obey!"), resulting in a tragic situation that could easily have been avoided. He hopes to explore the deeper implications of this in his newly-composed prologue, perhaps even using it as a means to involve the audience in deciding where the story will go.

The casting of this Dido also goes slightly against the grain. This will not be the "grand opera diva" vehicle we've come to expect from classic recordings featuring booming mezzo-sopranos and Wagnerian sopranos like Jessye Norman and Kirsten Flagstad. Instead, soprano Myriam Leblanc will offer much leaner, perhaps more historically-informed vocalism compared to the rich, plummier tones we often associate with the role. And in another reversal, Dido's sister will be sung by a mezzo-soprano instead of the usual soubrette soprano. Here, tha
Rounding out the cast are baritone Dominique Côté as Aeneas, and Dorothéa Ventura, Ariadne Lih, Claudine Ledoux and Nils Brown in other supporting roles. Although this Dido is ostensibly being performed "in concert," Maute expects that—as was the case in their recent 2020 North American tour of Vivaldi's Montezuma—singers like Ventura and Ledoux will infuse the performance with movement, given their immersion in 17th-century and commedia dell'arte style. 
Also integral to the performance is the stellar Ensemble vocal Arts-Québec which Maute has led since 2019. This versatile professional choir has enjoyed a very busy couple of seasons, despite the pandemic. They are currently involved in a massive recording project for ATMA: "Art Choral," covering the history of choral singing through six centuries—including works by 50 composers from the 16th to the 21st century—delivered through 12 albums, 12 streaming concerts and 120 videoclips distributed in 170 countries. This past April, the group toured Canada from Lunenburg, N.S., to Victoria, B.C., conducting workshops along the way with local choirs who joined them in performance at their evening concerts. Maute prioritizes this type of outreach as essential to breaking down the wall that divides audiences and performers. 


Ensemble Caprice presents Purcell's Dido and Aeneas at Montreal's Salle Bourgie on Nov. 8 at 7:30 pm. www.ensemblecaprice.com
This page is also available in / Cette page est également disponible en:

Francais (French)