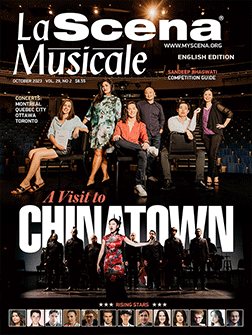 This page is also available in / Cette page est également disponible en:

Francais (French)
Esprit Orchestra has a big season ahead of it—in every sense of the word. Conducted by Maestro Alex Pauk, the orchestra will perform five concerts featuring challenging repertoire, composed for large orchestral configurations. It will honour the legacies of some of the 20th and 21st centuries' most influential compositional voices, including the late R. Murray Schafer, György Ligeti, and Kaija Saariaho, and will also spotlight the work of new and emerging composers. 
This ambitious season starts on Oct. 15 with a concert titled X Marks the Spot, featuring works by Anna Meredith, Iannis Xenakis, Ligeti, and Schafer.
Following this first concert of the season, Esprit will present Circle Maps on Nov. 30, which will feature Saariaho's piece of the same name, as well as music by Vito Žuraj and Žibuoklė Martinaitytė. Also on the program is Ukrainian composer Valentin Silvestrov's Postludium, as well as Alex Pauk's own Concerto for Harp & Orchestra, performed by acclaimed Canadian harpist Erica Goodman, for whom the piece was composed. 
Goodman has been a part of Esprit since the very beginning, and has performed extensively with the orchestra over the last 40 years. She has especially enjoyed lifting the work of Bruce Mather, Chris Paul Harman, Thomas Adès, and Unsuk Chin off the page. She describes the work of bringing this repertoire to life as an "interesting challenge." "Everything is unexpected," she says. Goodman looks forward to revisiting Pauk's harp concerto, which she has already started working back into her fingers in practice, with the "extra, unconscious familiarity" gained by having performed the piece before. 
She speaks fondly of Pauk's compositional style, lauding his rhythmic writing and masterful orchestration. The harp concerto is a "piece that really represents him" as a composer, she says. Pauk's ambitious melodic lines, which are unlike most other solo harp music, require that Goodman move "like a singer and a ballerina at the same time. All the footwork needs to be choreographed." Goodman describes the concerto as being "challenging and tremendously rewarding," adding "I feel very honoured to play with Esprit."
Pauk, meanwhile, echoes Goodman's respect. "I've known Erica for a long time," he says, "and I know her to play a wide range of music expertly."
The composer-conductor describes his approach to one domain as inevitably informed by the other. When writing, he thinks about "how I would bring the music off as a conductor, and—writing a concerto—about the capabilities and personality of the soloist." Every piece, he says, starts with a distinct "character, or idea," so as to make its "musical statement a strong one." The character of his harp concerto is immediately evident, as is his creative and unique approach to writing for an instrument so often reduced to chordal flourishes, glissandi and arpeggios. 
The harp part in his concerto, which was written before the orchestral material, is "like a line drawing that goes through the whole piece—that is embraced by the orchestra," Pauk explains. The orchestra "encloses it, comments on it, and interacts with (the harp) as an equal." The part is highly chromatic and requires a "tremendous amount of skill to play."
Written during a 10-day retreat at the Banff Centre, the music echoes the secluded, quiet, private landscape in which it was conceived. "I heard it as it is," Pauk says. "I didn't fight it. It was clear in my mind." His compositions have always been influenced by his surroundings; he recalls the "suspended" music he composed during his time in Vancouver, surrounded by vistas, clouds, and mountains, as compared to the much more structured, "less floating" pieces he's written while living in bustling Toronto. 
The concerto's five movements are influenced by Latin and jazz rhythms and motifs. The first movement has a floating quality, with the harp creating "sparks of light." In contrast, the second movement is "jagged," with "rapid, energetic" rhythms. In the third movement, the harp is "surrounded by lush strong chords," as the notes it plays are "picked up" in chords played by the strings. Following the fourth movement, a harp cadenza, the fifth and final movement takes listeners through a series of "false endings," coloured by Latin salsa influences. 
Esprit's Nov. 30 concert will be rounded out by Silvestrov's ambitious Postludium, performed by emerging Canadian pianist, Kevin Ahfat. Pauk describes the piece as a "sumptuous-sounding work, which progresses with beautiful, rippling, pianistic clouds of sound—reflected chordally in the orchestra." Although the work isn't neo-classical or neo-romantic, its strong references to chordal harmony draw listeners in. As Ahfat describes it, the piece begins with "turbulence, clashing chords, and rough textures," which give way to "the most gorgeous, flowing lines streaming and cascading from the piano."
One of the most fascinating challenges of the piece is a logistical one: without bar lines in the piano score, the soloist has a great deal of freedom. "The pianist creates a sense of flow," says Pauk. The conductor—and the orchestra—must flow with the pianist. "It's a wonderful challenge." Ahfat looks forward to it, and describes learning new and contemporary music as "a challenge worth overcoming." Although this will be his first time playing with the orchestra, he has long admired "their daring and adventurous approach to sharing such a wide range of repertoire with Toronto audiences," and looks forward to helping them bring this music to life.


Esprit Orchestra will perform X Marks the Spot on
Oct. 15, and Circle Maps on Nov. 30.
Both concerts will take place at Koerner Hall.
This page is also available in / Cette page est également disponible en:

Francais (French)